 Southampton's Dusan Tadic will wear a protective mask this weekend against Liverpool after suffering an inury to his nose whilst on International duty.
The midfielder completed the full game despite blood pouring from his nose throughout the entirety of the second half.
The injury
It was first thought that Tadic would need surgery after the incident, in which Wales' Neil Taylor smacked the ball into Tadic's face from close range, however the Serb will not require any work done on the injury.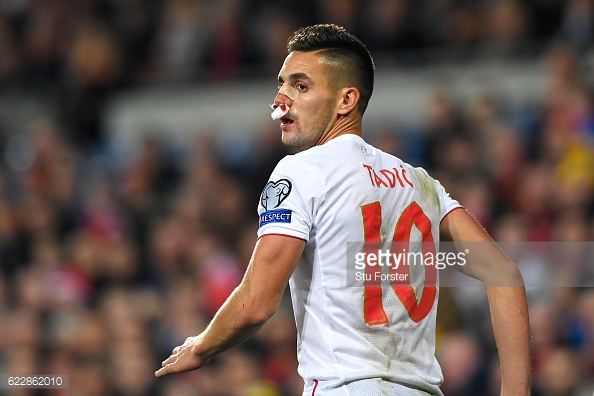 However, Tadic will be required to wear a protective face mask when Southampton face Liverpool on Saturday afternoon.
The 27-year-old was keen to stress that the injury was not too serious, as he continued to play in his country's World Cup Qualifier until the final whistle, despite the injury taking place late in the first half.
Serbian people are 'not soft'
When asked after the game whether he would be available for the clash on Saturday, Tadic quipped, "Serbian people are not soft."
"We will see. I can wear a mask," added the playmaker.
Tadic has been in fine form this season and was keen to keep up that form on the weekend. He spoke of how he "couldn't see much" straight after the incident but insisted he needed to continue playing because "you cannot leave your teammates." Quotes such as those will only increase his stock amongst Serbian fans.
The main man
Tadic's availability this weekend will be a relief to Saints fans, who have been left in awe after some of his performances this season.
The former FC Twente man will be wary of the danger that lies in Southampton's squad depth. Sofiane Boufal, Pierre-Emile Hojbjerg and Nathan Redmond can all fill in for Tadic, should he be forced to miss games in the next few weeks.