 Games between Arsenal and Manchester United used to be the blockbuster match up in the Premier League fuelled by the hostility between the rival managers and players. The build up to the games was immense, Alex Ferguson vs Arsene Wenger, Roy Keane - Patrick Vieira and Ruud van Nistelrooy vs Thierry Henry were just some of the head to heads that were analysed and discussed by drooling pundits and fans around the world. It was reflective of the two most powerful clubs in the Premier league at the time.
A new arrival
That rivalry, however, seemed to extinguish with the emergence of Roman Abramovich's Chelsea. A new super power in town meant that the two Premier League rivals could not afford to focus solely on each other.
Manchester United eventually rose to the challenge posed by Chelsea's millions whereas Arsenal fell behind, going from title challengers to perennial 4th place finishers.
Arsenal's status as non-title challengers also seemed to ease the tension between Sir Alex Ferguson and Arsene Wenger. A feud that was at its bitter worst during ''pizza-gate'' when Manchester United ended Arsenal's 49 game unbeaten streak, seemed to come to a halt as exemplified when Arsene Wenger went into the United dressing room to congratulate the team after they had knocked Arsenal out of the Champions League.
While Sir Alex and Arsene Wenger became chummy even to the point of selling players to each other, Wenger found a new rival in Chelsea's Jose Mourinho. Wenger's appreciation for Sir Alex might have partly come from his dealings with the Portuguese tactician. While the United legend could be aggressive, it was nothing compared to what the Portuguese tactician had up his sleeves.
Jose knew just what to say to get under Arsene's skin and probably even more painful for the Arsenal manager, Jose knew just how to beat him.
A war of words always ensued between the two.
Jose's biggest hit to date was his reference to his Arsenal counterpart as ''a specialist in failure'' while Arsene had previously written him off as stupid and someone who success had made even more stupid.
So the venomous battles between Manchester United and Arsenal failed to exist and instead the games between Chelsea and Arsenal (while Jose Mourinho) was in charge took centre stage while Manchester United focused on rivalries that were solely football and location related against Manchester City and Liverpool.
United's decline in the post Ferguson era under David Moyes and Louis van Gaal ensured that games against Arsenal were nothing more than a football match against a good team. No different to games against Tottenham, Chelsea or any of the decent sides in the Premier League. Simply a battle for 3 points, nothing more than that.
All that changed when last summer Manchester United appointed Jose Mourinho to take over from Louis van Gaal.
A rekindled grudge match
It will not be an exaggeration to say that Arsene Wenger is Jose Mourinho's least favourite manager in football, followed closely perhaps by Rafa Benitez. For all Jose's rivalry with Pep Guardiola, both men have history together and he is perceived by Jose as a threat not an enemy. In Arsene's case, Mourinho loathes the man.
Even when Jose Mourinho was working outside of England in jobs at Inter Milan and Real Madrid, he couldn't resist having a pop at Wenger and his lack of success. A point he emphasised again during his unveiling as the new manager of Manchester United.
The game against Arsenal has therefore all of a sudden become more than just a pursuit for 3 points irrespective of what each manager may say. Both men dislike each other and that much is evident when they stand side to side on a touchline or when emotions are running wild. The French man actually lost his cool and shoved his Chelsea counterpart a couple of seasons ago when the stood side by side on the touch line at Stamford Bridge.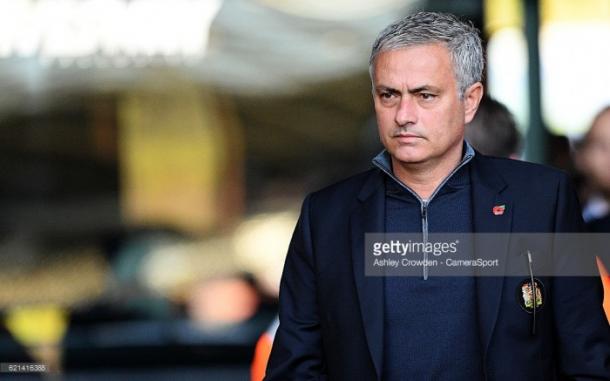 This game in particular comes at an opportune time for both managers. For Arsene, it is a great opportunity to record his first win against a Jose Mourinho led team as Manchester United have been decimated by injuries to their back 4 as well as still being in the early stages of finding their identity under their new manager. For Jose, a win against his old nemesis would be just the tonic he needs to reboot United's frail start to the season and take the focus away from his criticism of his players before the international break.
A win against Arsenal would put United just 3 points behind their North London rivals, a team who are considered to be in with a chance of the title, and would do a lot to revitalise United's campaign.
To do that though, Mourinho will need for his Manchester United players to come of age.
February 05
It was the 1st of February in 2005 when following an aggressive exchange in the tunnel between Roy Keane and Patrick Viera, United went on to beat Arsene Wenger's side 4-2 at Highbury. That was the game where 3 of United's young players who would go on to play a big role in United's re-emergence as a force in England and Europe again came of age. In that game, the likes of Cristiano Ronaldo, Wayne Rooney and Darren Fletcher put on a very mature display in a tough environment to lead United to an unlikely victory with a John O'Shea delicate chip over Manuel Almunia to seal the victory, the highlight of the game. A season and a half later and United were on course to win the Premier league for three seasons back to back including a Champions League title along the way.
Jose Mourinho's current side is not lacking of young players with the potential to become some of the best players in their position. In Anthony Martial, Marcus Rashford, Jesse Lingard and the current most expensive player in the world, Paul Pogba, Mourinho has enough talent at his disposal.
Alex Ferguson oversaw the development of two of the best players of their generation in Wayne Rooney and Cristiano Ronaldo, Jose Mourinho has a great opportunity to emulate him.
One of the criticisms against the Arsenal manager and one that his United counterpart apparently shares, is that the likes of Theo Walcott and Alex Oxlade-Chamberlain have not quite developed as hoped when they burst into the scene. It is another opportunity for Mourinho to get one over on his old nemesis. If Jose can oversee the development of Rashford, Martial and Lingard from potential world beaters to top Premier league footballers at the very least it will be a job well done and just like with Rooney and Ronaldo under Fergie, could provide the catalyst for catapulting this United team into the bracket of relevance in Europe and England once again.
A midfield general is needed
To do this Mourinho would need his midfield general to also come of age once and for all. Just as Roy Keane set the tone in all United's victories over Arsenal in the days when both sides battled for the top prize, Jose Mourinho will need a dominating performance from Paul Pogba. The talented French man has all the ingredients to be the force in midfield that United have missed since Keane left the club and there would be no better time to produce a display worthy of his great talents than against his manager's most despised rival. To be fair to Pogba, as the season has gone on so have his performances improved including a few top class goals however, United need him to take things up another level and to also deliver consistently.
It is not a feat beyond the Frenchman and should Pogba develop into the player United believed he could be when they broke the record to sign him, in tandem with the other young and talented players around him, then the only way is up for United and their beleaguered manager.
In the absence of two big personalities in Zlatan Ibrahimovic (suspension) and potentially Wayne Rooney (injury) there is an opportunity for the young lads to take centre stage
Saturday lunchtime can't come soon enough.