Saturday's performance against Bournemouth saw the metaphorical Stoke City bubble burst. It was not just a disappointment from the first loss since September but a return of problems that dated back to before the good run. Many are suggesting that this Sunday's clash against Watford could be the most important in Mark Hughes' time at Stoke, so what should Hughes do the win the game?
Welshman musn't change the backline
At a time where most areas of the pitch are seeing stuttering and irregular performances the defence has returned to being the solid and steady foundation it was under Tony Pulis. The defence needs to simply be left as it is, aside from the return of Glen Johnson for the injured Phil Bardsley.
If there is any temptation to move Bruno Martins Indi to left back, as Stoke did the last time they had an away match on the outskirts of London, it needs to be rejected as fast as possible. After so many troubles last season Hughes has seemingly found a solution and it has been the basis for Stoke's rise up the table.
Faith must be placed in Bojan
The Spaniard had an awful day against Bournemouth. He struggled to get into the game and despite winning the penalty failed to convert it for the first time in his Stoke career. Some fans have been calling for his head and arguing that he was the reason that the six game unbeaten run came to an end.
The reactionary view is hopefully not shared by 'Sparky' as it would be beyond unfair to drop someone for missing a penalty. It has been clear during the two seasons that Bojan has been in Staffordshire that a period of time in the squad is required to get him performing, and now is the time for Hughes to show faith in the Masia graduate.
Don't leave the midfield empty
Two defensive midfielders has been the major tactical switch that Hughes made to stop the rot and bring about Stoke's six game unbeaten run. Geoff Cameron and Glenn Whelan had provided a solid base to provide balance to an increasingly unbalanced side.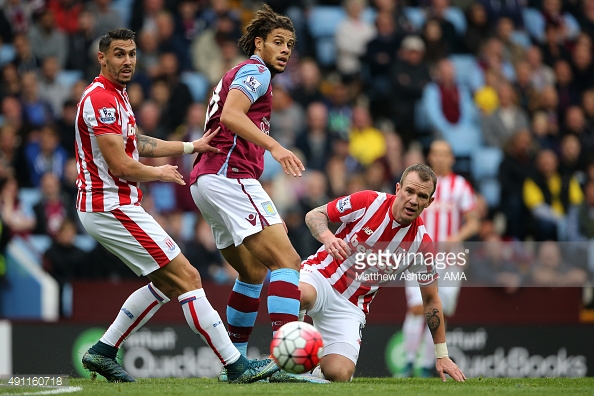 With both of these two players unavailable for the Bournemouth fixture Hughes failed to assign Joe Allen or Charlie Adam to fill in the holding role, leaving the defence vulnerable. Watford are a more clinical prospect than Eddie Howe's men and will massively exploit this area if it is open again.
Don't be afraid to go direct
This is not an urge for a return to the old style of play that was synonymous with Stoke, instead it as an urge to get the ball forward with pace and style. This is to help Manchester City loanee Wilfried Bony, who has hardly had the most exciting start to the season. Bony is often left without the correct service and this is the reason for his lack of goals.
Bony either needs the ball in the air or rolled into him allowing him to hold up play and create space for others. Instead the current plan seems to involve playing through balls in behind the Ivorian, which he is not suited to and as such totally killing any attacking impetus the side has. Going direct will assist Bony to get more involved in the game and this will help the side to score more goals, an area they drastically under perform in.
Work on set pieces
Firstly Stoke need to give up with the zonal marking system. Hughes switched to this plan to try and reduce the amount of fouls being given for holding in the box, and despite it achieving this aim it has led to a continuation of poor defending. The system creates more problems than it solves and Stoke have conceded eight goals from set pieces already this season, only better than Crystal Palace who have conceded nine. Further to this Watford have been guilty of giving away cheap free kicks in dangerous areas so far this year. This should adequately wet Xherdan Shaqiri's appetite as the winger has already scored from two direct free kicks this season, and could be Stoke's route to victory.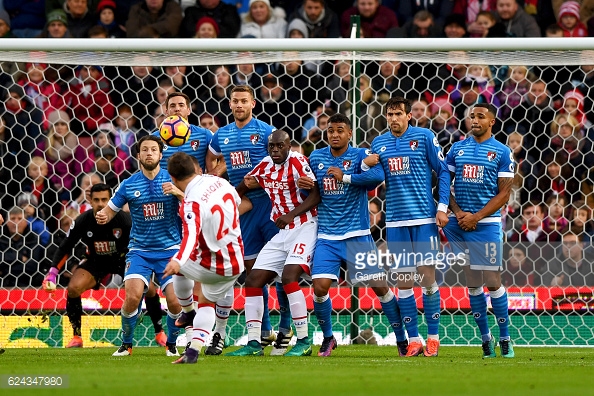 As Stoke set about trying to return to winning ways it may be worth following these guidelines as they will hopefully address the areas that let the side down against Bournemouth.