 Sean Dyche is under no illusions as to how tough Burnley's next Premier League fixture will be as they prepare to take on "super-powers" Manchester City, with "massive" the key descriptor used to describe the gulf between last season's Championship champions and the former Premier League champions.
"I think they are most people's favourites for the league"
The Burnley manager is hoping that such a fixture will aid his vision of where the Clarets are in terms of quality and their ambitions for the season, stating "these are massive challenges for us. The Premier League is a big challenge for us, let alone anything else, but when you are playing the super-power teams it really is a massive challenge".
Dyche added his belief that Pep Guardiola's side are favourites to recapture the famous trophy this season. "I think they are most people's favourites for the league this year over a season's work, and of course they are going well in Europe as well".
However, Dyche is hoping that his side can "deliver a performance" as "the gulf between the two sides is absolutely massive but we are pleased, on the other hand, that football isn't always played out like that".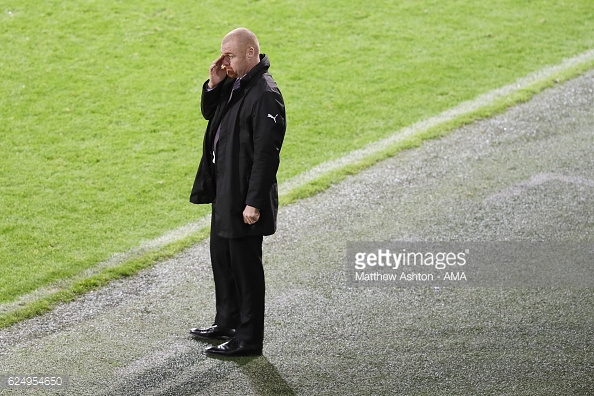 "We are learning and developing"
Burnley have owed much of their relative success this season to a competitive brand of football. Dyche explained "we have made a good reputation as being a side that are at least willing to compete in every game, barring last Monday which was a rare one for us".
Responding to a bad run of form away from home, the manager admitted "we are not the real deal, we have never said we are. We are learning and developing". Just as former player Joey Barton is looking to develop his fitness whilst training with the club, Dyche explained "he's quite aware there's a good environment here to get himself fit and that's what he's choosing to do at the moment".