 Stoke became the most recent in a long line of teams to switch to the more continental 'three at the back' system.
The tactical gamble definitely paid off for Potters' boss Mark Hughes, yet this was not mindless following of a current trend as many in the media would lead you to believe.
Hughes trialled the system, somewhat unsuccessfully, during pre-season and for many fans the willingness the Welshman showed to change tactical plans is more pleasing than the narrow victory over Watford.
So Did Stoke actually play with 'three at the back'?
Some Stoke fans, for a reason unbeknown to myself, appear unwilling to accept the opinion of pundits, players and 'Sparky' himself, that Stoke changed their formation for Sunday's lunchtime kick-off. However, looking closer, there is irrefutable evidence that Stoke moved an extra player into the centre of defence.

When looking at the average player positions of Stoke and current champions of the system, Chelsea, the similarities are reasonably clear. Johnson (8), Martins Indi (15) and Muniesa (5) spread themselves across the back line mirroring Chelsea's own back line of Azpilicueta (28), Luiz (30) and Cahill (24). So despite Erik Pieters' (3) deep-lying position, relative to that of Marcos Alonso's (3), it is clear that Hughes sent out the team with the intention of playing a 3-4-3.
Anything Moses can do Diouf can do better
Without a doubt, the player to shine most in the new system was Mame Biram Diouf. The former United Striker was moved out to right wing-back, and it was in this unusual position where Diouf flourished. The Senegalese international made more tackles than any of his teammates, five - a figure only bettered by Behrami on the day. The green icons on the image below display successful defensive actions and they clearly present an image that, despite traditionally being a centre forward, Diouf was able to cope with his increased defensive responsibility.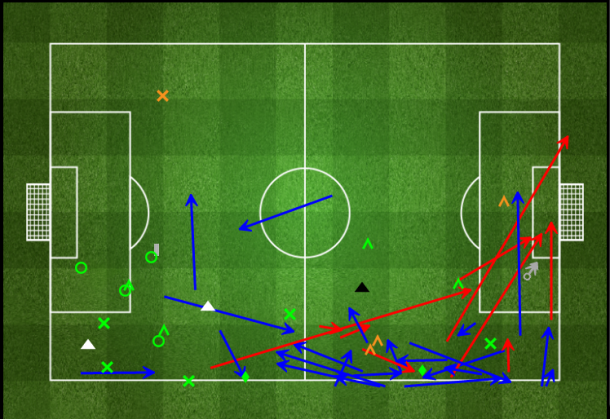 Diouf has appeared as a right-back for Stoke on two previous occasions, during extra time of a League Cup tie with Chelsea and an injury filled clash with Bournemouth, but fans would never have expected to see him picked in the position out of choice. Conte has gained a great deal of praise for his unorthodox use of Victor Moses as a wing back, and Hughes should be equally congratulated for his bold position switch.
Pro's and Con's
The formation certainly seemed to provide a solidity to the centre of midfield, which has traditionally appeared vulnerable without the inclusion of a holding midfielder, normally Glenn Whelan or Geoff Cameron. The opening 20 minutes saw Stoke totally dominate the match. The Potters had 66.5% of possession during this time and made 114 passes, playing with a phenomenally high tempo which is something Stoke have struggled to do under Hughes so far this season.
The presence of wings backs seemed to be of large benefit to Shaqiri and Arnautovic. Traditionally utilised as wingers, the two have sometimes struggled as their strengths involve coming inside from out wide and doing so forces the attack to narrow. Yet with the wing backs the two were allowed a free reign in the centre of the pitch, this allowed both to flourish as they were not required to maintain their width at a cost to their own game.
Unfortunately, Erik Pieters' attacking limitations meant the side had a slightly unbalanced feel on the left-hand side. Pieters' game style seems a deal more suited to the left centre-back role, and this issue indicates how important signing a crossing full/wing back in the future is. Further to this, Jon Walters looked out of his depth in the fluid ever changing front three of the side. Walters does not possess the pace or ruthless finishing streak required to lead a side in the Premier League and this was certainly shown in the new formation.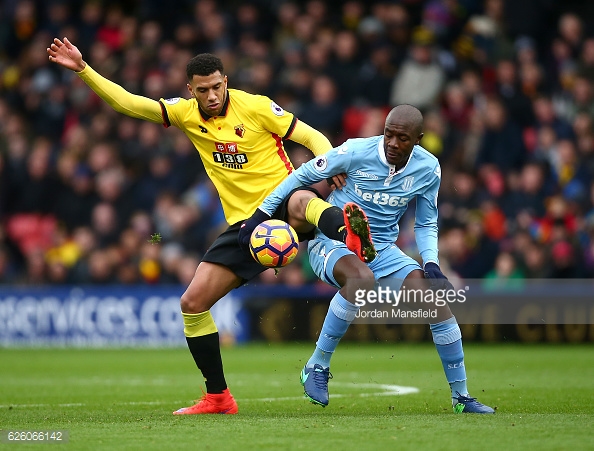 What next?
The formation seems to have the potential to include both Giannelli Imbula and Joe Allen as a centre midfield partnership, something that Hughes has struggled to do so far this year. The two most expensive players in the side simply have to be playing and it is their lack of game time together that has caused Hughes to get some criticism.
A more aggressive, pacy crosser needs to be brought into the left wing-back role and, for the time being, it may be worth moving Muniesa into the position as his final ball is somewhat more reliable than Pieters'. It will also be interesting to see whether Hughes will bring Bojan back into a false nine-esque role in the front three. The flexibility that Arnautovic and Shaqiri played with certainly suggests that Bojan, who will be comfortable with this fluid movement, will be the best of the current attackers to slot in.
It remains to be seen as to whether or not this formation will continue with the match on Saturday against Burnley or if it was simply a quick solution to a temporary problem. Hughes has a history of cutting new systems before they have had time to grow and adapt, the false nine was only given seven games.
This change seems to mirror a general trend in football and for Stoke to be at the forefront of this is another new frontier fans from North Staffordshire have not experienced, but it is certainly one which shows the huge progression the side have undergone with Hughes at the helm.