A first goal of the season by Paul-Georges Ntep helped Rennes to their ninth game unbeaten at home by defeating Saint-Etienne at Roazhon Park.
After a tough first half without a shot on target, Ntep's goal on 54 minutes broke the deadlock and sparked the game into life.
Rennes were always on top in the match with Sainté struggling to test goalkeeper Benoit Costil - having no shots on target in the entire match.
The match was sealed for les rouges et noirs late into injury time when super-sub Kamil Grosicki scored a potential goal of the season with a curled lob into the top corner of the net.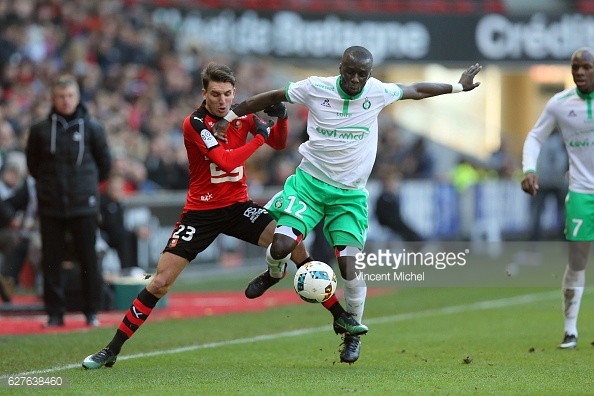 In attendance at Roazhon Park was Real Madrid's Martin Odegaard, who is believed to be signing for Rennes in January on-loan.
Rennes slightly ahead in conservative first half
The star of the first half was Sainté captain Loic Perrin who kept Rennes at bay with late interceptions and clearances.
The opening 45 seemed to be a game of keep-ball for both teams with neither giving too much away.
The best chance came from youngster Adrien Hunou who collected a superb through ball from Benjamin André.
Hunou successfully chipped Saint-Etienne keeper Stéphane Ruffier, but was unable to guide the ball into the net under the pressure of the recovering defenders.
Rennes finally make Sainté pay for firing blanks
A much better half on the eye was to be had with both teams playing less conservatively than they did in the first.
Nine minutes in and the opener was found by Ntep who netted his first in over a year due to injury.
Cutting in from the left inside the box, Ntep successfully drove a low shot by Ruffier's near post.
The closest Sainté came to levelling came through Romain Hamouma who was unable to direct his free header inside the box on target.
The match was wrapped up two minutes into stoppage time when Grosicki scored a speculative chip from inside the box.
The Polish international caught the ball on just the right spot to dip the ball over Ruffier and into the top corner.
The win puts Rennes in fourth place due to Lyon's match against Metz being postponed, while Sainté continued their dismal away form but sit mid-table.
Next week, a battle at the top sees Rennes travel to Parc Olympique Lyonnais in a bid to maintain fourth spot, while Saint-Etienne host Guingamp.