As the festive period begins to draw ever closer, many Premier League clubs will be starting to focus their attentions on crucial clashes that could help define their seasons.
For both Hull City and Crystal Palace their upcoming clash this Saturday provides a vital six-point opportunity that could strengthen or weaken each side's respective survival hopes.
Aggresive attacks against dodgy defences
Judging by the standards set in the opening months of the season, Saturday's outcome could be determined by set-piece situations. Both teams have been strong offensively in these areas but poor when defending against opposition dead ball situations.
With the aerial threat of Crystal Palace striker Christian Benteke helping him register seven goals already this season, the visitors will test the defensive ability of Michael Dawson and Curtis Davies who have both become unstuck in their own penalty area during recent weeks.
Eight set piece goals from 24 shows how strong the Eagles are from these situations, though Hull boast 54% at six from eleven in the league. Their route to success has largely been due to the consistent deliveries supplied by Robert Snodgrass and the taller Tigers may fancy their chances against a Palace side who have conceded 50% of their 26 goals from dead ball situations.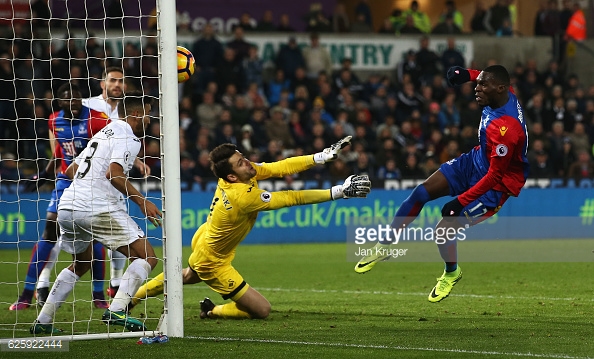 Who can create more chances?
Another area where Palace could benefit is down the flanks. Hull's full-back positions have been a consistent zone of success for opposing wingers and with Andros Townsend and Wilfried Zaha at their disposal, the likes of Andrew Robertson and Ahmed Elmohamady will have to be in excellent form against the pace and trickery of the visiting duo.
Hull remain without key strikers Abel Hernandez and Will Keane but will be hoping thier luck in front of goal changes sooner rather than later.
The Tigers have scored just eleven goals this season, the lowest record in the league. Yet they will be buoyed by the fact they are taking on the fourth worst defence in the top flight, though Hull's is second, with Palace employing a back four that conceded five goals against struggling Swansea just two weeks ago.
Much will depend on Mike Phelan's confidence in setting a more attacking approach than the defensive mindset he has used in recent matches.
It is a huge game for both teams even at this early point in the season. A win for the hosts could help them climb out of the relegation zone and level on points with Palace who will be dragged right into the mix.
Yet a win for the Eagles could take them six points above the drop zone, with Hull left truly stranded in the danger area.