The resoluteness of many of the great Manchester United sides that have come through the FA Youth Cup was shown by the Reds' opposition on Monday night as Southampton netted twice to win from behind and progress to the Fourth Round.
Stunning Chong strike meaningless as Saints hit back
Old Trafford has seen some astonishing moments and some spectacular goals but even this magnificent old stadium took a breath as Tahith Chong rifled Manchester United in front against Southampton, what looked to be the winner.
Two quick-fire goals from Southampton, who had offered little in the game, turned the game on its head. By no means sitting back but with large numbers behind the ball, Southampton had been excellent in defending a United attack which has scored four or more goals in seven of their 14 opening league games.
Kieran McKenna had changed the game with the introduction of Tahith Chong on 55 minutes, the Dutchman arriving to the game with the same impact that he has made since joining from Feyenoord earlier this year. Yet United's continual search for a second goal, the philosophy that has adorned so many sides in this competition in past victories, proved their downfall.
O'Connor turns game on head
Thomas O'Connor was the game's real influencer, though. Unchallenged, he strode into the penalty area and powerfully struck the ball past Ilias Moutha-Sebtaoui, rightfully frustrated at his defence.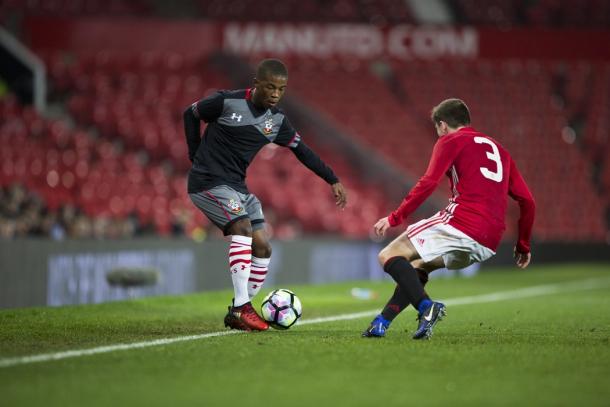 Similar circumstances allowed the Saints to take the lead only three minutes later. Substitute Will Smallbone produced a goal of the highest quality to beat Moutha-Sebtaoui, again the ball moving past the Belgian goalkeeper with power, nestling in the top left corner of his goal. Again, however, the Southampton man was unchallenged.
Free-flowing, high-scoring, this young United side, some still only 16, haven't had a defensive worry all season. When one was posed, they failed.
United's FA Youth Cup run over as Saints progress
The Reds had been expectedly dominant all game. Undefeated in nine against an opposition without a win in nine, United started as favourites, and were clear favourites with eight minutes remaining.
Angel Gomes, who debuted in this competition last year aged 15, had a glorious first-half chance from the edge of the six-yard box that he skied over the crossbar. Defender Lee O'Connor, also 16, hit the crossbar with a powerful header after a tall jump as the corner was floated in.
At the break, though, United were level, undeservedly. Astonishment has met the miss of Gomes, and would meet the miss of Joshua Bohui with seconds remaining. Goalkeeper Parkes made himself huge in front of the English forward, keeping what looked to be an equaliser out with his feet.
The former-Brentford man was quiet for the majority of the game, but showed the misfortune of United in those final few moments, his only other chance also saved by Parkes, trying to poke him a near-post cross from George Tanner.
United will be, and must be, thoroughly disappointed with a third-round exit from the FA Youth Cup. Kieran McKenna has welded a fantastic side into an almost unbeatable force. Yet Southampton did what no other team since September has done, beat a fine United side who rightfully expected for a good run in the most important competition at this level.
They're only the fourth side to beat United this season, and because of quality within the side and resolute defending, if they were fortunate with two golden opportunities missed by the Reds.
Last season, United were knocked out by champions Chelsea in the Fourth Round. This season, it's earlier, despite huge improvements in the side. It remains a young side, 16-year-olds forming the spine, but one of high quality. Jose Mourinho was watching, as were Sir Bobby Charlton, Marcus Rashford, Jesse Lingard, Michael Carrick and Ashley Young. Head of Academy Nicky Butt will have been pleased with some of the performances, although obviously not the result. Meanwhile, Sir Bobby has seen many talented sides come through at Old Trafford and the three-time FA Youth Cup winner will know that this side have some special players, even though it did not show on Monday evening.
For Southampton, the next round holds an away tie at either Exeter City or Wigan Athletic, where they'll be favourites after a superb comeback at Old Trafford.