As Zlatan Ibrahimovic made his 10 goals in his last nine games for Manchester United, teammate Jesse Lingard hailed him as a "natural goalscorer" after assisting for his first goal against West Bromwich Albion on Saturday, a 2-0 win for the Reds.
Two goals from the Swede in Saturday's late kick-off has him as third top goalscorer in the Premier League going into Sunday's fixtures, and gave United a vital three points.
Lingard crossed wonderfully for Ibrahimovic's opener, a curled delivery on the half-volley that his teammate headed with ease past Ben Foster. The Englishman described Ibrahimovic as a "natural goalscorer" and said you can "see that by how well he took his goals."
Lingard praises Ibrahimovic
Despite never failing to deliver since breaking onto the scene many years ago, many doubted Ibrahimovic's ability to do the same at Manchester United, most Premier League fans expecting the combination of a harder league and an older age to negatively affect his goalscoring rate and performances. Yet with 10 goals in nine games, the two most recent coming in his third game in six days, he's proved that age is just a number.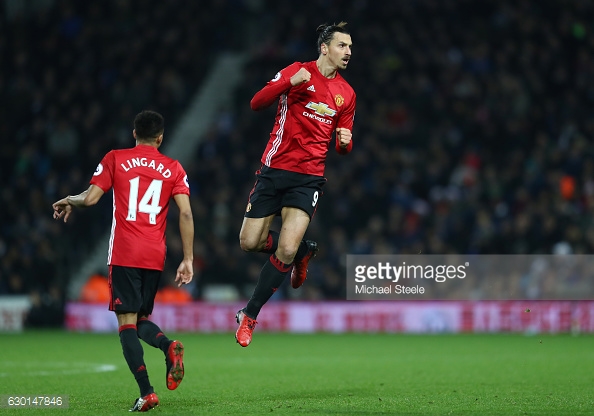 "He is great to play alongside because he makes such great runs and that makes him easy to link up with," said Lingard, who also revealed that the Swede has helped the youngsters in the United dressing room.
Swede made it 10 goals in 9 games on Saturday
Zlatan was tipped by some to play a similar role to that of Eric Cantona when the Frenchman led a young United team to consistent glory in his short but iconic spell at the club. Cantona was both an inspiration and a mentor for many of the United side who later won the treble in 1999. United fans will be hoping Ibrahimovic can do the same.
Although he had a spell of poor form, becoming a rightful target for criticism as United drew four consecutive home league games, Ibrahimovic is still one of the highest goalscorers in the country and at 35, playing three games in a single week is astonishing. Ahead of his brace against West Brom, the 35-year-old described himself as feeling like 20, and his performances look that way too.
While criticism has been fair at some stages, he is a large part of United's excellent recent form that has them going into a busy festive period on a high. They face Sunderland on Boxing Day next week.