Born on May 9, 1992, Brescia Calcio Femminile stalwart Martina Rosucci is one of Italy's most exciting products in women's football. Rosucci has fallen in love with this game since she was young and has never got tired of testing herself at new heights.
She always had an eye for the game, registering goal after goal at various youth levels before heading straight to Italy's top division, the Serie A, where she represented her city, Torino before before being acquired by Brescia, Italy's best team.
Rosucci has been involved several international tournaments, such as the UEFA Women's U-19 European Championship, FIFA Women's U-20 World Cup and also the UEFA Women's Champions League.
Her CV is quite remarkable considering her age, with two Serie A titles, three Coppa Italia titles and three Super Cup titles. Also, she was awarded the Pallone Azzurro back in 2014, after the fans voted her as Italy's best female player for that year.
VAVEL and Gianluca Lia took some time to talk to her and discuss her playing career, her thoughts about women's football in Italy and the rest of Europe and also what are her future plans ahead of the 2017 UEFA Women's Euro. As well as another crack at the UEFA Women's Champions League and further challenges both with Brescia and Italy.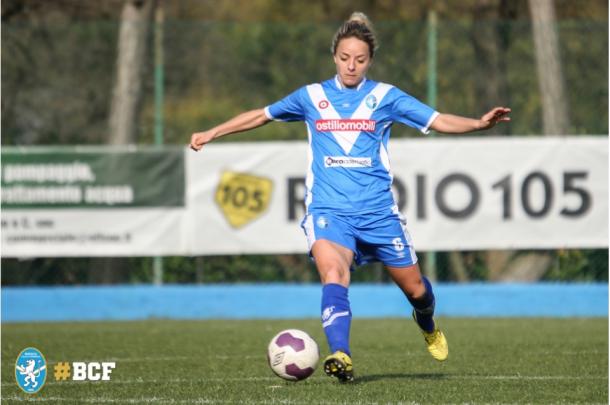 How did your passion for football start?
''My passion for football started at a very young age, thanks to my twin brother, Matteo. I used to attend every match he used to play, and then one day, I decided to give it a try.''
You used to play with the boys groups when you were young. How did that help?
''Indeed, I have always played with the boys until I could not do it anymore. Actually, I carried on beyond the limit but then I stopped for a year because I did not wanted to play with the girls ironically. But that year absence made me realize that I could not cope without playing the beautiful game, so I hit the pitches again, with the girls naturally.''
How do you describe the development of women's football in Italy throughout the years you have been active?
''It is growing a lot now. Yet, we still lack the right investments but most of all, we need more exposure. Nonetheless, I think the collaboration as one club, alongside the men's team organisation, taking for example the Fiorentina model, could be the real breakthrough for us, like the rest of Europe.''
You started your Serie A career at Torino. How do would you describe that experience?
''Torino has been like a family for me: A group of young girls with whom I created a very strong bond, which then would transform itself into positive results on the pitch. Also, it has been an experience where I enjoyed playing football with enthusiasm and without much pressure but always with the professional attitude, despite the young age. Without doubt, it paved my way to greater things.''
Afterwards, you moved to Brescia. How does it feel playing for such a big club?
''I wanted something bigger. My ambition always led to me to greater things. Brescia was the ideal place where to tick off my objectives, and in fact I did. Playing in such a squad requires lot of dedication and commitments and it becomes a full-time job. To maintain yourself at the highest level, one has to pay attention to the slightest of details.''
Having played in the UEFA Women's Champions League, in your opinion, what does Italian football need to reduce the gap with the rest of Europe?
''We are still behind, both at club and international levels. We lack structure, investment, competent staff but also long-term projects which usually starts from school academies. Girls have to start practice football from a young age so they can strengthen the basic skills of their game while making it easier for them to reach higher heights in women's football.''
With the women's national team U-19 you have clinched a gold and a bronze medal in two different major championships.
''Anything related with the national team always makes me proud. As per the gold medal (2008 UEFA Women's U-19 European Championships), I was very young to be aware that we won it actually: It was pure joy. While regarding the bronze medal (Same tournament, two years later), I was the captain of the team and it was a huge sensation for us, even more because it helped us clinching a place in the FIFA Women's U-20 World Cup, a year later.''
You were part of the Italy WNT's squad for the 2013 UEFA Women's Euro. What role did that experience played in your career?
''It was my first and real experience in senior football. Crowded stadiums and international superstars. I learned a lot of things, especially playing against Sweden's midfield. We had an insanse physical condition, which was necessary to reduce the gap with the powerhouses of the tournament. Paying attention to details is fundamental and we could not leave any detail beyond us. From that championship, I learned that I had to improve physically and technically.''
Unfortunately, you are currently injured. What motivates you in order to carry on with your comeback?
''What motivates me has not changed since what motivated me prior my injury. I want to achieve all the objectives that I have set for myself and it defiinitely won't be a little incident that will stop me.''
2017 UEFA Women's Euro. What are your objectives?
''My objective is to manage to feature in them. The team's objective is, for sure, to qualify from the group, despite being drawn alongside the two finalists of the last of the Olympic Games. Afterwards, anything can happen - we are Italy after all!''
Recently, the likes of Patrizia Panico and Carolina Morace have been added into the staff of Italy's U-15 men's team and Trinidad and Tobago women's team respectively. Do you think that both personalities can help to enhance women's football in Italy?
''The fact that two personalities of their calibre, who played a huge part of women's football in Italy, are setting careers elsewhere as coaches is important and I think that is a reward for their careers. It is obvious that their competence are still at the basics, but this is relevant to both ex-women and ex-men players. The fact that female personalities are given these roles is also a part of societal shift and it is also inspirational for me, in having new opportunities in the game whenever I finish my career.''