A weak wrist of former Barcelona goalkeeper Victor Valdes was to prove to be the only difference in a lacklustre contest between two promoted sides. The three points were crucial for Burnley, though both themselves and Middlesbrough will have to improve if they are to avoid a relegation battle at the end of the season.
A lack of attempts and defensive cohesion
With both teams bottom of the table for number of shots created thus far in the top flight, many a fan and pundit would have predicted very few efforts on goal, let alone strikes to hit the back of the net. Across the 90 minutes, only 14 shots were mustered, six of which put goalkeepers Valdes and Tom Heaton to work.
The lack of creative flair present at Turf Moor was clear to see as defensive errors predominantly opened the rare opportunities for the opposition. In Burnley's case, Ben Mee and Michael Keane often found themselves separated by a large gap in the centre of defence, whilst both teams struggled to clear their lines on numerous occasions.
Scrappy passing from both sides
The standard of passing was particularly poor, with Burnley managing just a 59% pass completion rate, compared to Middlesbrough's lowly 69%. With just an average passing combination of three and four respectively, the game descended into a scrappy affair.
29 fouls were made and 11 cards dished out the day after Christmas. Far too often both sides gave away free-kicks in dangerous positions, so it was unsurprising that nine of the 14 shots came from set-pieces.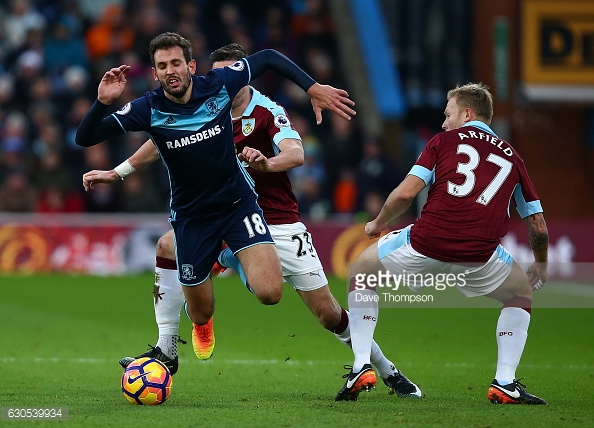 Long ball tactics prove inadequate
Similarly both teams showed a lack of ambition to cut open the opposition, with both sides employing a long ball approach. A quarter of Burnley's passes went long, an equal rate to that of their visitors.
Middlesbrough looked to exploit the opposition down the flanks, whilst Burnley created 40% of their moves down the left side through Scott Arfield. With such target areas and a lack of short passes in the middle of the park, many of the engine room players were made redundant. Burnley's Dean Marney touched the ball just 28 times in central midfield.
Yet the hosts were left the happier side after a late mistake by Valdes from Andre Gray's pot shot allowed Burnley to claim three points and move six clear of the relegation zone. Middlesbrough are safe by four points but both sides will need to improve in 2017.