Their is a real buzz of excitement around Turf Moor, only extended by a thrilling 4-1 win over Sunderland that lifts Burnley nine points clear of safety at the midway point in the season.
An excellent end to an exciting 2016
Manager Sean Dyche expressed his delight with how Burnley's small squad have responded to the challenge of the Premier League after being relegated two seasons ago. He stated "we have taken on the challenge and delivered so far, so overall I am really happy with that the team is doing and I'm really pleased for everyone connected with Burnley".
Dyche has been particularly impressed with how his team have responded to being tipped amongst the favourites for relegation. "We were written off and I understand why because we work under certain guidelines that make it more challenging, but that doesn't stop us having a group that is ready to perform".
The manager saved praise for his strikeforce following Andre Gray's hat-trick, the first Burnley treble for 41 years. Dyche admitted "Andre was fantastic today, but I must say I thought Ashley [Barnes] was excellent alongside him. He is awkward and a handful and his work for Andre's third, to chest it down and play him in, was fantastic".
Dyche is keen to ensure Burnley do not dwell on the result with a challenging away fixture at Manchester City on Monday. "You can quickly forget what's been achieved here over four years, but equally I don't over-think that and I know my mind will already be off this one and on to Manchester City".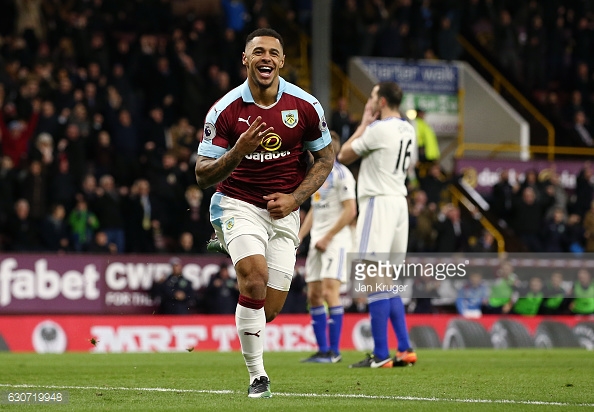 Focus on away form
With Burnley managing just one point on the road this season, a "park the bus" performance against neighbours Manchester United, Dyche is looking to transform the club's recent home form to their travels. He believes their away showings are improving, suggesting "in those last two or three games I've been pretty pleased with the performance and I think it's shown good signs of building an away-style performance that can work".
However Dyche is under no illusions of how difficult a visit to the Etihad Stadium will be. He admitted "it's a tough challenge, obviously. It's also a different kind of challenge. They are one of the superpowers of the division and we want our fans to come with us and enjoy the occasion".
The former central defender did claim "we will be working hard to earn something from the game". He added "for us it's about concentrating on a performance. I thought we did that very well at home and pushed City close to getting something from the game and arguably deserved something". A change in fortunes on the road will only help their cause further in the race to avoid relegation.