Swansea City have appointed former Derby County manager Paul Clement as their new head coach.
Clement replaces Bob Bradley, who only lasted 85 days at the helm, before he was sacked following a Boxing Day defeat to West Ham.
The new boss has signed a two-and-a-half-year deal at the club.
Clement has been a long-time assistant to Carlo Ancelotti, and has been his assistant at Chelsea, Paris Saint-Germain, Real Madrid and Bayern Munich.
The 44-year old will not be in the dugout for Tuesday's game with Crystal Palace, but will be in attendance from the stands.
Earlier in the day, Bayern Munich appointed Hermann Gerland as Ancelotti's assistant, after Clement expressed his desire to take over at Swansea.
Joining Clement at the Liberty Stadium are Nigel Gibbs and Karl Halabi, who were previously at Tottenham Hotspur.
Gibbs will take over at assistant coach, while Halabi has been named head of physical performance.
What did the Chairman have to say?
Swansea Chairman Huw Jenkins said: "We are delighted with the appointment of Paul Clement as our new head coach.
"Paul has not only worked with some of Europe's biggest football clubs, but also the very best players in the world." Jenkins remarked.
Jenkins also said that everyone connected to the club is behind the appointment, and that Clement can restore some pride to the club.
Is Clement the right man?
Swansea need someone to fix their defence, desperately, and Clement could well be the man to do it.
At Derby, he was ridiculed for turning a free-flowing offensive side into a defensive-minded one, where they would focus more on keeping the opposition at bay.
This wasn't the right tactic at a Derby side chasing promotion, but at Swansea where the team has conceded a joint league-high 44 goals in just 19 games, a head coach coming in who cares a lot for the defensive side of the game could really help.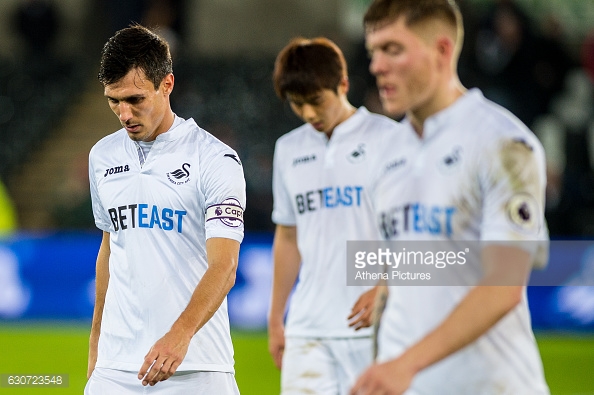 However, the personnel isn't there to turn Swansea into a not-terrible defensive side, so recruitment in January is going to be vital.
You could argue that Swansea need to sign a player in every position, bar goalkeeper and attacking midfield, but their defence is what requires the most upheaval.
Can Clement keep Swansea up?
In terms of fixtures, it's been a real patchy season for Swansea. They opened with two fixtures against Burnley and Hull City, but then had an awful run of games against the top sides in the Premier League, which saw Francesco Guidolin sacked.
Bradley also had a tough run to start his job, but then picked up zero points from games against West Brom, Middlesbrough, West Ham and Bournemouth, which really hurt the Swans' chances of survival.
Clement is the next Swansea manager to open with a tough run of games, as he will start with fixtures against Arsenal, Liverpool, Southampton, Manchester City, Leicester City and Chelsea consecutively.
It's fair to say that the Welsh side will pick up very few points in those games, but from then until the end of the season they have a much easier fixture list, and it's those games that will decide whether Swansea stay in the Premier League.
Swansea face Crystal Palace tonight, 20:00, at Selhurst Park.