Burnley manager Sean Dyche was full of praise for Joey Barton as he came off the substitutes bench to grab a winner for the Clarets against Southampton. Dyche explained "Joey has an interesting story. Each time you turn a new page you don't know what's going to come next", as the 34-year old scored a free-kick on his return to the Premier League outfit.
"Today is another strange twist in that life"
Dyche puts Barton's success down to a desire to work hard, explaining "he has worked so hard since he's been back here and I tend to believe in people I've worked with".
The Burnley manager took a punt on his former player after a torrid spell at Rangers that coincided with gambling accusations, which could stamp a suspension on the central midfielder. Dyche added "I know what he offers us and he has an interesting life, to say the least. Today is another strange twist in that life".
Yet one of the reasons the passionate manager turned to Barton was his work ethic that reflects the rest of a Burnley squad that have climbed into the top half of the table. Dyche claimed "there is a group of players here who give you every inch of what they've got and that's something I take great pride in".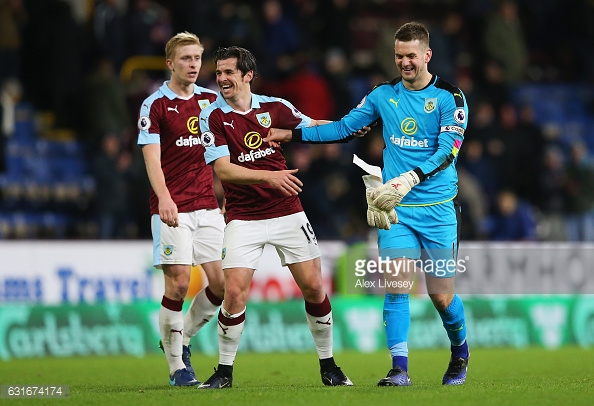 "We have a group who don't get carried away"
Dyche "was pleased with our mental focus to keep doing the basics and be in the game" and reserved particular praise in this area for goalkeeper Tom Heaton who made two crucial saves late on in the match. "Tom made a really important double save there at the end. I was delighted at his focus because before then he'd had clean hands, but not much meaningful to do because of the performance of the defensive unit, but it was a fantastic double save".
The manager pointed out Heaton as an example of how the Burnley players are constantly working hard to play at the highest of levels. He added "I think we have a group who don't get carried away and know the demands of this league. We've made sense of that and they'll know when the whistle blows again we have to be on top of our performance levels".