Chelsea remain seven points above Tottenham through 21 matches played to lead the English Premier League after a comfortable win against champions Leicester City at King Power Stadium.
The Blues maintained possession mostly throughout the match leading in shots (7-8), pass success (85%) and corners (3-5). Dominating the left side of the pitch allowed Antonio Conte's tactics to succeed versus Claudio Ranieri.
All three substitutes were used at the forward positions by Conte to rest Eden Hazard, Willian, and Pedro while also being able to play Cesc Fabregas, Michy Batshuayi, and Ruben Loftus-Cheek.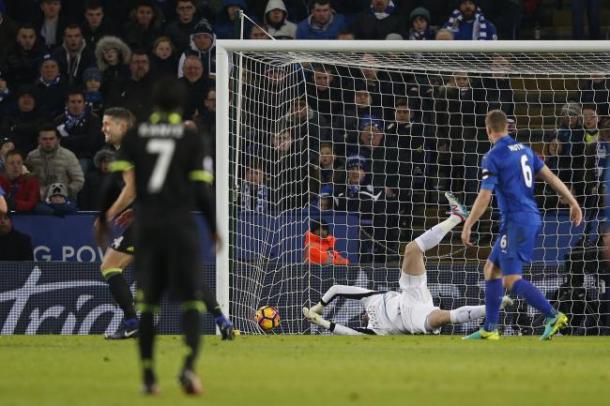 Goalkeepers and Defence
Thibaut Courtois - 7 - Relatively easy game for the Belgian. Courtois had two saves and three claims. Courtois's ability to catch crosses and corner kicks with ease displayed again.
Cesar Azpilicueta - 7 - A normal day of work for fan favorite Dave. Three aerial duels won in the air depicts Leicester City and their inability to outmatch the natural fullback and his height disadvantage at centreback.
David Luiz - 7 - Playing in the middle of the defence has limited Luiz from making many mistakes on the pitch. Balancing the line at the back with a occasional clearance and frequent short passes highlighted his experience today.
Gary Cahill - 7.5 - The captain was the busiest of them all at the back. Cahill managed to get a shot, dispossession, and win three of his aerial duels. The England international managed to complete 97% of his passes.
Midfield
Victor Moses - 7.5 - Moses continues to be a work-horse and attacking threat against the opposition. The Nigerian international frequently could be found in the attacking end attempting to deliver crosses for the attacking trio. Five aerial duels won and two dispossessions details his value in the squad.
N'Golo Kante - 7 - Kante returned to Leicester by owning the midfield with two tackles, one dispossession and aerial duel won, and a 88% pass success rate.
Nemanja Matic - 8 - Matic delivers a stellar performance to keep Fabregas on the bench. Four dribbles, two tackles, one shot and dispossession demonstrates a performance Conte remains delighted to see.
Marcos Alonso - 10 - Alonso delivers a man of the match award effort by scoring two goals after a questionable performance the previous match day. Four aerial duels won, three shots, and two tackles leaves the potential of Nathan Ake from being given a shot to be halted.
Forwards
Willian - 7 - Willian is a player that you know what to expect every time he enters a match. His work rate, dribbling, and occasional success with free kicks were all available today. The Brazilian international took all five corners, and had four successful dribbles and dispossessions.
Eden Hazard - 7.5 - Hazard's world class ability on the ball is a joy to watch. Although quiet for most of the duration of his playing time, he provided the assist for Alonso's opening goal and completed a dribble.
Pedro - 9 - Pedro is continuously extending the amazing season he is having right now by netting a header with his second shot. The Spanish international completed 95% of his passes while having two successful dribbles and one tackle.
Substitutes
Cesc Fabregas - N/A - Substituted on at 78'.
Ruben Loftus-Cheek - N/A - Substituted on at 83'.
Michy Batshuayi - N/A - Substituted on at 83'.