Well, that's all we've got time for. Thanks for joining us on VAVEL UK and we hope you enjoyed our match commentary. It ends all square between rivals Manchester United and Liverpool at Old Trafford after Zlatan Ibrahimovic's 14th goal of the season cancelled out James Milner's first-half penalty after a Paul Pogba handball. Fair? Probably. For more post-match analysis and debate, make sure to return to the site over the coming hours and days! Enjoy the rest of your weekend.
Think it's right to suggest that neither side were at their best this evening, though they were both impressive in spells. Liverpool had the greater moments of comfort and control, while United probably created the greater - or clearer - chances throughout - but both sides had more than enough to score more than they did. Pogba and Mkhitaryan were guilty of wasting United's best chances in the first-half, while Firmino and Wijnaldum failed to take Liverpool's best in the second-half.
United's second lowest number of shots their season. The only game they've had less was at Anfield, when they had just three.
Ibrahimovic speaking to Sky Sports post-match: "Okay, we get one point. We were not on the top of our game, it was a hard fight and a hard game. We chased, we chased, it's a different game. Then we get the equaliser. We made simple mistakes. We weren't comfortable under the pressure of the opponent and we played the wrong way. I think if we played in the first as we did the second, it would have been a different game."
That was a pretty decent 90 minutes of football, all being considered. Hard to judge who will be the happier with the point, as it means they both slip a little further away from their rivals for the title and the top-four respectively. This was also a good chance, for either side, to deliver a huge blow to their bitter rivals' hopes.
So then, United are unbeaten in 16 games in all competitions and Liverpool have lost only one of their last 18 Premier League games. Is a draw fair? You'd probably say so. United struggled to cause as many problems to Liverpool until their goal, but in the first-half wasted a few decent opportunities. A draw doesn't really do either side much good, but that means the away side remain five points ahead of the Red Devils in the table. They move up to third, a point above Arsenal, a point behind Spurs. United stay sixth, four points off of the top four.
FT: (Ibrahimovic, 84) Manchester United 1-1 Liverpool (Milner, pen, 15)
90+4' De Gea takes, finding Fellaini but Mata's flick is well caught by Mignolet. His distribution is poor, inviting some more late pressure, but it amounts to nothing.
90+3' United with the chance to put a deep free-kick into the box here. Surely not?
90+2' WHAT A CHANCE! Wijnaldum has the opportunity to win the game for Liverpool and score his first ever Premier League away goal after being fed by Can in the box, but his shot is far too tame to trouble De Gea. Poor attempt.
90' Controversy here. Herrera is tugging Firmino's shirt to prevent the break and in retaliation, the Brazilian pushes the Spanish midfielder to the floor. Herrera's clutching his face, but Firmino only touched his chest. Yellow cards for both. Four minutes added on.
89' A reminder that the last season in which both league meetings between United and Liverpool ended all square was 1987-88, and there has not been a Premier League draw between the sides at Old Trafford since March 2000. It's heading that way at the minute.
88' United really pushing for the winning goal now, but Liverpool are capable of finding a winner too. The Red Devils are calling for a penalty when Alexander-Arnold cushions Rooney's pass, but he's most definitely controlled that with his chest.
87' Corner to Liverpool as Wijnaldum's effort inside the box is blocked by Jones. The Dutchman might have been better trying that shot first-time.
86' What a finale we have on our hands now. Can either side deliver the decisive blow?
85' What drama! United are level. Fellaini meets Rooney's dink and his header comes off the far post. Valencia reacts well, cutting a ball to Ibrahimovic and his effort comes off the underside of the bar and over the line. That's his first ever goal against Liverpool in his sixth appearance against them. In the build-up though, Valencia appeared offside and the linesman was caught too far up the pitch to see it.
84' GOAL! 1-1, Ibrahimovic levels for United!
83' GREAT SAVE! (BUT ROONEY IS OFFSIDE) Mata meets Valencia's cross and heads it towards Rooney at the near post. He allows the ball to drop and volleys towards the near post, where Mignolet beats away with a good stop. The linesman raises his flag for offside though, and it's the right decision.
81' Milner does exactly that, but it's dealt with by Jones. Can then does brilliantly down the right to keep possession before a weak cross. Wijnaldum is then starved of assistance and pressured into giving away a United throw.
80' Coutinho down after taking a knock from Mata. United fans are booing, insisting that the midfielder is making the most of it, and he's soon up to his feet. That is, before he's tripped again 10 yards further after Henderson takes the free-kick short. Might Liverpool look to put this one into the box?
78' United looking to the air now as they look to make the most of their superior height, but Ibrahimovic is offside as he tries to meet Valencia's delivery.
77' United struggling to build any attacking moves at the moment but there's still a good amount of time left for them. Will Mourinho's changes make their mark?
76' There's that final United sub, Fellaini replacing Darmian.
75' Another half-decent chance for Liverpool! They rob Pogba of the ball, burst forward and Can looks to Wijnaldum breaking into the box. The midfielder meets Can's cross but heads over. Klopp, on the sidelines, remonstrates that he should have tried to bring it down on his chest.
73' Mourinho and his backroom staff having words with Fellaini on the side as he prepares to make United's third and final sub.
71' Brief stoppage in play as Milner receives some treatment. Replays confirming just how lucky Rooney was. Could he have been sent off for that? It was a yellow card at the very least.
70' Terrible challenge from Rooney. He's extremely lucky to get away without a card after standing straight down on the back of Milner's ankle as the left-back landed.
69' Tense last 20 into store at this rate. Both sides looking promising going forward and capable of opening up the opposite team, but United haven't quite created the chances they have in the first-half. Yet.
67' Liverpool enjoy a good spell of possession in United's final third and after Coutinho tries to sneak into the box, it bounces off a United defender and towards Lallana. He shoots while turning towards goal and De Gea saves easily.
65' United finally get to make their second substitution: Mata on for Martial.
64' Ibrahimovic keeps the ball in play and drills a powerful cross through the box, but again no-one can get on the end of it. United with good pressure at the moment, but then Rooney pulls his shot wide of the far post from the edge of the box.
63' Wijnaldum finds Coutinho in plenty of space out on the left, but his shot is deflected and De Gea can gather before it goes out for a corner. The Brazilian's arrival has had some effect on the away side, however.
62' Chance for Liverpool! Coutinho at the centre of things straight away. He drags two United defenders in and cuts a reverse ball to Firmino, but his shot is well saved by De Gea. Was that their opportunity to make it 2-0?
61' Substitution for Liverpool: Coutinho on for Origi.
60' Klopp has just had words with Coutinho on the touchline, with the Brazilian warming up. United the team on top at the minute and they'll make another substitution themselves with Mata readied.
57' Great pace to the game at the minute as Mignolet snuffs out Rooney's low cross. Feels as though Liverpool need a second goal, and soon, if they are to go on and win this.
55' CHANCE! Alexander-Arnold is hounded by Martial and that triggers a quick Uniter counter. Ibrahimovic turns and fees Mkhitaryan into space, but his low ball across the box can't find a teammate even though Mignolet is off his line and any touch would have surely resulted in a goal.
53' Another almost dangerous Liverpool back pass, but Mignolet is quick off his line to ensure Ibrahimovic can't latch on to Lallana's ball back to the 'keeper.
51' Origi is accused of pulling Valencia's shirt around 35 yards from his own goal. Mkhitaryan puts the resulting free-kick into the box, but no-one gets on the end of it.
50' After that ends with a foul, Pogba clearing and then Can bringing down Valencia, United go up the other end a win a corner themselves. That too is headed clear, Lallana popping up at the near post to meet Rooney's underhit delivery.
49' Good move from Liverpool. Firmino bursts forward and finds Origi to his left. The striker cuts inside of Valencia and his bending shot takes a nick off of Jones and goes for a corner.
47' With his introduction, Rooney becomes the 21st Premier League player to make 450 appearances. It could be quite the memorable one if he gets on the scoresheet.
46' We're back out for the second-half and there's a big half-time change! United captain Wayne Rooney is on, replacing Carrick. Can that inspire the home side to a turnaround?
HT: MU 0-1 LIV: So then, it's the away side who lead at the break due to Pogba's moment of madness. That means they avoid going three games in all competitions without a goal in February 2016. Pogba has been at the heart of everything. He wasted a huge chance, gave away that penalty, and has struggled at marking at corners throughout. He's lost Lovren a number of times at set-pieces, though United have managed to recover. The Sky Sports pundits saying that Pogba must be taken off his duties with Lovren and it wouldn't be a surprise if he was.
HT: Manchester United 0-1 Liverpool (Milner, pen, 15')
44' Mourinho is off down the tunnel for his half-time team talk. He'll be frustrated as United haven't exactly been poor, but they've simply not taken their chances. Mignolet has down well to deny Ibrahimovic and Mkhitaryan, while Pogba wasted a good opportunity, and despite failing to test De Gea from open play - Liverpool lead 1-0.
42' Milner's free-kick finds Lovren in space at the back post. His first-time volley is hooked into the air by Darmian and De Gea has to push the ball over his crossbar for a corner as Firmino closes in looking for a headed tap-in. The whistle is blown again at a corner, but this time it's in United's favour for an apparent push.
40' ANOTHER GOOD SAVE! Mignolet to the rescue again for Liverpool, this time thwarting Mkhitaryan after he runs in behind - played onside by Lovren as Klavan looks to step up. Milner tracks the Armenian's run but can't stop him getting the shot away from an angle. Thankfully for the visitors, their 'keeper is on hand with strong hands to push his shot away.
38' A sniff of a chance for Liverpool, but they can't take it. Origi smartly rolls Rojo, who appears to hold him back a little, and he can't get a shot away. Countless green shirts get forward in support, but the move falls away when Lallana looks to feed Milner with a cute backheel.
37' Pogba really frustrated with himself, after that chance and the penalty that he stupidly conceded. He commits an avoidable foul on Wijnaldum this time. Looks like he could do with half-time sooner rather than later to settle down.
35' Interestingly, Liverpool have now scored more penalties (28) in the Premier League than any other team since the start of the 2012/13 season. Valencia, meanwhile, rampages forward to win another corner for United. It comes to nothing though as Lovren, and then Alexander-Arnold, clear their lines.
34' WHAT A SAVE! Ibrahimovic drills his low free-kick to the left side of the wall but Mignolet's reflexes are excellent, getting down low to parry it out for a corner.
33' Free-kick right on the edge of the box for United after Herrera is caught by Origi's studs at a corner. Poor tackle and the striker is lucky not to have been booked. United, though, fortunate that Oliver didn't see Pogba's foul on Henderson in the box.
31' Yellow card. Lovren goes in strongly on Martial and makes contact, Michael Oliver issuing the first booking of the afternoon.
30' That'll be a sweet moment for Milner. He's played for Leeds United, Manchester City and of course now Liverpool - United's three biggest rivals. Milner has scored for Newcastle, Aston Villa, City and Liverpool ALL at Old Trafford too.
29' Never in doubt. Milner dispatches his sixth successful penalty of the season to maintain his 100% record from the spot, firing just above De Gea and Liverpool lead at Old Trafford.
28' GOAL! 1-0 LIVERPOOL! (Milner penalty)
27' From that corner, Pogba rises to head clear as Lovren rises and the midfielder's arm clearly strikes the ball. Milner to take.
26' PENALTY TO LIVERPOOL!
26' Great intensity from Firmino to close down Jones and win the ball, but fortunately for the defender Rojo is over to cover with Lallana and Firmino both looking for it.
25' Jürgen Klopp delighted with the pressure his players have applied in the last few minutes, applauding enthusiastically in the dug-out. Can is once again quickest to a loose ball and he pings one over to Alexander-Arnold at the corner of the United box. He controls well but his shot is blocked by the recovering Martial and goes out of play.
23' United are in their rhythm now and you get the sense that they feel an opening goal coming. But Pogba gives away a foul on Origi down the right side and gives Milner a good chance to whip a dangerous ball in. He curls one into the box where Lovren rises. The ball bounces back off Rojo towards Origi and he swipes at it, allowing it to fall through for De Gea.
21' United rapidly gaining momentum, though Mignolet gathers Mkhitaryan's cross well. Liverpool struggling to get out of their own half due to United's pressure. Constantly having to look long and it's simply not working for them with the Red Devils' superior height.
19' SHOULD BE 1-0 TO UNITED! Mkhitaryan spots Pogba running in beyond Klavan and it's a golden chance for the £89 million man to put United ahead, but he drags his shot wide of the far post. What an opportunity that was. United just starting to find pockets of space between Liverpool's lines now.
18' Almost! Lovren's woefully weak back pass invites Ibrahimovic in to close Mignolet. He manages to get a block on the 'keeper's clearance but to the relief of the away end it drops on to the top of the net.
17' Still a pretty cagey affair. Liverpool have a decent counter-attack opportunity when Can robs Pogba of the ball thanks to Henderson's help. He feeds Firmino to the right and his cross is blocked by Rojo. He cuts back to Alexander-Arnold, running in to provide support, but he shanks his cross straight into the Stretford End.
14' Half-chance for the hosts. United have just started to find their feet in the last few minutes and Martial cuts inside Alexander-Arnold, who affords the Frenchman too much space to clip a cross towards the back post, but fortunately for Liverpool's back-line - the cross falls just out of play as Ibrahimovic stretches to bring it under his control.
12' Martial breaks into the box with neat footwork to outwit Henderson and then almost Lovren. He goes down inside the box under the challenge of the latter, but rightly nothing is given by Michael Oliver. No contact.
10' Former Liverpool midfielder turned pundit Jamie Redknapp on Sky Sports: "You get the feeling both sides are sparring at the moment." Says Valencia could be a "major problem" for Liverpool as the game progresses and predicts a fascinating tactical battle.
9' Both sets of supporters exchanging pleasantries and on the pitch there's been little real action so far. It's not a dull game by any means, but no chance for either side to really settle and show their quality.
6' The visitors have started with good intent early on here, though clearly space out wide for United. They work the ball to the right, but Alexander-Arnold does well to head clear Valencia's deep cross.
3' Early couple of corners for Liverpool as Origi steals the ball from Valencia, but he can't get a cross away with Lallana in the box. Milner takes it and though Can rises, it goes straight back out for a second corner. Nothing comes of that, either, as De Gea claims with ease.
2' Liverpool, as Gary Neville points out, setting up in a diamond in these early stages with Origi and Firmino supported by Lallana. Henderson the furthest withdrawn midfielder. Bold move from Klopp. Could leave exposed out wide, where United have the quality to cause problems with Martial and Mkhitaryan.
1' We're underway at Old Trafford!
Here we go then. Martin Tyler's "AAAAND IT'S LIIIIVEEEE" plus that weird 'um-hm-hmmm' that accompanies the Ford advert over with and we're ready to go. United, in red, led out by Carrick while the returning Henderson leads out Liverpool in their luminescent green kit. 'Toxic Thunder' is its official name, according to kit manufacturer New Balance, and all three of Liverpool's defeats this season have come while wearing it. Mind you, they've also beaten Crystal Palace and Middlesbrough away from home in this kit so it's not ALL bad. Scousers will be loving it if Liverpool can claim maximum points today.
Klopp, on Matip, pre-match: "He's been in training [for] 4 or 5 days & would have been in squad 100 per cent, maybe on the pitch." Interesting...And finally, Harry Robinson offers VAVEL UK's Liverpool office his opinion in an opposition fans' Q&A. He backs United to win 3-2 today. Do you agree with that prediction? Tell us what you think over on Twitter (@VAVEL) and we'll feature a few before kick off, which is in 10 minutes' time.
Over on our Liverpool section, Dan Robinson penned his thoughts on how he believes midfielder Georginio Wijnaldum has become a key cog in the Reds' machine. "This Wijnaldum, the one that Klopp wanted, is one of the most accomplished midfielders you'll find in the Premier League," he writes. "He tackles, spins and shrugs off his man. He prods and probes, carries it and creates. He's put in immense performances away at Stamford Bridge and at Goodison Park." More here.
Elsewhere, Molly Hudson believes the 'Special One' (Jose Mourinho, as he's more commonly known) and the 'Normal One' (Yep, you guessed it, Jürgen Klopp) aren't too different after all. She says: "On Sunday, whatever the outcome the Old Trafford crowd will witness two of the greatest football managers in the modern era. Instead of comparing or ridiculing perhaps it's time we appreciated the footballing nous of two true footballing geniuses." Intrigued? Full article here.
Our man Nd Ekwegh believes Liverpool represent the toughest test yet for this in-form United side. He writes: "This is a game where United, at home and in form, have the opportunity to kill off their big rivals who seem to be game for a knock-out punch. A victory over Liverpool has the possibility of having a damaging effect on their local rivals that will go beyond three lost points while a defeat could lead to a resurgence that may prove costlier than the points lost on the day." Read the full piece here.
We're closing in on kick-off, why not have a look at some of the best pre-match content we've had on VAVEL UK throughout the week?
Indeed, the last season in which both league meetings ended in a draw was - quite incredibly - back in 1987-88. Much of that owes to the games at Old Trafford, for there hasn't been a draw in the league here between these two teams since March 2000. Now I've said all this, we're headed for another 0-0, aren't we?
Should we be expecting goals today? The last nine Premier League meetings at Old Trafford have produced 32 goals, while the only season in which both top-flight fixtures between United and Liverpool have ended goalless was way back in 1919-20.
More on Matip's absence. Liverpool have released a statement insisting they believe the defender should be eligible. They say: "The Cameroon Football Federation have failed to confirm that Matip can play club football during the period of the Africa Cup of Nations. Liverpool have subsequently repeatedly sought, as a matter of urgency, clarity from FIFA in this regard. This includes assurances the player was called up for the tournament in accordance with the world governing body's regulations. It is Liverpool's view that the player should be available for club football during the period of the competition and will continue to work for a speedy and unambiguous resolution."
So then, who is Trent Alexander-Arnold? The West-Derby born teenager starts at right-back today and is considered one of Liverpool's brightest young talents. He made his first-team bow in the EFL Cup earlier this season and has made four senior appearances. Alexander-Arnold, also capable of playing in central midfield, is renowned for his engine, passing and his ability to get forward. Very all-rounded, Jamie Carragher even labelled TAA - as I may call him when I'm under time constraints - after a 2-0 EFL Cup win over Leeds United earlier in the season. He said: "He just looks like a footballer, a fantastic athlete, perfect for the full back position. He's only 18, so you think about how he's going to look physically in three or four years' time. He looks like he's already got the legs and the pace. The strength will come too."
Elsewhere in the Premier League, it's just finished Everton 4-0 Manchester City at Goodison Park in the day's other game. Romelu Lukaku and Kevin Mirallas both got themselves on the scoresheet, before 18-year-old midfielder Tom Davies capped a fine performance with his first goal for the club. Late on, Ademola Lookman - signed for £11 million from Charlton Athletic earlier this month - scored just four minutes into his debut to seal an excellent afternoon for the buoyant Toffees. Sky Sports are of course branding today 'Liverpool - Manchester', but I'm not sure any of the supporters will see it that way. Still, City's defeat means that even if Liverpool lose here they won't drop outside of the top four. They can, however, move back into second with a much-needed win. Victory for United would move them on to the same points as rivals City, but they'd need to win by three goals to even draw level on goal difference. Even then, City's better goalscoring record would keep them in fifth. United would also be just two points off of fourth place though. Some rise given where they were in the table only a couple of months ago.
Question is, will Liverpool's absentees affect their performance? Missing Clyne, Matip, Sadio Mane and Coutinho (albeit he can come off the bench) would hurt them in any game, nevermind away at Old Trafford. And against a United side at full-strength and in such fine form, it's no wonder United are the favourites with the bookies.
Big guns on the bench for both sides. United have captain Rooney to call upon, with the pace and energy of Marcus Rashford too. They also have the in-form Juan Mata and Marouane Fellaini, who scored earlier this week and offers trademark aerial threat, in reserve. Liverpool may only have Sturridge and Coutinho as their main options to come on, but they cannot be underestimated - particularly Sturridge. He has netted four goals in eight appearances for the Reds against United and his league debut actually came here in a 2-1 defeat in January 2013, when he scored after coming off the bench.
As expected for United though. Zlatan Ibrahimovic comes back into the starting XI while Marcos Rojo returns in central defence. Chris Smalling drops to the bench with Rojo partnering Phil Jones. As expected in midfield and attack, with Mourinho unwilling to play both Mata and Mkhitaryan - so Martial comes into the front three. Mkhitaryan starts wide left, and will look to get at young Alexander-Arnold whenever he can.
Well, well, well. Where to start? No Nathaniel Clyne for Liverpool. The England right-back misses his first league game of the season with a rib injury, meaning 18-year-old Academy prospect Trent Alexander-Arnold makes his first Premier League start. Elsewhere, Coutinho is only fit enough for the bench. Captain Jordan Henderson returns for the first time since the win over Manchester City, while Divock Origi also comes back in. He's not up front though, Roberto Firmino is, so the Belgian is wide right. Lallana moves further forward with Emre Can keeping his place in midfield despite a poor individual performance in mid-week.
Liverpool bench: Karius, Gomez, Moreno, Stewart, Ejaria, Coutinho, Sturridge.
Manchester United bench: Romero, Blind, Smalling, Fellaini, Mata, Rashford, Rooney.
Liverpool team to face Manchester United: Mignolet, Alexander-Arnold, Lovren, Klavan, Milner, Henderson, Can, Wijnaldum, Lallana, Firmino, Origi.
Manchester United team to face Liverpool: De Gea, Valencia, Jones, Rojo, Darmian, Carrick, Herrera, Pogba, Mkhitaryan, Martial, Ibrahimovic.
The team news is in...
Confirmed: Joel Matip will NOT play for Liverpool today. The Reds have been unable to get clarity from FIFA about the defender's eligibility, having refused to join up with Cameroon as he continues his self-imposed international exile. They believe it would be a risk for Matip to feature and so he's not in the match-day 18.
Some more line-up rumours. The Daily Mail are reporting that Philippe Coutinho will not start, insisting he is "unlikely to gamble" on the Brazilian. They also report that Daniel Sturridge will start from the bench with Klopp keen to ensure he has quality to call upon from the bench. Could that mean a start for Divock Origi out wide? Or does that mean one of Georginio Wijnaldum or Adam Lallana will play further forward? We'll soon see. Liverpool fans will be desperately hoping the Mail are wrong and that Coutinho starts from the off, though.
Some early team news for you. Rob Dawson of the Manchester Evening News is at Old Trafford today and has tweeted: "Thought Mata would start today but sounds like he'll be on the bench. Mourinho hasn't liked to start Mata and Mkhitaryan together in the PL." Does that mean Martial and Mkhitaryan will flank Ibrahimovic? Herrera, Carrick and Pogba in the midfield three behind them? That's what it seems. We'll have today's two teams for you at about 3pm.
United and Liverpool faced each other almost exactly a year ago, on January 17th 2016 at Anfield. That day, Liverpool dominated but failed to translate their overwhelming amount of possession into chances and goals, with United taking a smash-and-grab 1-0 win thanks to Rooney's late winner. How he'd love to repeat the trick today. The former Everton youngster needs only one more goal to become United's leading goalscorer on 250 goals after drawing level with Sir Bobby Charlton earlier this month in a 4-0 FA Cup thrashing of Reading. What a game it would be to do it.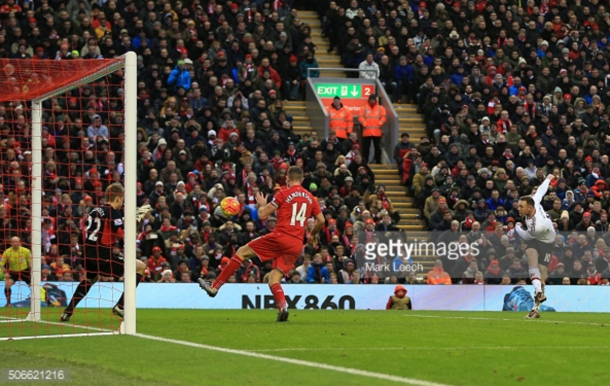 The Belgian also believes the visitors must concentrate on applying their own quality to this afternoon's game, rather than worrying about what threats United can pose them. He continued: "They [United] are a big team and when you play away from home with the support behind them it's always difficult playing there compared to playing at Anfield for example. We know they've got big players like [Paul] Pogba, [Zlatan] Ibrahimovic and [Wayne] Rooney of course, a lot of individual quality, but we have to look at ourselves and try and play the best we can. I'm sure we will have a plan to stop their qualities and use ours in the best way we can. That's far more important than focusing on their quality."
Meanwhile, Liverpool goalkeeper Simon Mignolet, who is expected to again replace Loris Karius between the sticks today, also said this week: "Manchester United is always a big game and you cherish it as a football player because that's what you want to do, you want to play in these big games on the big stage. We've got a big chance to go there and get the points we want and that's the only thing we have to focus on, and not think this is a big game in the race for the title. It's three points and that's the way we have to look at it. We need to try and perform the best we can on the day and we definitely have all the abilities that are needed to get the three points on the day at Old Trafford. It's a big stadium and there's always a lot of atmosphere so you know as a Liverpool player it is always going to be a bit hostile. We are still in a good way and we feel very confident in the way we are playing.
And from Liverpool's side? Dejan Lovren believes he's fully prepared to face in-form United striker Zlatan Ibrahimovic, recently crowned December's Premier League Player of the Month. He told Liverpoolfc.com: "I've had a couple of occasions [against Ibrahmiovic] in France. I was with Lyon and he was with Paris [Saint-Germain] at that time, so I have more experience now than at that time. You don't need to say too many words about him, he has shown in other leagues he is a world-class striker so definitely it will be a tough challenge but I am here to do that."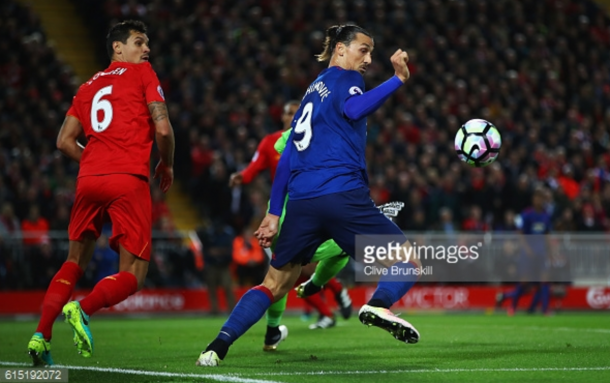 Mkhitaryan also feels United must win all of their individual duels in order to win the game. He said: "There are a lot of components. Not only the pressure, not only the way people are working for that game. It's the teamwork, the last decisive pass, the last shot, the runs. It is everything. You cannot say you have to improve [just] this component so we can win. No, you have to improve other components. You have to win every battle, every small metre counts and you have to win your duels. Then you will see you will win the game."
Otherwise, Red Devils teammate Mkhitaryan told MUTV earlier this week: "Everyone is waiting for Sunday's game. I missed the first game against Liverpool at Anfield but I know the price of this game. I know the importance of this game. I know very well the history. It's not the first time I'm going to play in such a derby and you have to be ready that day. It doesn't matter, you have to play for the team and have to play for the crowd to do your best to win that game because it's going to be [recorded] in the history. Of course, besides that, we need the three points which is very important for the next few months."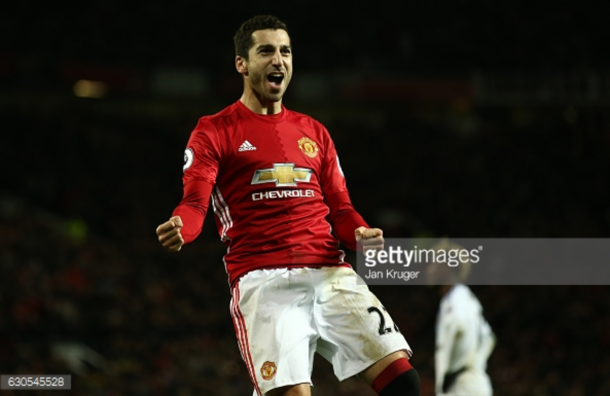 Juan Mata, speaking to www.manutd.com, has said: "We have a massive game against Liverpool. Nine wins in a row is great but football has no past, you have to live in the present and the present is Liverpool. When we play at Old Trafford we need to play strong and play at our best level for these kind of games. We will try to create a special game for everyone who likes United."
Anyway, you're probably a bit fed up of statistics now aren't you? So let's have a look at what some of the players are saying ahead of tonight's game.
This is actually the 50th Premier League meeting between Manchester United and Liverpool. The Red Devils have won 27 and lost just 13 of the previous 49, only nine meetings ending in draws - including this season's goalless stalemate back in October. Liverpool have lost 11 of their last 14 Premier League matches at Old Trafford and their 67 total league defeats to United is more than against any other opponent.
Incredibly, United's winning streak is their best run in eight years. As mentioned earlier, they've won nine in all competitions - their best run since winning 11 in January-February 2009. They could also win seven consecutive Premier League games for the first time in four years, since January to March 2013 - another year they won the league. With their winning form taking up so much attention, it's easy to forget that United are actually on a 15-game unbeaten streak in all competitions too.
Conversely, a win for Liverpool would set a club record of 47 points after 21 matches of a Premier League season, surpassing the 46 they managed in 2008-09 under Rafael Benitez. That year they would go on to finish second behind none other than United, of course under the leadership of Sir Alex Ferguson at that time, by four points.
If Liverpool fail to win - and that's not exactly a big if - then it would be the first time they've gone winless in their opening four matches of a calendar year in all competitions since 1993. They drew their first two games of 2017, 2-2 with Sunderland in the league and 0-0 against Plymouth Argyle in the FA Cup third round, before losing 1-0 to Southampton in mid-week in the first leg of their two-legged EFL Cup semi-final. The night before, fellow semi-finalists United, gave themselves a 2-0 advantage to take away to Hull City. A mouthwatering United-Liverpool final isn't out of the question, but there's work to do for the Reds if they're to book another day out at Wembley under Klopp.
Team news: Diminutive Liverpool playmaker Philippe Coutinho could make his first start since November 26 after recovering from ankle ligament damage. He played for half-an-hour in the loss at Southampton on Wednesday. Captain Jordan Henderson and centre-back Joel Matip will also be back in the squad after missing three games and seven games respectively, though the latter might not start due to a lack of match fitness. The club's top goalscorer and winger Sadio Mane is also at AFCON.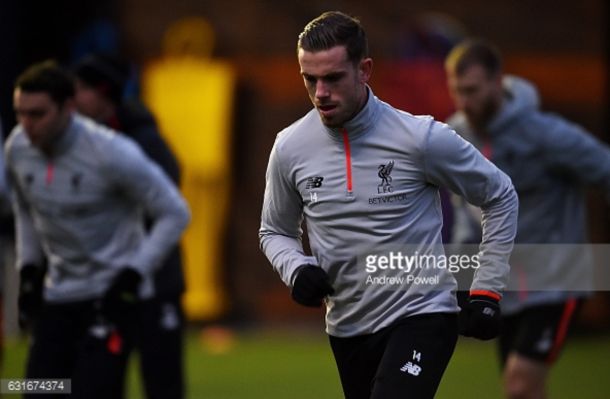 Team news: United are expecting to have striker Zlatan Ibrahimovic, who has 13 goals in 19 top-flight games, back fit after he missed the cup win over Hull through illness. Defender Marcos Rojo could also return from a muscle injury, but centre-back Eric Bailly is on international duty at the Africa Cup of Nations. Otherwise, Mourinho has a full crop to choose from. Left-back Luke Shaw is also in contention after returning to training earlier this week.
United boss Mourinho has encouraged those inside the stadium at Old Trafford to generate the best atmosphere they can. During his pre-match press briefing, he said: "What I want from them, I have, since day one. What I want is for them to be with the team especially because they give us [support] in the difficult moments; to have bad results and to have the fans with me, with the team, and to feel that they are with us, it's the best feeling and the most important feeling. Now, it's just a question of trying to have a little bit extra in a match that, for them, means a little bit more. It's for them that the match means something more, so they have to make us feel that feeling. We felt that at Anfield, we felt clearly that for the Liverpool fans the match was more than a match. Now, we play at home, so it's a huge percentage of our fans compared with Liverpool fans, so they can give us that little bit extra to make the game a bit more special for us."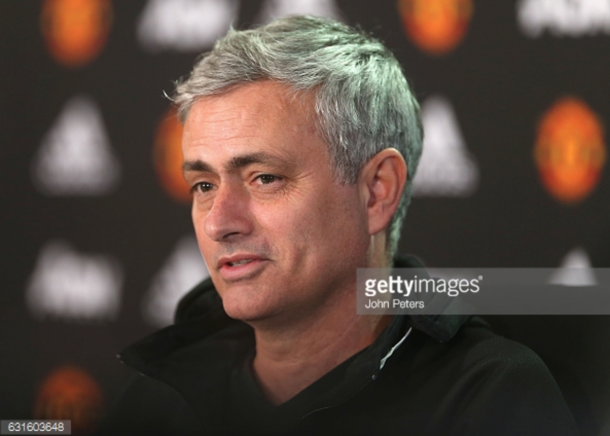 Much of Liverpool's success today could come in stopping United's midfield metronome Michael Carrick. A crucially underrated cog of Mourinho's side, as the 35-year-old has been throughout much of his career to be fair, he sets the foundations for everything else to work ahead of him. In particular he allows Paul Pogba the freedom and licence to get forward and display the kind of class and guile that makes him the world's most expensive player. Can Klopp and Liverpool disrupt the ability of Carrick to change the tempo by having the likes of Roberto Firmino, Adam Lallana and Philippe Coutinho constantly pressing him? It's certainly a thought.
The German, speaking in his pre-match press conference on Friday, told reporters: "They are better [than the last time Liverpool played United]. They are more used to each other, I would say. To use only one example, but I think Henrikh Mkhitaryan is an important example, it took a little bit of time – that's normal. Now they can use his outstanding quality. [They are] more confident. It's a different side, if you want. There was no doubt about the quality of the players when they played here. But it was not that tuned, maybe. [Now], it is. So that is a different thing."
Interestingly, Liverpool manager Klopp likened Manchester United's recent improvement to the form of Henrikh Mkhitaryan. The Armenian, who won Goal of the Month for his stunning Boxing Day scorpion kick in the win over Sunderland, was signed by Klopp at Borussia Dortmund back in July 2013. He actually turned down interest from Liverpool to go to Germany, where his form last season - 23 goals and 26 assists in 52 games - tempted United in to paying £26.9 million for his services in the summer. He initially struggled with injuries and the transition to a new league and a new country, but since finding his feet has started to flourish. So what did Klopp have to say?
Let's just jog your memory in case that game has slipped your mind, and you'd certainly be excused if it has - for it wasn't exactly the most memorable encounter. Hyped up as such a huge clash, with United having stuttered and Liverpool (bar a blip at Burnley) having exceeded all expectations to start the season - the Red Devils went to Anfield, put men behind the ball and restricted the space available to Liverpool's front-line. That left them frustrated, while a few excellent saves from David De Gea also played a part, ensuring United came away with a crucial point at a time when Mourinho was still figuring out his best team and tactics. Liverpool bounced back well, mind, winning six of their next seven to put the disappointment of that draw well past them.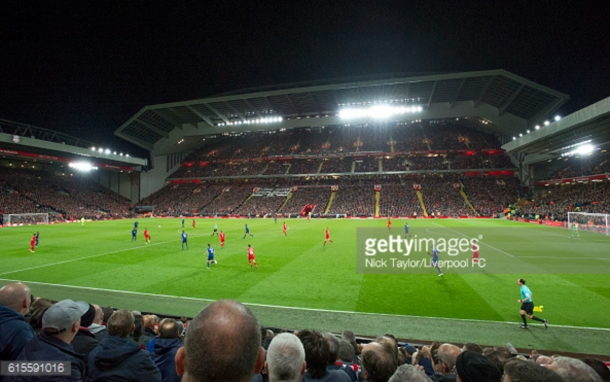 A win for United would cut the gap to Liverpool to just two points, the Merseyside outfit having boasted a 10-point lead over their arch rivals less than 10 games ago. It'll certainly be interesting to see how Jürgen Klopp's side approach this. Anyone who knows the German is aware that he's not the type of manager not to try and win a game, but will he be slightly more cautious knowing how fatal a defeat could be? Or will he look for his side to play the typically electric, high-pressing, forward-thinking brand of football that has won Liverpool so many plaudits this term? Whatever happens, let's just hope it has a bit more excitement than the last meeting between these two teams.
Manchester United, meanwhile, have won nine straight games in all competitions (six in the league) and it finally feels as though Jose Mourinho has discovered the formula for success with the Red Devils. But defeat here could categorically end their chances of a title challenge, just as faint hopes once again start to spring to life as they close in on the top-four. They haven't moved from sixth despite taking 18 of their last 18 available points, but make no mistake about it, this United side is completely reinvigorated. That said, their below-par start to the season means that they cannot afford any more slip-ups and while the Premier League is so spectacularly unpredictable - being 13 points off Chelsea after 21 games would surely be too much even for a team consisting of as much quality as United's current crop.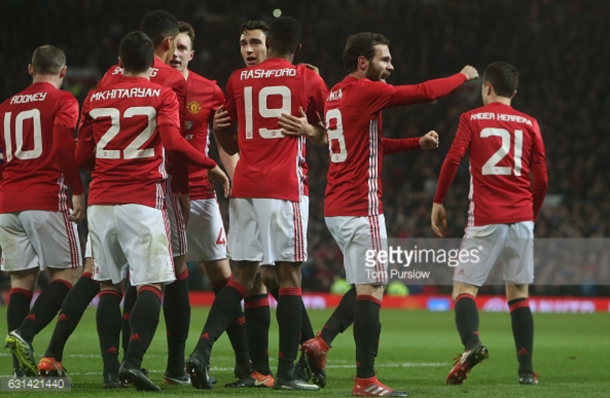 We've a huge game in prospect today, just in case you're unaware. While the rivalry between Manchester United and Liverpool isn't always as important as it used to be nowadays, today it feels like it is. Defeat today would be nothing short of disastrous for either side. Liverpool are eight points off of league leaders Chelsea and sit fourth, albeit with the chance to move back into second and cut that gap to five points. Their place in the top-four rides on Sunday's 1:30pm clash between Everton and Manchester City. But even more importantly, the authenticity of their title credentials would again be heavily scrutinised. Their spark seems to have waned somewhat in recent weeks, with a number of key absences, and they are really being questioned as to whether they can sustain their form until the end of the season.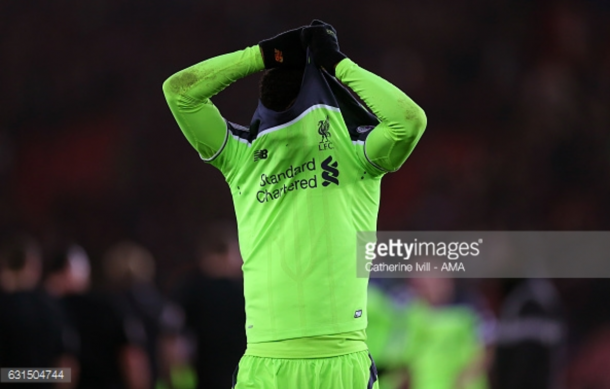 Good afternoon ladies and gentlemen, I'm Charlie Malam and welcome to VAVEL UK's live minute-by-minute commentary of this afternoon's mouthwatering Premier League clash between bitter rivals Manchester United and Liverpool. Kick off at Old Trafford is coming your way at 4PM/16:00 GMT but we'll have plenty of build-up to keep you entertained until then before bringing team news your way an hour before we get underway.