 Saints boss Claude Puel has dismissed reports of a potential signing of Liverpool defender Mamadou Sakho.
He also insisted that if own defender Jose Fonte does vacate, after handing in a transfer request, a replacement will not be signed in this window as he would rather give the opportunity to academy graduate Jack Stephens or Florin Gardos to succeed the captain.
Media Influence
It has been heavily reported that out-of-favour Sakho has been looking for a new club after a falling out with boss Jurgen Klopp, and St Mary's was his preferred option with the vacating Fonte seeming likely.
When the boss was asked about the Liverpool defender, he replied: "I know this player but I know nothing about this, its speculation."
He went on to say that he was "unsure" on whether his captain was leaving so the might not even been a place for Sakho at the club.
After shutting down any rumours he went on to say how good of a "opportunity for Jack Stephens or Gardos" this is.
Puel also was asked if he knew the destination on Fonte, which is believed to be West Ham, and he said there was numerous of possibilities but "he has the solution for this, and we will see in the next few days."
He also went on and said that the captain has been training with the squad and has kept up the good spirit he usually brings and is being a "true professional" about this situation.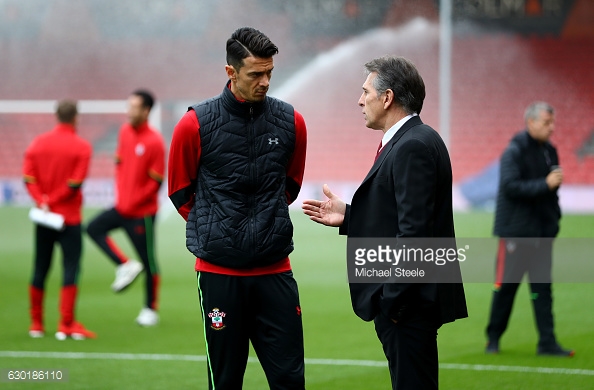 He said regarding any business: "Perhaps we will stay with the same squad. We will see this when we reflect."
The Future and Beyond
Saints managed to overcome a scare against Championship side Norwich City to progress to the next round of the FA Cup after a replay, and Jack Stephens played and managed to keep a clean sheet in a rare start at centre back.
Saints welcome the Champions Leicester on Sunday, and they hope they can put a stop to a four game run of straight defeats, whether youngster Stephens will start for his first time will be a huge question but, three points are massively needed.