Hull City midfielder Ryan Mason will "continue to be monitored" according to a Club statement as he begins the recovery from a fractured skull. The Tigers' record signing clashed heads with Gary Cahill in the early stages of the match against Chelsea on Sunday afternoon.
Mason stretchered off possessing oxygen mask after nasty incident
Mason and Cahill made contact in the 13th minute of the contest, with players from both sides waving towards their team physios as soon as the duo clashed. Mason seemed to try and get to his feet but was urged to stay down by colleagues, whilst a groggy Cahill eventually sat up after a few minutes of treatment.
The severity of the incident was becoming increasingly apparent, as Mason was surrounded by a flurry of emergency professionals as he lay relatively motionless for eight minutes. Eventually the former Tottenham Hotspur player was stretchered off whilst hooked to a canister of oxygen and supported by a standing ovation.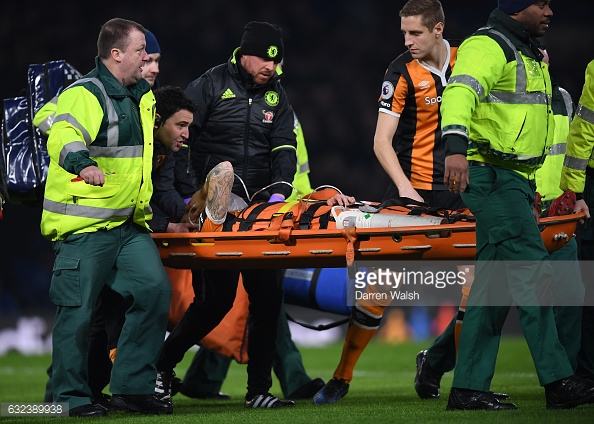 Mason "will continue to be monitored"
Late into Sunday evening news began to filter through that Mason had in fact fractured his skull and had undergone an emergency operation. Footballers and fans around the globe sent their best wishes via social media as Hull confirmed that "Ryan Mason sustained a skull fracture in our fixture at Chelsea this afternoon", adding "he is in a stable condition and is expected to remain in hospital for the next few days".
On Monday a Club statement announced "Ryan has been speaking of the incident yesterday and will continue to be monitored at the hospital over the coming days where the Club will remain in close contact with Ryan, his family and the staff at St Mary's Hospital".
It remains to be seen how long the recovery process will take and just what effect it will have on his football career. One thing is for certain though, the midfielder has the support of the nation behind him.