The football World took a sharp intake of breath last week when news filtered through that Ryan Mason had fractured his skull against Chelsea. The midfielder was competing for an aerial ball with Gary Cahill before the pair collided and Mason was ultimately stretchered off with support from an oxygen tank and taken straight to hospital.
However news from Hull City has been positive over the last week with Mason making a steady recovery and the 25-year old was discharged from hospital on Monday as his recovery looks set to continue at home.
"It has been an emotional rollercoaster"
Mason took to social media to express the news, explaining "it has been an emotional rollercoaster and I feel lucky to be alive, but I'm happy to say that I'm now at home resting and recovering".
The midfielder received a barrage of 'get well soon' messages from all across the globe and admitted "to have had so many people send messages to me, including from fellow players, clubs, so many fans as well as the support I have received from the general public around the world has been completely overwhelming".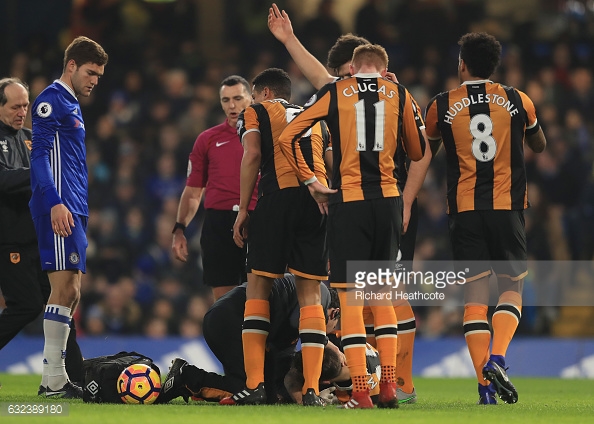 Mason praises quick response from emergency services
Mason was also keen to express his gratitude for the medical staff that supported his recovery. "I would like to say a special thank you to all of the medical staff at Hull, as well as the medical team at Chelsea and of course the fantastic treatment and support I have received from all of the staff during my stay at St. Mary's hospital".
The England international added his family were responsible for "helping him through an extremely traumatic time" and he can now start to put plans in place for an even more special Wedding Day, after only becoming engaged to his fiance just weeks before the incident happened.