Manchester United were held to a 0-0 draw by Hull City on Wednesday night at Old Trafford. The Reds thoroughly dominated the encounter but struggled to create clear-cut chances until late on, when Hull goalkeeper Eldin Jakupovic stood tall to deny Juan Mata, Marcos Rojo and Paul Pogba.
Hull struggled to get forward until the game's final stages, when Lazar Markovic struck the post late on, bringing the Tigers within inches of a famous victory.
The result brings Hull up to 19th on 17 points, still in the midst of a relegation dogfight but with momentum on their side. Meanwhile, United remain sixth on 42 points, four points back from fifth-placed Manchester City.
The result will please Hull but not United, who may just feel that a top-four finish is starting to slip away.
A top four finish may be out of reach for United
Although Jose Mourinho still hasn't lost a league match at home since falling to Manchester City in October, and the Reds have lost just once in their last 20 matches, they remain on the outside looking in at the Champions League places. United find themselves in sixth place, four points back of Manchester City in fifth. City, Liverpool, Arsenal and Tottenham are all bunched within one point of each other, meaning that it certainly isn't out of the realm of possibility for Mourinho's men to reign them in.
However, Wednesday's match was undoubtedly two points dropped for United. In a midweek where Tottenham, Arsenal and Liverpool all dropped points, United found themselves with a perfect opportunity to gain ground as the league's bottom team came to Old Trafford. Instead, all they could manage was another frustrating goalless draw. A result like that is expected at some point over the course of a season, but come the business end of the term, the points dropped at home to Stoke City, Burnley and Hull could prove costly. As the Reds continue to deal with a congested fixture list, which includes FA Cup and Europa League ties in addition to normal league fixtures and the EFL Cup Final at the end of the month, it won't be surprising if further points are dropped.
United have the luxury of going until mid-April before facing a side in the top four. If they want to retain hopes of dining at Europe's top table next season, they can't drop points poorly for the rest of February and March.
Hull City aren't dead and buried just yet
Since taking over at Hull, Marco Silva appears to have given new life to a side which looked destined for a return to the Championship next season. The Tigers have a fighting spirit about them, and have nothing but Premier League survival to occupy them for the remainder of the season. While the squad is still thin on numbers and talent--and selling Robert Snodgrass didn't appear the wisest way of trying to stay in the league--crazier things have happened than Hull managing to pull off a stunning escape.
They're in the midst of a daunting run of fixtures at the moment, which will see them host Liverpool this weekend before traveling to Arsenal the following week. The prospect of emerging with anything more than two points seems remote, but after leaving Old Trafford with a deserved point, who is to say that Hull's momentum can't continue?
Silva's managerial acumen
When he took over, Silva made the decision to send out Eldin Jakupovic rather than David Marshall in Premier League action. On first viewing, the decision seemed an odd one; why oust a proven Premier League goalkeeper and Scotland international in favor of a reserve who was so desperate for game time the last few years he twice left Hull on loan to play with Leyton Orient?
However, Silva's decision was repaid handsomely at the Theatre of Dreams. Jakupovic was on hand time and again when his side needed him, and did not put a foot wrong for the entire 90 minutes. He kept everything out, denying Pogba's 1v1 opportunity in the first half, Mata's sitter in the second, and Rojo and Pogba again in the game's dying embers. It was a stunning display--not the first from a visiting goalkeeper at Old Trafford this season.
Pace needed for United in summer window
For the first 60 or so minutes on Wednesday, casual viewers could be forgiven for not knowing whether or not they were looking at Jose Mourinho's Manchester United or Louis Van Gaal's. The Reds were staid in possession, and build-up play was slow and methodical. No one seemed to want to grab the game by the scruff of its neck and try and force the opening. That was frustrating, given that between Marcus Rashford and Anthony Martial, United aren't lacking for speed amongst their attacking options.
Yet, asking a 21-year-old and a 19-year-old, however great their respective talents and potential, to be the sole outlets of pace in a team trying to challenge for silverware at the highest level is unfair. Understandably, Mourinho chose not to try and add to his squad in January; they aren't short on talent, and are well-positioned to win something this season. However, as he looks to retool for a proper bid at the title next season, he has to bring someone experienced who can attack at pace.
Long-term replacement must be located for Michael Carrick
Supporters were almost universally delighted to learn that Mourinho wanted to bring back Michael Carrick for another year after Van Gaal had appeared certain to let him go. The Reds are a different team with Carrick on the field, very much for the better. Yet, his 35-year-old legs aren't what they used to be. At a point in his career where he would struggle already to play every match, the sheer amount of fixtures United play only makes it more difficult for him to be out there week-in and week-out.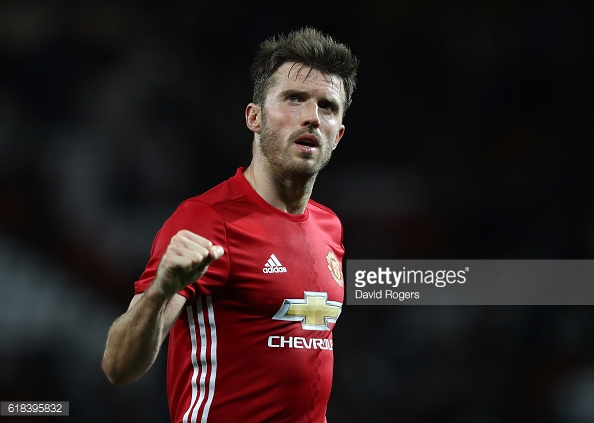 Regardless of whether or not Mourinho and Ed Woodward decide to offer the club's vice-captain another one-year contract at the end of this season, a replacement must be looked for in the summer. In Ander Herrera and Paul Pogba, United have two-thirds of one of the best midfield trios in Europe. Given the amount of talent there, it would feel such a waste if the rightful successor to Carrick isn't located soon. The most frustrating part of the end of Sir Alex Ferguson's reign as manager and Van Gaal's and David Moyes' brief tenures was the sense that United were constantly being run over in midfield. Carrick has played more than 300 times for the Reds, and won't be easy to replace. If it hasn't started already, the search for his eventual replacement must begin.