 Much of the talk at Turf Moor this season has centred around the Clarets' incredible home form, better than all but Chelsea and Tottenham Hotspur in the top flight. Yet delve beneath the surface and a young striker is beginning to make waves around the club.
Agyei putting his name into the mix
19-year-old sensation Dan Agyei was named as an unused substitute against Hull City last weekend as he continued his progression towards the first team set-up. The former AFC Wimbledon youngster has been training with the senior squad, an experience Development Squad coach Michael Jolley believes is proving fruitful. Jolley explained, "it's great for his development as he's playing against Premier League defenders every day in training".
Agyei capped an excellent week for himself personally with a compelling display against Sunderland in the Premier League Cup. The striker scored two in a 5-3 win, including an incredible individual effort that saw him run from his own half and finish with a powerful strike.
Jolley was not surprised with another excellent display but admits the youngster is still raw in certain aspects of his game. Jolley added "he's got some great natural assets, pace and power, he's got a terrific left foot, he can head it. He's got a lot going for him but he's got to work at his game. There's certain aspects that he really needs to work at and the coaching staff are all trying to help him do that".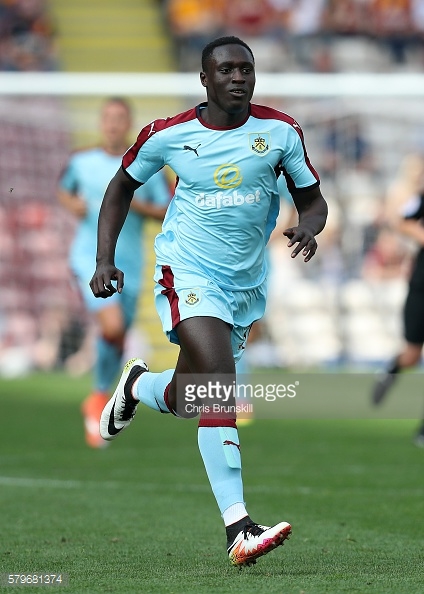 The youngster is "trying to knock on the door"
Agyei spent the first half of the season on loan at League One strugglers Coventry City. He scored five goals in 19 appearances across a five-month spell, creating history in the process with the fastest goal scored at the Ricoh Arena clocked at 19.5 seconds.
The starlet is now setting his sights on breaking into the senior squad and holding down a regular position. He explained "I think I'm doing quite well, just always trying to knock on the door. Whether it be in training or when I get an opportunity when I play in matches to try and score goals and work hard and just show what I am about".
He also feels his holistic game is developing from working with the more experienced strikers at the club. Agyei suggested "with Andre Gray I've learned from his running in behind and his movement. From Ashley Barnes and Sam Vokes, it's been the hold-up play. They can put the ball up into Barnesy and he can just hold onto it and get a foul and I'm trying to learn from that".
Agyei will hope to be in the squad for the trip to Swansea on Saturday.