 The build up to this hotly anticipated game had been centred around two managers. The post-match patter revolved firmly around one of them. Questionable team selection, little organisation, poor results; Arsene Wenger is man under relentless pressure.
His opposing number Jurgen Klopp lifted a huge weight from his shoulders, his side running out convincing 3-1 winners tonight at Anfield. It meant that the German became the first Liverpool manager since Gerard Houllier to claim two victories over Wenger in a league season, as turmoil reigns at the Emirates Stadium.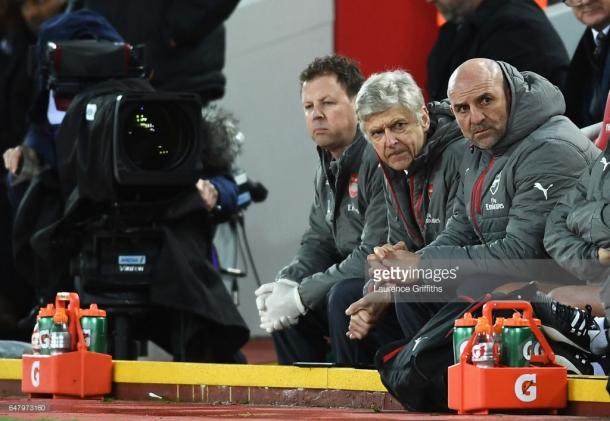 First half goals from Roberto Firmino and the unplayable Sadio Mane saw the hosts race out of sight. Danny Welbeck did pull one back for Arsenal, but Georginio Wijnaldum's stoppage time goal secured Liverpool's top four status for the time being.
Klopp's team were stung on Monday evening by a reinvigorated Leicester City, starting life without the loveable Claudio Ranieri. The German made just one change from the 3-1 defeat, makeshift centre back Lucas making way for the more natural Ragnar Klavan.
Sanchez left out
However, the team selection shocks came firmly from the away lineup. In their first game in 12 days, there was no Mesut Ozil, reportedly suffering with the flu. No Theo Walcott, starting on the bench. No Alexis Sanchez. Also on the bench. In came Welbeck and Olivier Giroud, whilst Alex Oxlade-Chamberlain slotted into the centre once again, this time in a more advanced role. It was a team that surprised, but suggested that Wenger may have a plan in mind.
The plan he had was a clear counter-attacking one. Arsenal sat deep, almost inviting too much pressure at points, before springing to life with the pace of Welbeck, Alex Iwobi, Oxlade-Chamberlain and Hector Bellerin. Their first attack yielded nothing. Liverpool's did.
From a long goal kick by Simon Mignolet, Arsenal allowed the ball to bounce - a well-known cardinal sin for defenders. Philippe Coutinho's cute header to Adam Lallana was met by a first time pass from the Englishman that found an open Mane. The Senegalese international fired a low cross that just evaded the incoming Coutinho, falling kindly for Firmino at the back post. Undeterred by the yellow shirts throwing themselves in his direction, the Brazilian jinked inside and fired his shot high over a despairing Petr Cech.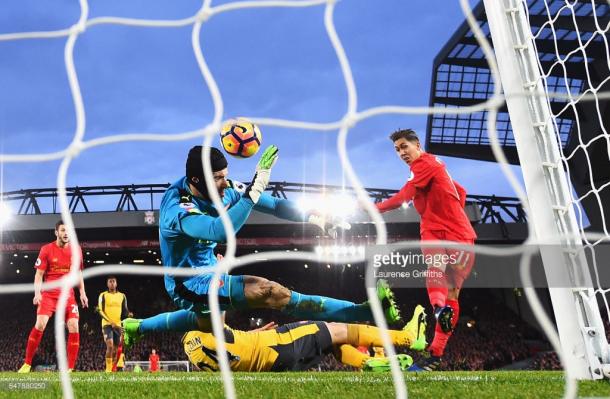 Wenger slouched forward in his seat with his right hand covering his mouth - a customary pose in recent years. The smile had reappeared on Klopp's face, absent for a lot of 2017 thus far.
Whilst not being rampant in the minutes that followed, Liverpool were allowed to make themselves comfortable; Coutinho fizzed in a wicked cross on the half volley that skimmed the immaculate turf, but went begging. Most had expected this to be a rip-roaring, end-to-end affair; it was the exact opposite. Liverpool were in control and a second goal didn't look to be too far away. Cech had to be at his best to tip Coutinho's fierce effort over the bar from 25 yards. The midfield battle was equally one-sided, with Lallana, Emre Can and Wijnaldum pressing their counterparts into errors aplenty.
Mane dazzles, Coutinho controls
Eventually, with five minutes left of the first half, Liverpool found their two goal cushion. Much was said about the absence of Mane during the African Cup of Nations earlier in the year, and his first half display proved his importance to the team. Through James Milner and Firmino, the ball was quickly shifted over to Mane, who made no mistake with his unerring, low finish. Questions asked of Nacho Monreal's positioning and Welbeck's unwillingness to track back, but no one could say that the scoreline was flattering or undeserved.
Arsenal could count their blessings that they didn't find themselves three goals down moments later. Fortuitously, Lallana's pass looped up over Shkodran Mustafi and Laurent Koscielny towards Coutinho, who greeted it with a sumptuous touch to kill the ball dead. Unfortunately, his magical control turned to be his downfall, unable to dig the ball out of his feet with Cech able to deny him once again.
As the teams emerged after the break, there was one inevitable difference. The woeful Francis Coquelin was hauled off for Sanchez, the only Arsenal man who spent half-time warming up. His introduction signalled a change in mentality and shifted the balance of play firmly in Arsenal's favour.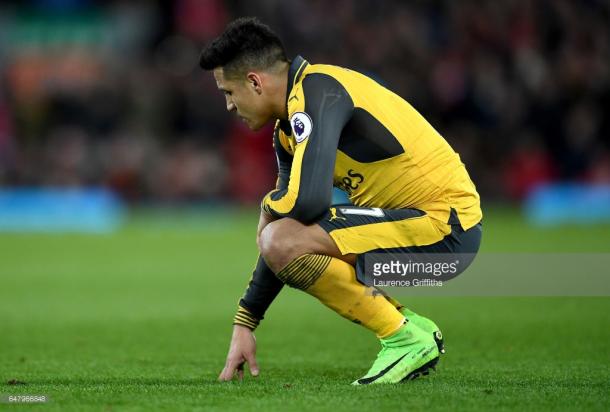 Immediately, the Chilean pushed the Gunners forward, taking just one minute to produce a searching cross that Mignolet had to claim. Three minutes later, Arsenal had a rare shot on goal. Monreal's cross was slightly too high for Giroud who couldn't quite direct his header either side of Mignolet. However, they did find a way back into contention with over an hour of play left. Sanchez at the heart of it once more, as he found the darting run of Welbeck with a perfect slide-rule pass who clipped it over Mignolet with aplomb.
And for all the promise, Arsenal failed to deliver yet again. They posed little threat to Liverpool, who looked shaky themselves and were maybe fortunate not to find themselves down to 10 men, with Emre Can close to seeing a second yellow card.
By that point, Wenger had gone all out. On came Lucas Perez and Theo Walcott. Off came the limping Giroud and more surprisingly, Welbeck. The sub-par Iwobi stayed on.
The changes only garnered flickers of hope for Arsenal, just like their title hopes had only flickered earlier in the season. They, along with this game, were soon swept away.
Game over
In the last ten minutes, Liverpool posed the bigger threat. Divock Origi saw his header from a Milner free-kick crash off the base of the post, as nervousness continued to float around Anfield.
Those were calmed in stoppage time, Liverpool at their brilliant best countering at breakneck speed. Ten seconds earlier, Arsenal looked like they'd be getting an equaliser, Sanchez' strike well blocked by Joel Matip. From then on, the visitors were caught thin at the back, Lallana feeding Origi on the wing. The Belgian lifted his head before curling a glorious low cross for the advancing Wijnaldum, who swept his shot past Cech.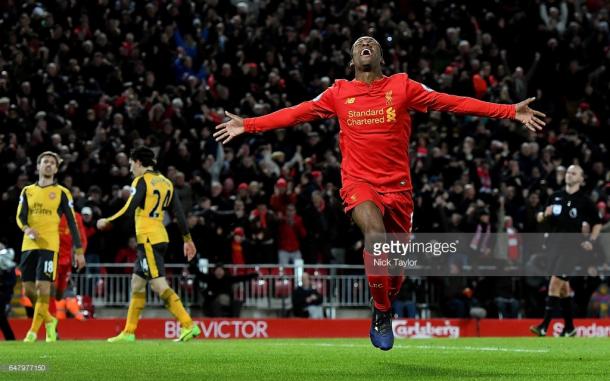 It saw Arsenal fall out of the top four, with Liverpool taking their place. Manchester United are close, Everton only six points behind two. With Arsenal having lost four out of their last six games, top six may be in doubt.