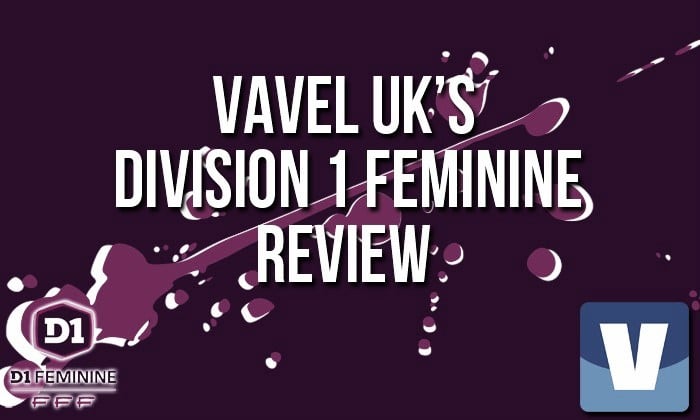 As the Division 1 Féminine draws to its conclusion, FC Metz still have time to find enough form to save themselves from relegation and this weekend, took a giant stride towards that. At the other end of the table, barring a very unlikely collapse, it looks like Olympique Lyonnais will be champions of France once again this year.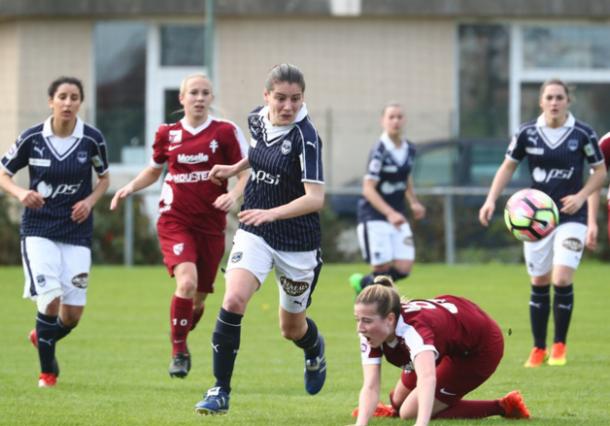 Metz pick up a huge away win at Bordeaux
With barely any time left in the season, FC Metz picked up their first win of their campaign in a 'six-pointer' as they picked up a 2-1 win away to FC Girondins de Bordeaux. The visitors drew first blood as Caleigh Williams met a corner at the near post in the 64th minute and placed it away from the goalkeeper's reach to break the deadlock. Bordeaux drew level in the 76th minute through Emelyne Laurent as she picked up the ball in the middle of the box and tucked it away with ease.
The scoring was not done yet and the game-winner came late in the tie through Meryll Wenger who, after a corner kick was initially cleared by Bordeaux, managed to lob the ball past the goalkeeper and give Metz a big win.
Metz are now seven points away from safety, with a game in hand on their fellow relegation battlers, and will look to use this result as a springboard for the last stages of the season. Bordeaux stay above Metz but are now facing a tough ask and will hope that those above them will slip up and allow them to overcome the current two point gap they have between relegation and safety.
Hegerberg and OL ease past Rodez
After being left out of the starting lineup for the previous UEFA Women's Champions League match, Ada Hegerberg wasted no time in placing her name into contention for a start in the second leg of Lyon's Champions League tie as her brace helped the home side pick up a 8-0 win over Rodez AF. After holding out for 30 minutes, Rodez faced a Lyon onslaught as Hegerberg broke the deadlock in the 38th minute.
Claire Lavogez made it two in the 42nd minute and Hegerberg was on hand in the 44th minute to make it three. Mylaine Tarrieu then finished off the first half with her third of the season. Tarrieu did not let the half-time break slow her down and she picked up her second of the match three minutes after the second half began.
Griedge Mbock-Bathy, Corina Small and Pauline Bremer finished things off in the 64th, 76th and 80th minutes for Lyon, making them fully prepared to head into their European obligations this week.
Rodez had no answer to Lyon's firepower and goalkeeper Julie Niphon could only watch as goal after goal went flying past her. The loss puts them in eighth place while Lyon have cemented their position at the top of the table. Hegerberg has also moved past Eugénie Le Sommer on the goal-scoring leader board as she hits 16 for the season, one more than Le Sommer.
Marseille keep rolling against Guingamp
Olympique de Marseille followed up their impressive win over Paris Saint-Germain last week with a 2-0 win over EA Guingamp this weekend. In the 8th minute, Kelly Gadeamet Viviane Asseyi's free-kick in the box and headed home the first goal of the match. Asseyi was the provider again in the 64th minute as her cross found Charlotte Lozé in the box and the midfielder made no mistake from inside the penalty box.
Asseyi is in good form this season and has helped Marseille become the story of the season as they are set to finish much higher than expected for a team that was promoted into the top division this season. Their fourth place position is not a fluke and credit must go to head coach Christophe Parra for the work he has done with this team. Guingamp move down to sixth after their defeat away in Marseille and will want to bounce back as soon as possible to not slide any further down the table.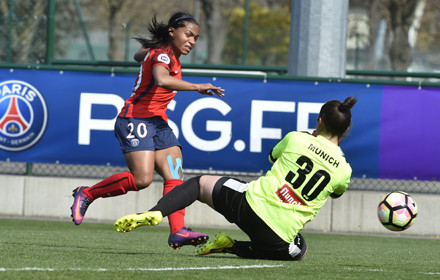 PSG try to keep the pace with a win over Soyaux
Paris Saint-Germain have not given up their title aspirations and kept the gap to seven points by winning 2-0 at home against ASJ Soyaux. After a narrow loss in their Champions League tie, the Parisiennes were hoping to get a morale-boosting win in the league and they did just that with goals from Perle Moroni and Anissa Lahmari in the 18th and 85th minutes respectively. Soyaux battled hard throughout the entire game but ultimately lacked the quality in front of goal to make a difference in the game.
Soyaux move down into seventh but do have a game in hand over the teams around them in the table whereas PSG know that with time running out, they are now looking for a mistake by OL in the run up to the end of the season if they are to win the league.
Juvisy continue to gain form with win against Saint-Étienne
FCF Juvisy have not had the greatest of seasons but their 3-0 over AS Saint-Étienne now makes it two wins on the trot for the team from south-east Paris. After a slow first half, Gaëtane Thiney's corner was met by Kadidiatou Diani in the 47th minute and the rebound fell to Théa Greboval who nodded home from close range to give Juvisy the lead.
The half-time team talk continued to produce results as in the 63rd minute Thiney hit a lovely long-range effort that hit the cross bar and bounced in to put Juvisy 2-0 up. Diani then got her goal when in the 82nd minute, she was found by Marina Makanza's set piece and her effort towards goal took a slight deflection off a defender as it headed towards the goal.
Juvisy's European hopes are over but they will look to finish as high up the table as possible and move up from their current fifth place position. Saint-Étienne are also inching closer and closer towards the relegation zone and with this defeat, are only three points away from the relegation zone in ninth. They will want to pick up points between now and the end of the season as soon as they can.
Montpellier struggle to overcome Albi
In what was seen as a relatively easy win for the visitors, Montpellier HSC had to rely on a 63rd minute penalty by Janice Cayman to find a way past ASPTT Albi. Montpellier have not recovered from losing Sofia Jakobsson to a season-ending injury in January and though new signing Stina Blackstenius has found her footing in Division 1, the style of play remains uninspiring from Montpellier.
If they want to make a late push to overtake PSG and grab the second Champions League spot, they will have to find form quickly as time is running out for them. Albi are not faring any better and after this defeat, now find themselves looking over their shoulder to the teams below them. With only two points separating them from the relegation zone, Albi will need to avoid dropping points as the season draws to an end or they will find themselves in an untenable position when everything is all said and done.