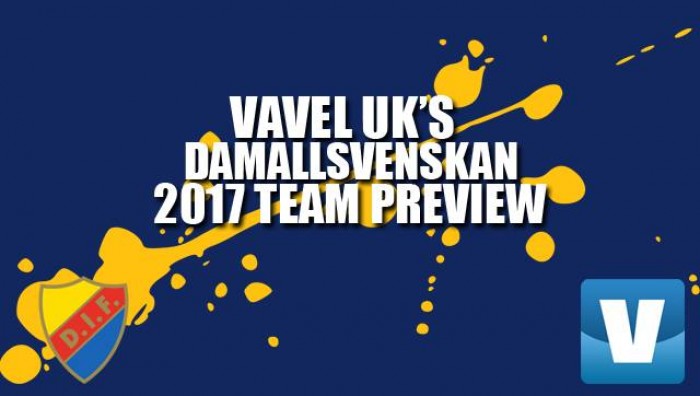 Will the Stockholm side be able to go one step further than their heroics last season?
Last season
As newcomers last season, many automatically assumed that Djurgården would be a part of the relegation fight, but at the end of it all, they finished sixth, surpassing the expectations of many. One of the reasons behind their good season, has to be found in their hard work in the offseason, where the club recruited a number of players that brought both experience as well as individual quality.
Players like Katrin Schmidt, Johanna Rytting Kaneryd, Emilie Appelqvist, Guðbjörg Gunnarsdóttir and Annika Kukkonen were all recruited, and played a crucial part in the Stockholm side's great season.
Their smart recruitment eased the transition from Eliettan to Damallsvenskan, but credit also have to go to their former manager Yvonne Ekroth, and the players themselves, for overcoming the issue of having a lot of new faces. Ekroth was also awarded a nomination as coach of the year at the Swedish Football Gala, but lost out to Piteå IF's Stellan Carlsson.
They finished last season with seven wins, six draws and nine losses, which accumulated them 27 points. They scored 32 goals and let in 34. Mia Jalkerud finished the season as the team's top scorer with nine goals. They will especially look back at the first part of their season with a lot of pride, whereas they fizzed out to some degree towards the end of it.
Departures
As it stands Djurgården has lost three players. Caroline Mendes, who scored three goals in 14 matches (six starts) has joined Icelandic outfit Grindavik, while Therese Persson after only getting one start last season has rejoined her parent club, IFK Täby. The biggest loss will be Sofia Nilsson who has decided to retire. She was one of the leagues best right backs last season, and has been with the club since 2011. At just 26 years, her retirement is a loss not just to Djurgården, but the league.
Djurgården were also hit with the news that key midfielder Emilia Appelqvist tore her ACL in the very first training session of the season, and will possibly be out the entire season with a torn ACL. Appelqvist was a huge profile for DIF last season, and any team would struggle without a player of her quality in their side.
They have also lost their manager Yvonne Ekroth during the offseason, and replacing her will be a big task for Joel Riddez. The 36-year old former player doesn't have much experience, and this will be his first job with a women's team.
New season, new names
Djurgården have promoted three talents within their own ranks to the senior team in Julia Westergren, Patrysja Jerzak and Filippa Pettersson.
On top of that they've abrought in the likes of Hallbera Gísladóttir from Breiðablik, who brings plenty of experience to the team, talented goalkeeper Petra Kümin from Älta IF and defender Freja Hellenberg at Kopparsberg/Göteborg IF.
The standout signing, however, is Tempest-Marie Norlin from Piteå IF. She had a good season with Piteå in 2016, where she provided both goals and assists.
This season
It's a positive for Djurgården that they have managed to keep their squad as intact as they have. It's really only Sofia Nilsson of the three that has departed or retired, who was a regular in the starting XI.
It is a bit of a sucker punch to have lost a player of Appelqvist's calibre before the season has even started, but if there is a silver lining, it is that they have been able to use the preseason to get used to it. In terms of starting XI I'd say DIF have one of the stronger ones in the league, but it has to be a concern for Riddez that the squad overall is rather thin.
Having a new manager is always a bit of an unknown going into a season, and it will be interesting to see if Riddez can get the same, or perhaps more, out of the squad than his predecessor did. Ekroth did a tremendous job with the squad last year, and this season it's all about building on that. They have the starting eleven to better the sixth place they got last year, or at least be closer to the top four than they were last season, but avoiding injuries will be key.
They have had a poor preseason, which shakes my confidence in them a little. A bad preseason is nothing new to them, as that was also the case last year, and they ended up doing just fine when it mattered. There can be no doubt that they do need to up their level.
Who to look out for
Sheila van den Bulk had a really strong first season with Djurgården last year, and I predict the hard tackling Dutch central defender to pick up from where she left. She made her debut for the Dutch national team last year, and will be hoping that a strong showing this spring and early summer can result in a place in the dutch Euro squad. Behind her is one of the best goalkeepers in the league in Guðbjörg Gunnarsdóttir, who will have to have as good as a season as her 2016 one, if Djurgården are to finish in the top half.
Katrin Schmidt is an extremely experienced midfielder, who will be even more important now that Appelqvist is out. She has played in Sweden since joining Tyresö in 2009, and has been an integral part of sides such as Tyresö, FC Rosengård, with whom she won the title in 2013 and 2014, as well as Hammarby, who she left when they got relegated to join Djurgården. She has consistently been one of the leagues best midfielders, and makes those around her better too.
Djurgården has a number of interesting players, but none more so than Johanna Rytting Kaneryd. Kaneryd is one of Sweden's most promising talents, and last season was a bit of a wider breakthrough for her, and her great season with Djurgården resulted in her winning Breakthrough of the Year at the Swedish Football Awards.
She can play central as well as a winger, with the latter being where she was utilised for big parts of last season. She played every single game for Djurgården last season. Much like the team as a whole, it will be interesting to see if she can take the next step. There's no doubt she has the abilities and mentality to do so.
Squad
Goalkeepers: Guðbjörg Gunnarsdóttir and Petra Kümin.
Defenders: Sheila van den Bulk, Annika Kukkonen, Filippa Pettersson, Hallbera Gísladóttir, Petronella Ekroth, Elin Borg, Sandra Lindkvist, Lisa Moazzeni, Kim Sundlöv and Freja Hellenberg.
Midfielders and attackers: Alexandra Höglund, Johanna Rytting Kaneryd, Hanna Lundqvist, Emilia Appelqvist, Michelle Wörner, Patrysja Jerzak, Julia Westergren, Kathrin Schmidt, Mia Jalkerud, Tempest-Marie Norlin and Madeleine Stegius.