But that now brings to an end to today's match between Manchester United and Chelsea at Old Trafford. I have been Brandon Sayer taking you through the game and until next time have a good evening on this Easter Sunday.
Chelsea were extremly poor throughout the whole game and are now in pressure of being caught at the top of the table. Conte was totally outsmarted by Mourinho during the game as Rashford was just simply sublime.
Well it now looks like we have a title race on after United seen out the game to claim a massive three points. Herrera, who was simply superb throughout the game, added the second goal early in the second half and then United defended brilliantly to see out the win.
90+4' - The referee blows his whistle to end the game. Manchester United 2-0 Chelsea.
90+3' - Manchester United substitution: Young is replaced by Timothy Fosu-Mensah.
90' - The referee has decided to add on four minutes at the end of the second half as Ibrahimovic goes into the book for a handball.
90' - Fabregas receives a yellow card for a late challenge on Michael Carrick.
83' - Chelsea substitution: Zouma is replaced by Ruben Loftus-Cheek.
83' - Manchester United substitution: Rashford is replaced by Zlatan Ibrahimovic.
75' - Rojo receives a yellow card for pulling Costa's shirt as he was looking to get in on goal.
73' - Herrera receives a yellow card for a trip on Hazard. He will now have to watch his step against the tricky winger.
69' - Rashford yet again shows his speed as he beat three Chelsea defenders and forced Begovic into a very good save down to his right hand side.
66' - Chelsea substitution: Matic is replaced by Willian.
61' - Carrick's first introduction in the game sees him involved as his pass found Rashford in space just inside the box but unluckily for the striker his great strike hit the side netting.
60' - Manchester United substitution: Lingard is replaced by Michael Carrick.
54' - Chelsea substitution: Moses is replaced by Cesc Fabregas.
52' - Yet another fantastic passing move from United ends with a good chance for Lingard on the edge of the box but his strike just went over the bar.
49' - Goal for United! Herrera fires United into a two-goal lead. Chelsea failed to clear a free-kick properly and Pogba passed the ball to Herrera and via a deflection the ball flew past begovic into the back of the net.
48' - Cahill receives a yellow card for a late tackle of Fellaini. He was maybe lucky to not get a red there on another day.
46' - The referee blows his whistle to begin the second half. Game on!
Well that half couldn't really have gone any better for Mourinho given the outroar at the team he selected before the game. United took an early lead in the game when a lovely ball from Herrera played Rashford in on goal and the striker scored with a great finish. It was clear after that the visitors were shocked by the way United were playing and they barely threatened at all during the first half and it will be interesting to see what Antonio Conte does during the half-time break to get his side back into the game in the second half. Talking of the second half, stay tuned as we will bring you more live commentary in a few minutes time of this exciting clash at Old Trafford!
45+2' - The referee blows his whistle for half-time. Manchester United 1-0 Chelsea.
45' - The referee has decided to add on two minutes at the end of the first half. Costa also just had Chelsea's first shot in the game but it went well wide of the goal.
39' - Chelsea are starting to have more of the ball in recent times but the United players aren't afraid to get stuck in this afternoon which is making the game a great one to watch.
33' - Costa receives the first yellow card of the game for a late tackle on Pogba. That isn't much of a surprise.
23' - Rashford once again causes Chelsea problems as his strength sees him win the ball in a dangerous area but his cross was well saved by Begovic who had to get a hand on the cross to stop Lingard from having a tap in.
16' - United almost make it two nil! A brilliant passing move ended with Young driving into the box and producing a great cross across the goal but the ball just evaded Rashford in the middle, who would have had a tap in if he got any touch on the ball.
8' - Goal for United! Rashford gives United the early lead. The goal came when Herrera blocked a Chelsea attack and then went forward with the ball and played a great pass forward to Rashford, who made no mistake by putting the ball into the net past Asmir Begovic.
6' - United justed created the first half chance of the game when Lingard forced a mistake in the Chelsea defence but Rashford dragged his shot well wide of the goal. Also it's interesting to note that Ander Herrera has been asked to do a man marking job on Eden Hazard this afternoon.
1' - The referee blows his whistle to begin the game. Game on!
Well it looks like Marcos Alonso has picked up an injury in the warm up before the game and will now be replaced by Kurt Zouma in the starting lineup. Nathan Ake will now take his place on the bench.
Chelsea substitutes: Eduardo, Ake, Terry, Loftus-Cheek, Fabregas, Willian, Batshuayi.
Manchester United substitutes: Romero, Ibrahimovic, Blind, Carrick, Mkhitaryan, Shaw, Fosu-Mensah.
Chelsea starting XI: Begovi?, Azpilicueta, Luiz, Cahill, Moses, Zouma; Kanté, Mati?, Pedro, Hazard, Costa.
Manchester United starting XI: De Gea, Darmian, Bailly, Rojo, Valencia, Fellaini, Herrera, Pogba, Young, Lingard, Rashford.
The team news from Old Trafford is in. Stay tuned!
Reports from Manchester suggest that Chelsea goalkeeper Thibaut Courtois is out of today's game injured. That's a boost to Man United with Courtois playing a key role in denying United in the previous two games at Stamford Bridge, though Asmir Begovic is a very credible replacement.
It's a vital clash in this season's Premier League, for the top four race and, of course, for the title. Mourinho faces his former club, Conte travels to Old Trafford for the first time as Chelsea boss having won twice at Stamford Bridge against the Reds this season. Kick-off is at 4PM, but stay with us until then for the latest team news and updates from the Theatre of Dreams. I'll hand you over to Brandon Sayer now to take you through 90 minutes of, what we hope, will be a brilliant game.
For Chelsea, Conte has a fully fit squad, somewhat incredibly for this time in the season. Their starting line-up has generally picked itself with the side being in such excellent form.
Phil Jones and Chris Smalling both remain unavailable meaning a continuation of the Eric Bailly-Marcos Rojo partnership is likely, though Axel Tuanzebe and Timothy Fosu-Mensah are both viable options from the academy.
Wayne Rooney could return to the squad for Mourinho after a number of weeks out with injury. His United career is fizzling out quietly. If Mourinho is planning to rest players for Thursday's vital second-leg against Anderlecht, Rooney may even start on Sunday.
This period is a tricky one for Mourinho and his coaching staff. United are not run-away certainties for either the Europa League or the top four meaning a difficult balancing act. The Portuguese will be forced into partial rotation on Sunday. He recently admitted that Antonio Valencia has suffered from an extraordinarily packed schedule, including flying to and from South America to play for Ecuador. Juan Mata, meanwhile, is unlikely to be in action again this season, the former-Chelsea man recovering from a groin injury.
The Reds are just four games from qualifying for Europe's elite club competition by winning the second-string tournament, the Europa League. Though the performance until 80 minutes was impressive and professional, United conceded a late equaliser in Belgium having missed a number of golden opportunities just moments before. A kick in the teeth despite a relatively good result for United away in a quarter-final tie.
Chelsea manager Conte also declared the top four race as ongoing ahead of this game. But while his side are solely focused on completing a deserved title victory, United were playing Anderlecht in midweek.
"People are saying that the Europa League is the best chance for us but you cannot look at it like that. Football is football and a lot can happen. There is no way we can give up on the top four. It is still close. Yes, we have a tough run in but it is still close," Carrick continued.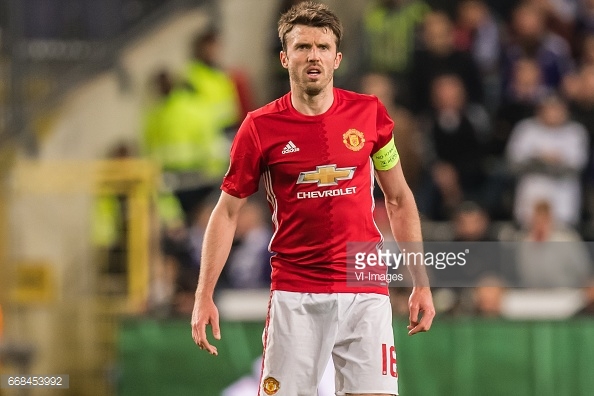 Mourinho's side still have a slim chance of finishing inside the top four this season, what was seen as the minimum requirement when the Portuguese arrived. Vice-captain Michael Carrick recently asserted that "the Premier League top four is still an opportunity."
Antonio Conte's visitors are close to regaining the Premier League title after months at the top of the table. But Man United, José Mourinho and Old Trafford provide an obvious potential slip-up as Tottenham Hotspur wait to pounce, winning 4-0 against AFC Bournemouth on Saturday.
Hello and welcome to VAVEL UK's live minute-by-minute commentary of this vital clash between Manchester United vs Chelsea live stream score.