 Hull City manager Marco Silva wants his side to reward the "excellent support of the fans" in "another important game for us" against Watford.
Tigers fully prepared according to the manager
Silva suggested that his players have been putting the graft into training after a second successive defeat last weekend. He explained "it is a big fight that we are in and so we need to look only at our work and at our performances. This a fight the players are ready for, they have worked hard all week because they want a better result than last weekend".
The Portugese manager who is unbeaten in three years on home soil is keen for his players to focus on the game in hand and not what the teams around them are doing. "We take things step by step, game by game and we just look at this Saturday as another chance to take points. Only after we have done this can we see what is happening in other places".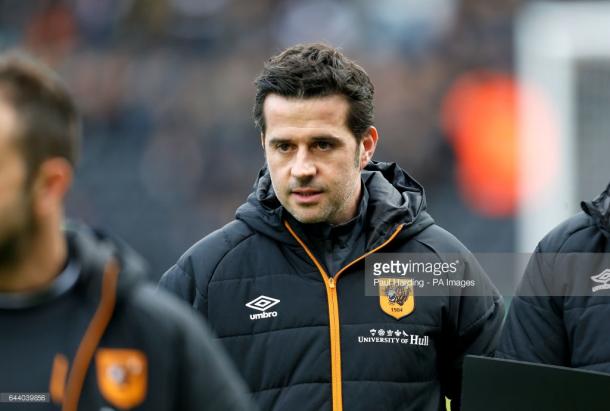 Watford could be complacent
Silva believes patience could be key to breaking down a disciplined Watford unit. He added "they are a good team and have good individual players as well. Their organisation is always good. We know we may need patience but we want to cause them problems".
He also hinted that Watford's Premier League mid-table position could allow complacency to creep in with nothing left to play for. "They have reached 40 points and they maybe don't feel pressure now. But this means that they can play their football with comfort and confidence. Whether that is good for them we will see but all we know is that we can expect a tough game".
Silva concluded "what we know is that we have to show a better attitude than our opponent, play better than them and try to win the game".