 Alexis Sanchez has always been the man for the moment. His poke sent Arsène Wenger and Arsenal into the FA Cup Final after a physical performance starkly contrasting to recent humiliations in the Premier League.
Moments earlier, Pep Guardiola had sacrificed Manchester City's goalscorer Sergio Agüero, perhaps with a knock, for midfielder Fabian Delph, and City could not fight back without the Argentine. There were certainly no chants of "you're not fit to wear the shirt" from the Arsenal fans under the Wembley arch. Instead, they prepare themselves for a third FA Cup Final in four years.
Danny Welbeck fulfilled the hopes of the supporters in red as an 82nd-minute substitute. Greeted by rapturous applause and cheers, Welbeck's pace and energy added a different dimension to Arsenal who had shown little invention throughout the game despite impressing.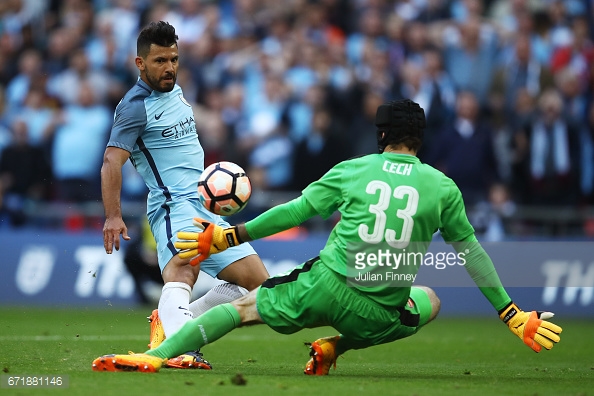 Agüero dinks City into lead
Meanwhile, the absent Agüero was missed by City as they searched for an equaliser in the second-half of extra-time. He had harried and rushed Arsenal's three-man defence. Not only that, but he had scored the opener, a delightful dink over Petr Cech. After an excellent start to the second-half, Arsenal were caught out. Agüero created a one-on-one opportunity for himself, seemingly finding a vital extra gear to surge past Nacho Monreal and give himself space. A heavy touch forced Cech out to claim the ball, but Aguero lifted it above the Arsenal goalkeeper. The manner of his celebration showed how much he had done for his goal. Arms aloft to the sky, he kneeled on the Wembley turf. None of him teammates were near him as the City supporters bayed at him in joy.
Pep Guardiola's name reverberated around Wembley, the effect he's had on his Argentinian striker is obvious, his workrate the startung point for City's pressing.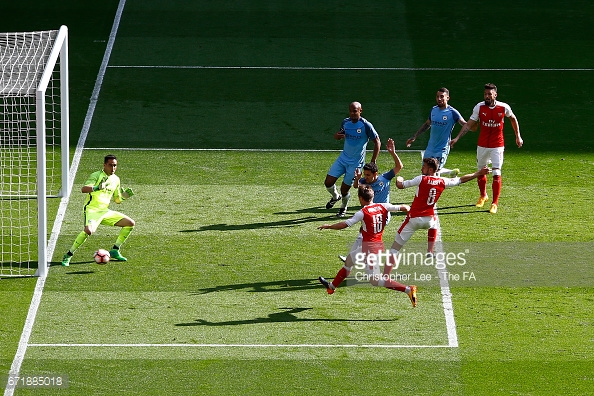 Thumping Monreal volley levels
Yet Monreal emphatically volleyed home just nine minutes later to level the game, deservedly so for Wenger's side. Chances were not constantly forthcoming for either side, both goals in normal time were superb finishes, demonstrations of individual talent. It's expected from Agüero. From Monreal; less so.
But the Spaniard struck it powerfully past Claudio Bravo with the outside of his right boot, the momentum of his run virtually carrying the ball into the net. He had little time to think about how he was to hit Alex Oxlade-Chamberlain's excellent cross that dropped at the perfect height.
Yaya Touré's clearance had set Agüero free for his goal. The Ivorian showed no signs of a player at the end of his career, as many suggest, in the final moments of normal time. He was powerful and unstoppable. But his best chance to be the hero was denied superbly by the very tips of Cech's gloves. Touré volley at hip-height, somehow shaping his body to do so, and Cech deflected it onto the post.
Neither side were gung-ho in their approach late on. There was plenty of space, certainly, and plenty of attacking intent, but unlike Chelsea and Spurs the previous day, caution was the prevailing tactic.
Only after Alexis did the game truly open up as City searched desperately for an equaliser. Raheem Sterling, who had been brought on for an injured David Silva early in the game, was brought off for Kelechi Iheanacho for the second period of extra-time, but nothing would budge.
Arsenal could have wrapped things up on a number of occasions. Mesut Özil found himself in the penalty area twice or thrice and went down softly each time rather than pursuing the attack. Alexis busted a gut to reach his teammate each time, but he didn't have to. His late goal was enough. Danny Welbeck fluffed a chance in the area, Alexis poked it home.
Arsenal fans were loud and proud, something they have rarely been this season. "Wenger Out"? Not heard once. The players grafted at Wembley on Sunday afternoon, the Frenchman clearly still has the support of his dressing room.