 Hull City manager Marco Silva was pleased following his side's 2-0 victory over Watford that saw the Tigers stay in 17th place, one point clear of the relegation zone.
Manager lauds players while hailing result
Following the match, Silva was in good spirits and said he was "really happy with the result" and stated it was "a tough game for us as we played most of it with only ten men."
The former Olympiakos man saved praise for his players followers Oumar Niasse's dismissal. He said: "Our players were fantastic and always stayed focussed on their tactical behaviour. We changed some things at half time because we had only ten players and we deserved the result that we got."
Following the win, Silva implied that it gives his players more hope of avoiding relegation from the Premier League. He continued: "The work of the players and the fans was fantastic and I am really happy because our goal of staying in this division is still open."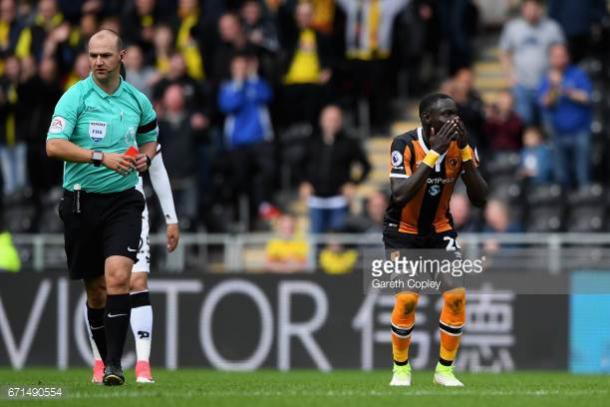 Gaffer says team is together as final games of the season approach
Having gone one point clear of the relegation zone, Silva is now more hopeful of staying in the Premier League. He said that the Tigers have to "carry on our fight and do our work."
The Portuguese also highlighted the togetherness surrounding the KCOM Stadium. He said: "We're playing together, we're fighting together and this is fantastic for me. I know we will carry this on until the end and then we will see what the result is."
Silva comments on Niasse dismissal
Striker Oumar Niasse was sent off less than a half hour into the match. Silva remarked on referee Robert Madley's decision to send his striker off, saying:"I don't want to talk too much about this situation."

"It is not the first time this has happened to us and I respect that it is not easy for the referee. It is not easy for me or for my players either," he concluded.