 As France prepares to have another shot at winning a major tournament for their country, Olivier Echouafni has named his full player squad for the 2017 UEFA Women's Championship starting on July 16th, 2017 in the Netherlands.
OL features the most in the selection
Once again, Olympique Lyonnais players are heavily featured in the lineup for France for this summer's tournament. The majority have more than justified their place within the national team set up as they have helped their team win the Division 1 Féminine title, the Coupe de France Féminine and potentially, the UEFA Women's Champions League. At the forefront of OL's magnificent season has been Eugénie Le Sommer and Camille Abily. The two have been in fantastic form for both club and country over the last eight months and winning the country's first major trophy this July would be the perfect ending to their season so far. Other notable OL players are stalwarts Sarah Bouhaddi, Wendie Renard and Amel Majri who have also had impressive seasons for their club.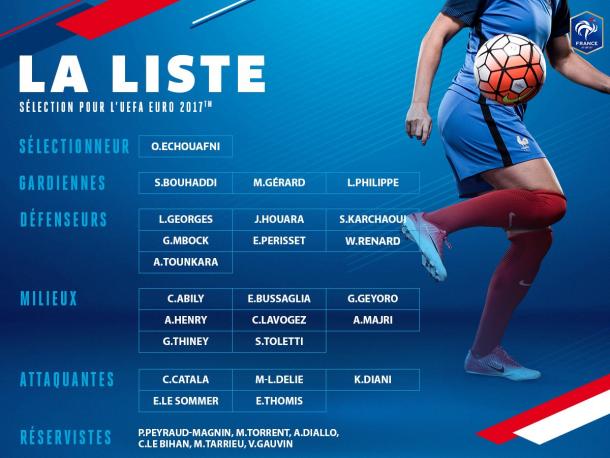 Some of Echouafni's selections may raise eyebrows
The names that may raise eyebrows at their inclusion do not necessarily come from OL at this point. FCF Juvisy had a poor season by their standards and even though she was one of the better players in the team, Juvisy captain Gaëtane Thiney may not have justified her place in the team according to some fans. Echouafni may feel that he needs to go with experience at the attacking positions this summer instead of inviting some of the standouts from the league this season who will have not played in such a big competition before.
Another interesting selection is that of VfL Wolfsburg's Élise Bussaglia. The midfielder has not featured all that much this year for the German champions and may be looking to move on from the club this transfer window. Bussaglia again has the experience for major tournaments and can be depended upon when called up but there may have been room for someone like Valérie Gauvin to be placed in her or Thiney's spot instead of being listed as a reserve due to her form for Montpellier HSC this season. It remains to be seen how well this group of players will do and Echouafni will hope that their performance at the 2017 SheBelieves Cup was a precursor for more success in the Netherlands this year.
Full roster is as follows
Goalkeepers: Sarah Bouhaddi (Olympique Lyonnais), Méline Gérard (Olympique Lyonnais), Laëtitia Philippe (Montpellier HSC).
Defenders: Laura Georges (Paris Saint-Germain), Jessica Houara (Olympique Lyonnais), Sakina Karchaoui (Montpellier HSC), Griedge Mbock (Olympique Lyonnais), Eve Périsset (Paris Saint-Germain), Wendie Renard (Olympique Lyonnais), Aïssatou Tounkara (FCF Juvisy).
Midfielders: Camille Abily (Olympique Lyonnais), Élise Bussaglia (VfL Wolfsburg), Grace Geyoro (Paris Saint-Germain), Amandine Henry (Portland Thorns FC), Claire Lavogez (Olympique Lyonnais), Amel Majri (Olympique Lyonnais), Gaëtane Thiney (FCF Juvisy), Sandie Toletti (Montpellier HSC).
Forwards: Camille Catala (FCF Juvisy), Marie Laure-Delie (Paris Saint-Germain), Kadidiatou Diani (FCF Juvisy), Eugénie Le Sommer (Olympique Lyonnais), Elodie Thomas (Olympique Lyonnais).