Following on from Olympique Lyonnais' Champions League final win in Cardiff our VAVEL reporter in Wales spoke to American international, Alex Morgan about how she's grown in France.
A challenge
Still beaming from ear-to-ear as she slowly makes her way through the Mixed Zone, Alex Morgan is still one of the most sort out interviewees. The Champions League winners medal around her neck the newest addition to a trophy cabinet, it will join Coupe de France and Division 1 Féminine winner's medals when she returns home to Orlando.
Her 22 minutes in Cardiff an end to her "satisfying" stint with Lyon, a hamstring injury forced her off early in the game and the attack admits it was "bittersweet" for her, her dream of the treble and helping her team out cut short after taking a whack to her hamstring.
Morgan admits that she wanted a challenge outside of the States and her fulfilling half-season in France has certainly been that to the attacker who's adapted her game to play in different roles across the attack,
"I think I've been challenged a lot so I'm able to play in different positions, I've played right forward tonight, I've also played left and central and in different formations."
Morgan doesn't mention it, but as well as playing in different variations of front twos and threes, she has also broadened her game to drop deeper than many would expect with a Lyon team. Well known for her goals, the American international has popped up along the defensive line for Les Fenottes too, memorably in the UWCL quarter-final in Germany, in a game that showcased not just her selflessness on the pitch but a modesty in her game.
A star wherever she's gone in America, Morgan has found herself as one of eleven, not necessarily the first name on the team sheet in France, Lyon coach Gérard Prêcheur not afraid to take the hard-line to help her improve her game,
"I think I'm just better with my awareness; awareness of my teammates, of my own touch. In training if I lose a ball the coach is on me, not only on me but screaming at me, so I think that has helped me be more conscious of it."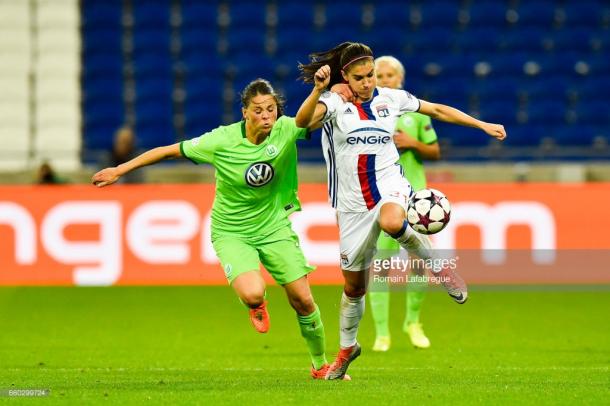 Different fortunes across the pond
Diplomatically leaving the door open for a return, Morgan is aware that her place right now in back in Florida with the Orlando Pride. Over four and a half thousand miles away from Orlando in Lyon, Morgan has tried to keep up with the NWSL season – but as any fan who follows a league on another continent can attest, it's no mean feat, especially not if you're a professional footballer who has a strict training schedule to adhere too.
"I've watched as many games as I can but the time difference is extremely difficult but with the Pride games I'll stay up until 1 or 2am (7 or 8pm Central time) trying to watch the games, it's been fun to watch but I think the Pride have not had the beginning of the season they've wanted."
Already aware that she's a doubt for the USA games in Scandinavia – to be confirmed by Jill Ellis the next day with a call-up for Lynn Williams – Morgan knows she needs to be careful with a hamstring that shouldn't have stopped her from seeing the game in Cardiff out but is already looking to make her presence felt when she returns to the Bowl,
"So, I'm hoping once I get back from my hamstring injury I can help them out."