It had been a hectic 18 days for Olympique Lyonnais' starlet Ada Hegerberg when we had a quick chat in Cardiff.
Les Fenottes had just clinched their fourth UEFA Women's Champions League title just 13 days after completing the domestic double by besting fellow UWCL finalists PSG in the Coupe de France. The Division 1 Féminine title wrapped up just four days before their trip to Vannes, the Norwegian wunderkind the only one in the Lyon squad who could boast an extra honour over the bustling threw weeks. Hegerberg's last days in France before the flight to Wales had brought about an induvial honour as she was voted the BBC Women's Footballer of the Year for 2017.
Whilst Hegerberg hadn't been at her best in the final, Lyon and PSG a battle that had been fought so frequently this year, the team from the south unable to rely on a moment of brilliance from the Norwegian international who was withdrawn in the second-half following a bought of sickness the previous day.
In their third meeting in as many weeks it was never going to be easy for either, the tie boiling down to penalties, the French champions victorious from the spot as they had been in the CdF final,
"It was a very tough game," Hegerberg started, even then looking a little off colour, "I was sick the day before so it pushed me but in the end, I think we deserved to win but it's penalties and they're always 50/50."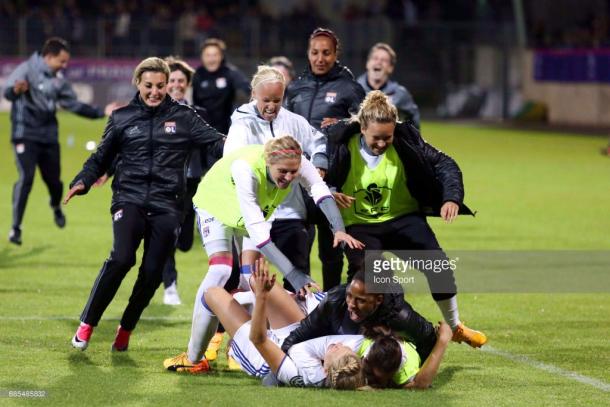 Mental preparation
When asked if she was frustrated to be playing PSG again, neither side able to hide any cards up their sleeves, the attacker spoke of the importance of mental preparation,
"If you think like that it's harder to be mentally prepared but the girls jumped in and tried to do their best and they did, they stepped up and I'm just so proud of all of them. And to win this trophy again, it's such a cool feeling."
Many comments are thrown about regarding the strength of D1F – despite the growing strength of the league, the top two or three far from certain – but it remains true that OL will go out and win a number of their games by near cricket scores, their 103 league goals in 22 games testament to the ruthlessness of the team. But as seen the world over, you still have to show up whether you're playing the team at the bottom of the table or the team snapping at your heels, matches can be won or lost between the ears.
Still just 21, Hegerberg is aware of the dedication required to be the best but concedes that it's tough to maintain that level of focus throughout the season,
"It is, it's tough but I feel that when you get that winning feeling you just want to create success year after year; that's what we're trying to do here and winning a trophy is the best thing you can do as a team."
She finished, "We just try to have new ambitions each year to take new steps to grow as a team."