 Chelsea will kick off their title defence at home to Sean Dyche's Burnley after the 2017/18 Premier League fixtures were released on Wednesday.
After a triumphant debut campaign for Antonio Conte, he'll have to prepare his team well for the handful of top teams ready to take back the Premier League title.
Fixtures to Watch For
August 12th: Chelsea host Burnley on the opening day of the season, a side they beat at Stamford Bridge last season but could only manage a draw against away from home. A tough test to start the season, all hands will have to be on deck for Conte's men.
August 19th: The first big derby of the season as Chelsea travel to Wembley to face bitter rivals Tottenham Hotspur. The Blues will be without star man Eden Hazard due to a fractured ankle, putting plenty of the pressure on the title holders against last season's runners up.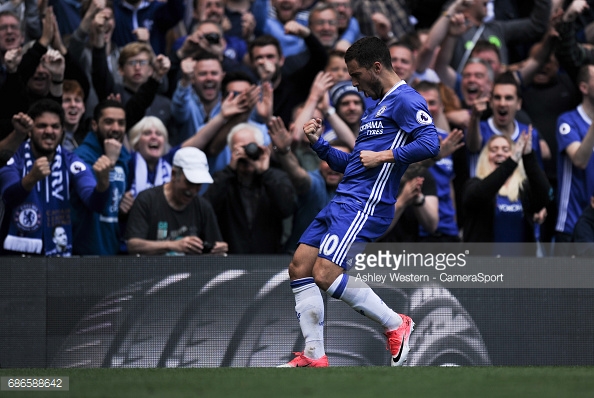 September 16th: Another London derby as Arsenal come to Stamford Bridge, where they lost 3-1 last season. The two sides met in the FA Cup Final to wrap up their seasons, with Arsenal coming out on top. They'll meet before the season in the Community Shield but three crucial points will be available in mid-September.
September 30th: The Blues wrap up a rough second month of the season with a home game against Pep Guardiola and Manchester City. Victorious over their title rivals twice last season, City will be revitalised and ready to fight for the title. Chelsea could welcome back Hazard for that game but only time will tell.
November 4th: Manchester United and old Chelsea boss Jose Mourinho come to Stamford Bridge in what should be a game with huge title implications.
December 2nd: Chelsea finally face their first newly promoted side as December begins with a home clash with Newcastle United. Always a tricky fixture but this time, former Chelsea boss Rafa Benitez will be back in town.
December 26th (Boxing Day): Brighton and Hove Albion head to Stamford Bridge for the festive clash with Chelsea playing all three newly promoted sides in the final month of 2017.
January 1st (New Years Day): Another London derby on New Years Day for Chelsea but they'll be hoping for better luck this time. An away trip to Arsenal to kick off 2018 will be tricky for Conte but with back to back titles on their mind, it should make for a heated clash.
February 24th/March 3rd: Back to back trips to Manchester for Conte's men as they take on Man United to finish February, before facing Man City just a week later.
May 13th: Chelsea will finish the campaign with an away trip to Newcastle but the question is, will they be celebrating a second straight Premier League title at St. James Park come May 13th?
Rough Patch
Chelsea have two particular rough patches in their 2017/18 campaign. The first comes to begin the season as they face Tottenham, Everton, Arsenal and Man City in the first two months. On top of those tough games, they'll be without talisman Eden Hazard, who suffered a fractured ankle with Belgium at the start of the summer. Chelsea's ability to navigate through the first two months should give a blueprint on their eventual success for the season.
The second is a short patch, but it comes towards the end of February. Consecutive away trips to Manchester fall right in the heart of the Champions League knockout stage, which Chelsea will hope to be in at that point of the season. Conte will hope to improve the squad depth this summer and it should come in handy around that time of the season, when Chelsea will be hoping to push on in multiple competitions.
| | |
| --- | --- |
| Opponents | Venue |
| Burnley | H |
| Tottenham Hotspur | A |
| Everton | H |
| Leicester City | A |
| Arsenal | H |
| Stoke City | A |
| Manchester City | H |
| Crystal Palace | A |
| Watford | H |
| Bournemouth | A |
| Manchester United | H |
| West Bromwich Albion | A |
| Liverpool | A |
| Swansea City | H |
| Newcastle United | H |
| West Ham United | A |
| Huddersfield Town | A |
| Southampton | H |
| Everton | A |
| Brighton and Hove Albion | H |
| Stoke City | H |
| Arsenal | A |
| Leicester City | H |
| Brighton and Hove Albion | A |
| Bournemouth | H |
| Watford | A |
| West Bromwich Albion | H |
| Manchester United | A |
| Manchester City | A |
| Crystal Palace | H |
| Burnley | A |
| Tottenham Hotspur | H |
| West Ham United | H |
| Southampton | A |
| Huddersfield Town | H |
| Swansea City | A |
| Liverpool | H |
| Newcastle United | A |