 The 2017/18 Championship fixtures have today been released and Nottingham Forest face what looks to be a tricky start. They face the likes of Leeds United, Middlesbrough, Sheffield Wednesday, Sunderland, Aston Villa and Fulham early on.
Forest supporters will be optimistic about the upcoming campaign under the new ownership of Evangelos Marinakis following a dismal five-year period under previous owner Fawaz Al-Hasawi. It will certainly be interesting to see how they fare in comparison to last season where they avoided relegation to League One with a 3-0 final day victory against Ipswich Town at The City Ground.
An early test of credentials
Mark Warburton's side begin their season on 5 August with a home game against Millwall at The City Ground following their victorious League One play-off campaign last season. This will then be followed by another home game against Shrewsbury Town in the newly-branded Carabao Cup on 8 August.
Forest's first away game of the season will see them travel to London to take on Brentford at Griffin Park (12 August). The Reds then face three more games in August as they travel to Oakwell to face Barnsley (15 August), host newly-relegated Middlesbrough (19 August) and then host Leeds United who just missed out on the play-offs last season (26 August).
The month of September looks to be a very tough period and could be an early test of Forest's credentials. It kicks off with a trip to Hillsborough to face Sheffield Wednesday (9 September) which is always a difficult place to go. Forest will also face away games against Sunderland (12 September) and Aston Villa (23 September) during this month aswell as home games against Wolverhampton Wanderers (16 September), Fulham (26 September) and Sheffield United (30 September).
The first East Midlands Derby comes around two months earlier than last season as Forest travel to Pride Park to face bitter rivals Derby County in October (14 October). The Rams will travel to The City Ground in the reverse fixture later on in the season (10 March).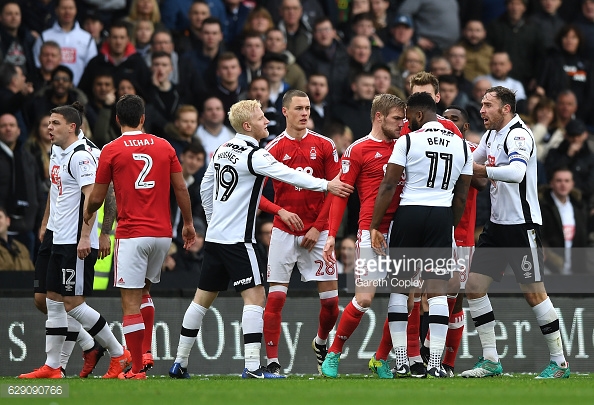 A tasty festive period
It certainly looks to be a mouth watering festive schedule for the Reds this season. In the lead up to Christmas, Forest face away games at Ipswich Town (2 December), Bristol City (16 December) and Preston North End (23 December) aswell as a home game against Bolton Wanderers (9 December). Forest will face Sheffield Wednesday at The City Ground on Boxing Day (26 December) before also hosting Sunderland four days later (30 December). The festive period is rounded off with a trip to Elland Road to face Leeds United on New Year's Day (1 January).
The run-in towards the end of the season
The month of March includes some tough looking fixtures for the Reds and it will be interesting to see where they are in the league table come this point of the season. Forest face home games against both Birmingham City (3 March) and Derby County (10 March). However, the Reds also face three difficult away matches at Norwich City (6 March), Sheffield United (17 March) and then Millwall (31 March).
As the Reds enter the crunch period that is the month of April, the fixture list looks to have been kinder with quite a few matches against teams who finished around mid-table last season. They begin by hosting Barnsley (2 April) before a trip to Middlesbrough (7 April). Ipswich Town (14 April) and Bristol City (28 April) are both scheduled to visit The City Ground with an away game at Cardiff City (21 April) in between.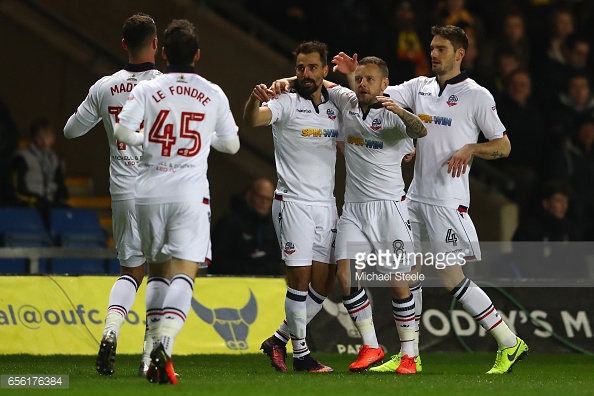 Forest are due to end their season as they travel to the Macron Stadium to face Bolton Wanderers on 6 May. Will this final game be as important as it was last season? If it is, hopefully it is important for much different reasons with Forest pushing at the other end of the table.
Full fixture list
August
Millwall (H) - 6th
Shrewsbury (H) - 8th (Carabao Cup)
Brentford (A) - 12th
Barnsley (A) - 15th
Middlesbrough (H) - 19th
Leeds United (H) - 26th
September
Sheffield Wednesday (A) - 9th
Sunderland (A) - 12th
Wolverhampton Wanderers (H) - 16th
Aston Villa (A) - 23rd
Fulham (H) - 26th
Sheffield United (H) - 30th
October
Derby County (A) - 14th
Burton Albion (H) - 21st
Hull City (A) - 28th
Reading (A) - 31st
November
Queens Park Rangers (H) - 4th
Birmingham City (A) - 18th
Norwich City (H) - 21st
Cardiff City (H) - 25th
December
Ipswich Town (A) - 2nd
Bolton Wanderers (H) - 9th
Bristol City (A) - 16th
Preston North End (A) - 23rd
Sheffield Wednesday (H) - 26th
Sunderland (H) - 30th
January
Leeds United (A) - 1st
Aston Villa (H) - 13th
Wolverhampton Wanderers (A) - 20th
Preston North End (H) - 27th
February
Fulham (A) - 3rd
Hull City (H) - 10th
Burton Albion (A) - 17th
Reading (H) - 20th
Queens Park Rangers (A) - 24th
March
Birmingham City (H) - 3rd
Norwich City (A) - 6th
Derby County (H) - 10th
Sheffield United (A) - 17th
Millwall (A) - 31st
April
Barnsley (H) - 2nd
Middlesbrough (A) - 7th
Brentford (H) - 10th
Ipswich Town (H) - 14th
Cardiff City (A) - 21st
Bristol City (H) - 28th
May
Bolton Wanderers (A) - 6th