 Following off from Denmark, Spain and Sweden who've all announced their Euro 2017 squads this week, Iceland have confirmed the 23 who'll travel to the Netherlands to represent their country.
ACL injuries mount up
There were few surprises to be had when the news broke earlier on today the three biggest absentees Dóra María Lárusdóttir, Margrét Lára Viðarsdóttir and sister Elísa Viðarsdóttir, all three missing the tournament through respective ACL injuries. With a combined age of 87 and over 230 caps between Lárusdóttir and Margrét Lára alone, Iceland have lost a huge amount of experience and fire-power up top, Elísa Viðarsdóttir's injury a blow for the defence.
A knock in their first Algarve Cup match against Norway earlier in the year saw Lárusdóttir become the first who wouldn't be making it to Holland but with plenty of time to ready a replacement the news could have been worse for Stelpurnar okkar. (Although there was better news for Iceland from that game after Sandra María Jessen was forced off 25 minutes in after a nasty collision which saw her tear her PCL but having recovered in enough time the 22 year-old midfielder is one of the 23 who makes the final squad). With Elísa injured more recently the bad news began to pile up, the final blow struck when captain and top goalscorer, Margrét Lára succumbed to the same injury during a Úrvalsdeild match for Valur at the end of May.
However, despite losing three big, big players, Iceland have proved themselves more than capable of leading with their best foot, no matter who is or isn't on the pitch. The northern most nation represented at the Euros and drawn in one of the more intriguing groups, Iceland could yet be one of the surprises of the tournament.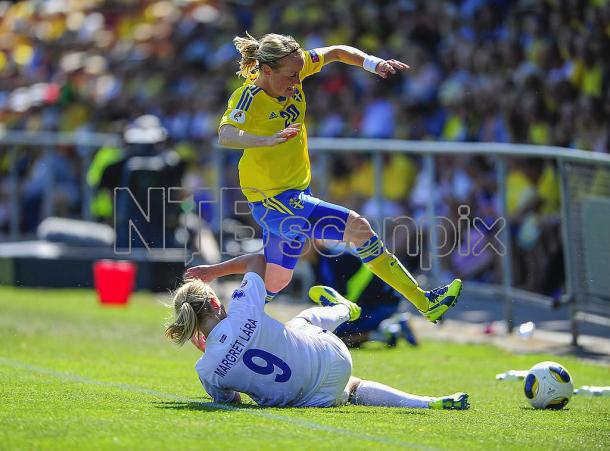 In addition to the 23, Alexandersson has also named eight alternates who would step up to replace any players injured or unable to make the final tournament.
The full squad
Goalkeepers: Guðbjörg Gunnarsdóttir (Djurgården), Sonný Lára Þráinsdóttir (Breiðablik), Sandra Sigurðardóttir (Valur).
Defenders: Hallbera Guðný Gísladóttir (Djurgårdens), Arna Sif Asgrimsdottir (Valur), Glódís Perla Viggósdóttir (Eskilstuna United), Ingibjörg Sigurðardóttir (Breiðablik), Sif Atladóttir (Kristianstad), Anna Björk Kristjánsdóttir (LB07), Rakel Hönnudóttir (Breiðablik).
Midfielders: Fanndís Friðriksdóttir (Breiðablik), Dagný Brynjarsdóttir (Portland Thorns), Gunnhildur Yrsa Jónsdóttir (Vålerenga), Sara Björk Gunnarsdóttir (VfL Wolfsburg), Sigríður Lára Garðarsdóttir (ÍBV), Málfríður Erna Sigurðardóttir (Valur), Hólmfríður Magnúsdóttir (KR).
Attackers: Sandra María Jessen (Þór/KA), Agla María Albertsdóttir (Stjarnan), Elín Metta Jensen (Valur), Katrín Ásbjörnsdóttir (Stjarnan), Berglind Björg Þorvaldsdóttir (Breiðablik), Harpa Þorsteinsdóttir (Stjarnan).
Alternates: Bryndís Lára Hrafnkelsdóttir (Þór/KA), Lilly Rut Hlynsdóttir (Þór/KA), Thelma Rut Einarsdóttir, Anna María Baldursdóttir (Stjarnan), Lára Kristín Pedersen (Stjarnan), Andrea Rán Hauksdóttir (Breiðablik), Svava Rós Guðmundsdóttir (Breiðablik), Guðmunda Brynja Óladóttir (Stjarnan).