 As the time ticks down until the start of the UEFA Women's Euro Championships, here's a run down of Group A which includes the hosts, the Netherlands, Norway, Denmark and Belgium.
Holland
The Netherlands kick off their tournament with a game against Norway as the first match of the tournament and it's expected to be a great game to watch. The last time the hosts were involved in a competitive fixture was at the 2017 Algarve Cup where they beat Japan by a 3-2 scoreline to finish fifth overall at the tournament. Before that, the Netherlands went out in the Round of 16 at the 2015 FIFA Women's World Cup in Canada but as this tournament is being held in their country, they will want to go as deep into the tournament as they possibly can.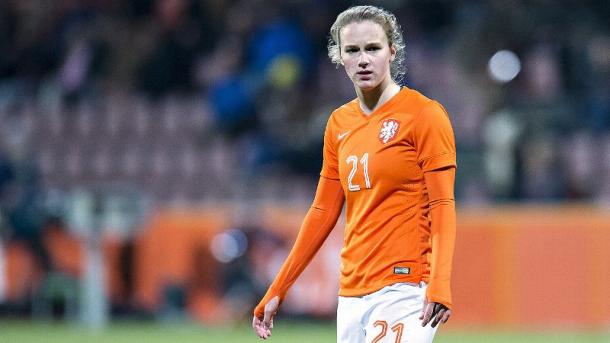 Head coach Sarina Wiegman opted to select a familiar looking team to represent their nation in a few weeks and within those ranks are some very capable players. You can't mention the Netherlands without mentioning Vivianne Miedema who just recently transferred to Arsenal FC after three years at FC Bayern Munich. Miedema is a class act for any team in any competition and her 21 goals in 39 appearances for Bayern reflect that. The explosive 20 year old also has 34 goals in 42 caps for her country which is not surprising when you watch her play. If Miedema can get enough service from her teammates, she will punish any defence put in front of her and that is what Wiegman will be hoping to do.
In order to feed Miedema, Wiegman has selected the likes of Arsenal's Daniëlle van de Donk, Lieke Martens from FC Rosengård and Liverpool FC's Shanice van de Sanden to support Miedema in attack. At the back, Sari van Veenendaal, who currently plays for Arsenal is expected to start in goal and hopefully carry on her fine club form into Euro 2017 as if the Dutch have one weakness, it's their backline. Group A is a tough group when all things are considered but if they start off their campaign with a win, the Netherlands have a great chance of advancing into the knock-out stages which is further than where they finished at Euro 2013.
Squad
Goalkeepers: Angela Christ (PSV Eindhoven), Loes Geurts (Paris Saint-Germain), Sari van Veenendaal (Arsenal FC).
Defenders: Mandy van den Berg (Reading FC), Sheila van den Bulk (Djurgårdens IF), Kika van Es (Achilies '29), Stephanie van der Gragt (FC Bayern Munich), Dominique Janssen (Arsenal FC), Desiree van Lunteren (AFC Ajax), Liza van der Most (AFC Ajax).
Midfielders: Anouk Dekker (Montpellier HSC), Daniëlle van de Donk (Arsenal FC), Sisca Folkerstma (PSV Eindhoven), Jackie Groenen (1.FFC Frankfurt), Vanity Lewerissa (PSV Eindhoven), Jill Roord (FC Twente), Sherida Spitse (FC Twente), Kelly Zeeman (AFC Ajax).
Forwards: Lineth Beerensteyn (FC Twente), Renate Jansen (FC Twente), Lieke Martens (FC Rosengård), Vivianne Miedema (Arsenal FC), Shanice van de Sanden (Liverpool FC).
Norway
Norway, who kick off their campaign against the Dutch, are probably expected to finish top of the group and move on into the knock-out stages. In the last European Championships, the Norwegians were able to surprise everyone and make it all the way to the final, only to lose to a solitary goal against Germany. Martin Sjögren​'s side have not quite reached the heights of that campaign since then, going out in the Round of 16 at the World Cup two years ago and most recently, finishing in tenth place at the Algarve Cup this year.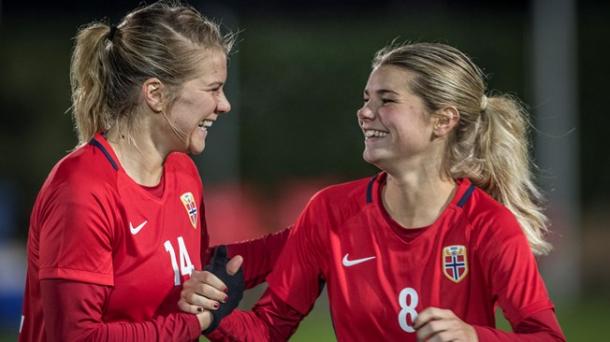 Where Norway will struggle is in the middle of the park. They have a thin squad in terms of midfielders and the midfielders that are making the trip to the Netherlands are inexperienced when it comes to a tournament of this magnitude. Andrine Hegerberg of Birmingham City FC is the only notable midfielder in the selection and although her quality cannot be questioned, she will have a tall task in front of her to control the Norwegian midfield against the teams they are expected to face. What Norway do have going for them is the other Hegerberg, Ada Hegerberg. If you follow the women's game, Ada is not stranger to the big occasion and her goal-scoring ability has made her one of the best, if not the best, striker plying their trade in Europe right now. With her club, Olympique Lyonnais, Ada Hegerberg has won multiple league and continental titles, and has played major roles in all of those wins. Her 36 goals in 57 appearances for her country show exactly how potent in front of goal the second of the Hegerberg sisters is and if she can bring her imperious club form to the international stage, then Norway can feel confident of making a deep run this summer. We cannot forget to note VfL Wolfsburg's Caroline Graham Hansen who is one of the rising stars in women's football. The winger can glide by players with ease and has been working on her decision-making in the final third this season which has made her a dangerous threat for any defender. If Hegerberg and Graham Hansen click, don't be surprised to see Norway make another deep run at this tournament.
Squad
Goalkeepers: Oda Marie Hove Bogstad (Klepp), Cecilie Hauståker Fiskerstrand (LSK), Ingrid Hjelmseth (Stabæk).
Defenders: Nora Holstad Berge (Unattached), Kristine Bjørdal Leine (Røa), Tuva Hansen (Klepp), Maren Mjelde (Chelsea), Ingrid Moe Wold (LSK), Stine Pettersen Reinås (Stabæk), Maria Thorisdottir (Klepp), Elise Thorsnes (Avaldsnes).
Midfielders: Frida Maanum (Stabæk), Andrine Hegerberg (Birmingham City), Ingvild Isaksen (Stabæk), Ingrid Schjelderup (Eskilstuna United), Ingrid Marie Spord (LSK), Anja Sønstevold (LKS).
Attackers: Caroline Graham Hansen (VfL Wolfsburg), Emilie Bosshard Haavi (Boston Breakers), Ada Hegerberg (Olympique Lyonnais), Kristine Minde (Linköping), Guro Reiten (LSK), Lisa-Marie Karlseng Utland (Røa).
Denmark
Denmark though a relatively solid team, have been penciled in to finish third in their group only due to the quality that the Netherlands and Norway possess in their ranks. However, should they get an opening day win against Belgium on July 16, they could eek out the right results in the remaining two matches to stay in the top two positions and possibly advance to the next stage. The Danes also most recently featured at the 2017 Algarve Cup and ended up in third place overall after beating Australia on penalties. Nils Nielsen tends to have a well-drilled team whenever Denmark play against higher oppositions so should results elsewhere go their way, they will have every chance of making it out of the group.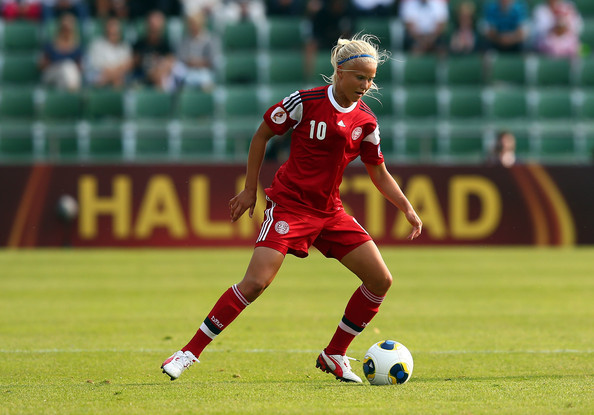 Goals win games and in Pernille Harder, goals will come by the bucket load if the Wolfsburg's striker gets in and around the penalty area. After tearing up the Damallsvenskan with Linköpings FC, Harder joined the Frauen-Bundesliga side this January and showed exactly why the Germans had brought her in. The striker took some time to settle in but once she did, she was able to keep the likes of Anja Mittag on the bench and helped her team win the league and the DFB-Pokal title this past season. The Danish captain has also managed to be just as effective for her country as she has picked up 45 goals in 84 appearances and will be looking to add to that total this month. Likely to start alongside Harder will be Nadia Nadim who plays for Portland Thorns FC. Nadim has had a good start to her season for Portland and will be hoping to aid her country the same way once she joins up with the rest of her team. For Denmark to make a deep run this year, they will need to stay tight at the back and use Harder Nadim's speed up top to catch out other teams on the break. If they can do that consistently, they can give most teams a run for their money.
Squad
Goalkeeprs: Line Geltzer Johansen (Vejle BK), Maria Lindblad Christensen (Fortuna Hjørring), Stina Lykke Petersen (KoldingQ).
Defenders: Cecilie Sandvej (FFC Frankfurt), Janni Arnth Jensen (Linköpings FC), Line Røddik Hansen (FC Barcelona), Luna Gevitz (Fortuna Hjørring), Mie Leth Jans (Manchester City), Simone Boye Sørensen (FC Rosengård), Stine Ballisager Pedersen (IK Skovbakken), Theresa Nielsen (Vålerenga IF).
Midfielders: Katrine Veje (Montpellier HSC), Line Sigvardsen Jensen (Washington Spirit), Maja Kildemoes (Linköpings FC), Nanna Christiansen (Brøndby IF), Nicoline Sørensen (Brøndby IF), Sanne Troelsgaard (FC Rosengård), Sarah Dyrehauge Hansen (Fortuna Hjørring), Sofie Junge Pedersen (FC Rosengård).
Attackers: Frederikke Skjødt Thøgersen (Fortuna Hjørring), Nadia Nadim (Portland Thorns FC), Pernille Harder (VfL Wolfsburg), Stine Larsen (Brøndby IF).
Belgium
Belgium are the last team in the group and the decided underdogs as they are newcomers to the tournament. Euro 2017 will be the first major tournament that the Belgians have ever qualified for and although they remain a fairly unknown quantity, many feel that their inexperience at the top level will count against them in this group. Led by Ives Serneels, this team is contstantly improving and their qualification to this tournament for the first time ever in their history is testament to that. Their last competitive match was at the 2017 Cyrpus Cup were they finished seventh overall after winning on penalties against Austria. The newcomers have a very hard road in front of them starting off with their match against Denmark but as they say, anything can happen in football and Serneels will feel that her team can cause a few surprises if things go their way.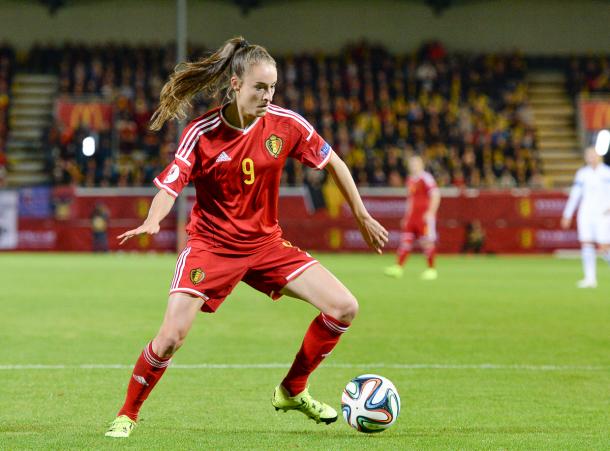 Expected to carry the hopes of a nation on her shoulders will be another Wolfburg player, Tessa Wullaert. The 24 year old has not made as many appearances as she would have liked for the German club but when she has managed to step onto the pitch, she has shown glimpses of quality and a threat in front of goal. Janice Cayman is another who could prove a spark for the Belgians. Cayman currently plays for Montpellier HSC so her experience with a club the stature and size of Montpellier will be useful for the Belgians in Euro 2017. The worrying thing for the Belgians is their defense which, judging by their 7-0 loss to Spain yesterday will be what sends them out of the tournament early on unless they find a solution quickly. The teams with them in Group A have strikers capable of tearing teams apart on their own and the Belgians will not be able to cope with that type of attacking quality if they do not rectify their defensive issues before July 16th.
Squad
Goalkeepers: Nicky Evrard (AA Gent), Diede Lemey (RSC Anderlecht), Justien Odeurs (FF USV Jena).
Defenders: Imke Courtois (Standard Liège), Tine De Caigny (RSC Anderlecht), Laura De Neve (RSC Anderlecht), Laura Deloose (RSC Anderlecht), Heleen Jacques (RSC Anderlecht), Davina Philtjens (AFC Ajax), Lorca Van De Putte (Kristianstads DFF), Nicky Van Den Abbeleele (RSC Anderlecht).
Midfielders: Maud Coutereels (LOSC), Julie Biesmans (Standard Liège), Kassandra Missipo (AA Gent), Lenie Onzia (FC Twente), Elke Van Gorp (AA Gent), Elien Van Wynendaele (AA Gent).
Forwards: Janice Cayman (Montpellier HSC), Jana Coryn (LOSC), Yana Daniels (RSC Anderlecht), Davinia Vanmechelen (Standard Liège), Tessa Wullaert (VfL Wolfsburg), Aline Zeler (Standard Liège).