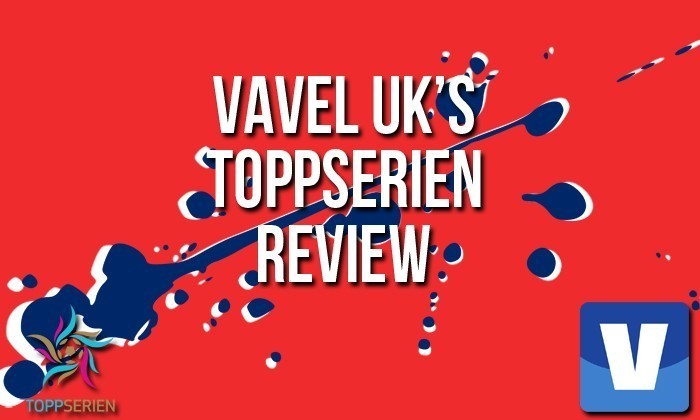 Toppserien week 12 signalled the last round of games before the league comes to a break to make room for the upcoming European Championship in the Netherlands. Due to games being moved forward, the various teams have played a different number of games, but this aside, results from the weekend promises to make sure that second half of the season will be interesting.
LSK Kvinner - Sandviken
LSK entered week 12 knowing that if they won their game against 10th placed Sandviken, they would go into the break as table leader. Odds were in favour of LSK, as the reigning champions have not lost a league game since 7th of November 2015, and have only dropped points once this season. Before this game, LSK had 11 straight victories against Sandviken, and there was little Sandviken could do to prevent it from becoming 12. It took just three minutes before LSK were ahead curtesy of an own goal from Sandviken's Sofie Skjelstad Jensen. 30 minutes later Marte Berget sealed the win when she made it 2-0 to LSK, which was how the game finished.
Arna-Bjørnar - Avaldsnes
LSKs closest competitors has once again proven to be Avaldsnes, who once against, have invested heavily to compete with LSK. Avaldsnes were up against Arna-Bjørnar in their final game before the break, and could travel home with a 3-0 win in the bag. Just before the half time break Cecilie Pedersen made it 1-0 to Avaldsnes, before Elise Thorsnes, who recently become the all-time leading topscorer in Toppserien history, made it 2-0 right after the break. Pedersen finished the scoring, as she earned her brace in the 53rd minute. Avaldsnes enters the break just two points behind LSK, but also with the knowledge that they have played a game more than the Lillestrøm side. Arna-Bjørnar sits in sixth place, but have played just 11 games and could potentially go as high as fourth if they win their games in hand.
Medkila - Stabæk
The third preseason favourites, Stabæk, had a game against Medkila who is currently under the relegation line. Despite Stabæk being heavy favourites, they had to work hard to get the three points and it was only due to a Victoria Ludvigsen goal 18 minutes before time, that Stabæk could claim a 1-0 victory and secure all three points. Stabæk is seven points behind Avaldsnes, but have played two games less. If they win their remaining games, the Bærum club will put pressure on the other two top teams. With just 1 point it is looking bleak for Medkila, as they sit in last place with it all to work for in the second half of the season.
Klepp - Kolbotn
Stabæk is being closely followed by Klepp, who has been one of this season's positive surprises thus far. In their final game before the break, they were up against Kolbotn, who has been plagued with injuries this season and has suffered as a result. Kolbotn finished fourth last season, but has only managed to win twice this season and they could not add to that tally against Klepp. The home side made light process of Kolbotn, and it took them just two minutes to go ahead when they were awarded a penalty, which Kirsty Yallop slotted home. Tameka Butt, who has been in fine scoring form this season, made it 2-0 after 10 minutes, but just a minute later Kolbotn striked back, when Camilla Oase made it 2-1. However, that was as close as Kolbotn got, as Gry Tofte Ims and Maria Thorisdottir got on the scoresheet for Klepp after the break to ensure a 4-1 victory. Klepp enters the break on the same number of points as Stabæk, but having played a game more. Kolbotn on the other hand is 9th, and their poor form has seen their coach Cecilie Berg-Hansen step down from her position after this game.
Røa - Vålerenga
Røa is another team who is putting pressure on that third place which Stabæk is currently holding. They had a derby against Vålerenga to look forward to in their final game. Going into the game Røa had not lost in their previous six league games, whereas Vålerenga have been very up and down this season. It took Røa's inform striker Lisa-Marie Karlseng Utland just 20 minutes before she had netted twice and made it 2-0 to Røa, and shortly after it looked like game over when Ina Skaug made it 3-0 after 35 minutes. Vålerenga managed to come back and make it 3-1, when Gunnhildur Jonsdottir netted right before halftime. However, Vålerenga's joy was shortlived, as Vida Hasund just a minute later made it 4-1. Røa looked like coasting to victory, but Vålerenga managed to make it interesting when first Jennie Nordin, and later Frida Berg Lyshoel scored to make it 4-3. It was, however, a little too late, and there was no more goals in the game. Røa goes into the break in 5th place, but have played 13 games, whereas Vålerenga in 8th have played just 11 games and could catch up to the teams above them if they win their games in hand.
Grand Bodø - Trondheims-Ørn
The last game of the round was between Trondheims-Ørn and Toppserien newcomers Grand Bodø. Grand Bodø sits just above the relegation line, while Trondheims-Ørn is 7th in a bit of no man's land, as they are neither close to relegation nor the top. There is no way to make it sound like this game was close, as Trondheims-Ørn proved to be to much for Grand Bodø. It was 0-0 until the 30th minute, but then followed nine minutes where Trondheims-Ørn scored four times. Andrea Haugstøyl scored twice, while Elen Sagmo Melhus and Marit Clausen scored one each. After the break, Trondheims-Ørn added two more as Elen Sagmo Melhus got her second and Anya de Courcy scored Trondheim-Ørns sixth goal of the day. Grand Bodø got a consolation goal as Maiken Bakke made it 6-1 in the 89th minute.
Toppserien now enters a break and will resume again on August 11th.