 Reading striker Yann Kermorgant is set to miss the start of the new Championship season after undergoing surgery on his hip and groin to remedy his injury issues once and for all.
A stand-out performer for the Royals
Kermorgant was a key player last season as Reading finished third in the league table under the management of Jaap Stam. Kermorgant sent the Royals through to the play-off final by converting from the spot in the second-leg of their play-off semi-final against Fulham, but unfortunately for them they failed to reach the Premier League.
The Royals missed out on promotion in the most agonising way possible, as they were beaten in a penalty shoot-out by Huddersfield Town in the final at Wembley. Kermorgant is experienced enough to not let the disappointment of this defeat drag into next season and he may be able to help Reading's younger players get over it as soon as possible.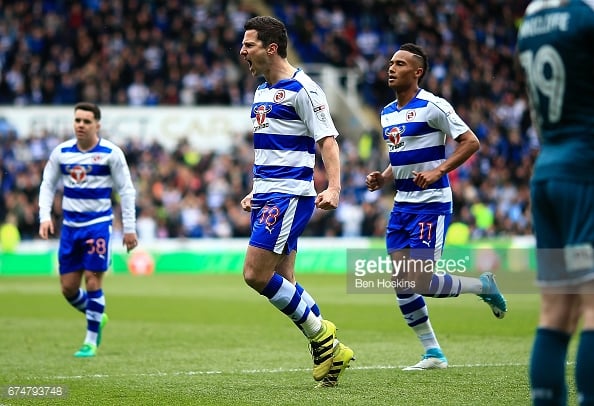 Despite it ultimately being a disappointing end to the season for the Royals, Kermorgant enjoyed a successful season on a personal level. He scored 19 goals for the club last season and played a key role in their success. He will now be looking to improve on that tally next season and try and earn one more shot of playing top flight football with the club.
Kermorgant remains 'fully focussed'
Reading's Head Physiotherapist, Jon Urwin, is hopeful that now Kermorgant has completed his surgery, it will be weeks rather than months before he returns to action with the first team. He told Reading's official site: "Yann underwent successful hip and groin surgery yesterday morning and together we are now looking at a rehabilitation process which will stretch across weeks rather than months."
The 35-year-old striker will without doubt be frustrated that his injury problems are causing him to have a delayed start to the 2017/18 campaign after such a successful one for him personally last season. However, he is now in a positive mindset and looking to get back as soon as possible. He said: "Now the surgery is complete I am totally focussed on getting fit again".
He also had a lot of praise for the club's medical team for helping him tackle his injury woes. He added: "I'm ready to work hard and I know the fantastic medical team that we have here at the club will do everything they can to help me get back out there with my teammates as soon as possible."