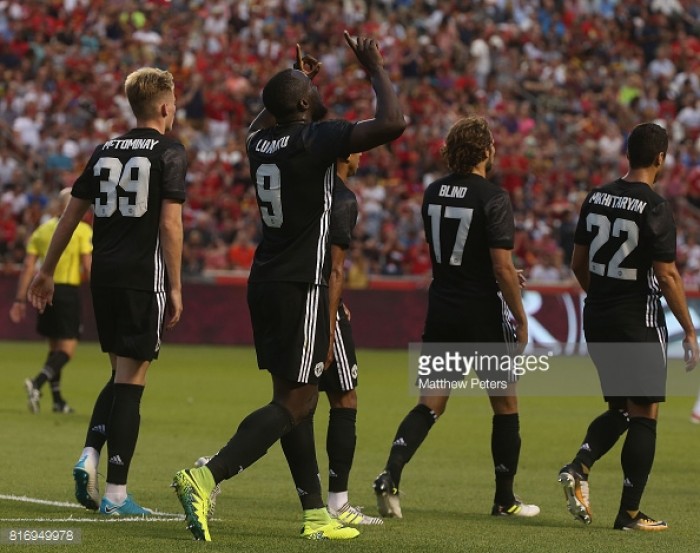 Thanks for tuning in, and look out for the match report which will be on its way very soon. I've been Alex Turk, and see you next time!
So that's that, a brilliant pre-season match. Manchester United run out as comfortable winners in the first derby of the season, with Romelu Lukaku and Marcus Rashford bagging another goal each on tour.
92: FULL-TIME! MANCHESTER UNITED MAKE IT THREE WINS FROM THREE IN PRE-SEASON, AND WIN THE FIRST MANCHESTER DERBY TO BE HELD OUTSIDE OF THE UK.
90: Two minutes of added time
88: Late substitute Zinchenko tries to create something for the Blues, as he strides into the area before pulling the ball back hoping that a teammate is waiting, but Marouane Fellaini is first to react and clears the danger.
85: The attendance at the NRG Stadium is announced. 67,402 fans watching the action which truly underlines why it's so important to come out to places like the States during pre-season, fantastic support.
84: Small chance for City. Samir Nasri chips a delightful ball over for Gabriel Jesus, who can only prod his effort over the crossbar. Sergio Romero is then forced into a good save from Fernandinho's powerful effort from 25 yards out.
79: United somehow don't have a third! That's spectacular from Ederson though, and would've gotten City fans excited. Anthony Martial's corner is knocked down by Marouane Fellaini for Phil Jones who has a clear chance on goal, but the Brazilian 'keeper denies the centre-back not once, not twice, but three times. Romelu Lukaku struck home on the rebound but the offside flag was raised.
75: Phil Foden has been Manchester City's stand-out player tonight/this morning, but he's replaced by Alexander Zinchenko. For United, Timothy Fosu-Mensah and Andreas Pereira come on for Antonio Valencia and Jesse Lingard.
70: Reasonably quiet spell. All the changes has certainly slowed down the tempo but United are cruising at the moment. Guardiola's side have rarely threatened in the second period, and will need something special to get back into it. Match fitness clearly playing a part.
65: Close from Paul Pogba! The Frenchman pushes forward with Martial to one side and Lukaku to the other, but decides to go himself and fires a ferocious effort into the side netting with his left foot. It looked like it was in!
60: Prepare yourselves.... Changes incoming for United. Michael Carrick, Marouane Fellaini and Anthony Martial replace Ander Herrera, Henrikh Mkhitaryan and Marcus Rashford. All three players magnificent tonight.
56: Elaquim Mangala has only been on the pitch for just over 10 minutes and is already booked. The wantaway French centre-back is penalised for a clumsy challenge on Marcus Rashford.
53: Lukaku is so unlucky! Comical defending from John Stones leads to United's no. 9 picking up the ball outside the area and hammering a left-footed strike onto the woodword, Ederson was cemented. Lukaku has looked fantastic.
52: Very close to a third for United there. Marcus Rashford is near the right sideline and either tries to catch Ederson out or find Lukaku in the middle and hits a dipping effort goalwards which nearly catches the City 'keeper out. Heart in mouth moment.
There looks to be wholesale changes from both sides for the second half. Sergio Romero, Eric Bailly, Matteo Darmian and Phil Jones replace David de Gea, Chris Smalling, Victor Lindelöf and Daley Blind for Manchester United. While for City, a few forgotten faces return... John Stones, Nicolas Otamendi, Elaquim Mangala, Gael Clichy, Samir Nasri, Leroy Sane, Brahim Díaz and Gabriel Jesus are now on the field.
45: HALF-TIME - 2-0! José Mourinho should be delighted with that, as the Reds strike twice in quick succession to take a commanding lead into the break.
43: We have our first two bookings of the game. Toure is shown a yellow for his late tackle on Mkhitaryan, while Blind receives a caution for a ridiculous pulling of Agüero's shirt in the final third.
38: It's all happening now, as United instantly get a second! Mkhitaryan's through ball finds its way through the distorted City defence and puts Rashford through on goal, and the young attacker was never in doubt as he fired low past Ederson with his right foot across goal.
38: GOAL! MANCHESTER UNITED 2-0 MANCHESTER CITY (MARCUS RASHFORD)
37: That's so poor from the City debutant Ederson, but simply magical from Romelu Lukaku! The striker gets on the end of a brilliant long ball and charges past the 'keeper, who was in no man's land, but he still had it all to do. At a tight angle, he slotted home past Kompany and Adarabioyo for his second goal in as many games.
37: GOAL! MANCHESTER UNITED 1-0 MANCHESTER CITY (ROMELU LUKAKU)
32: Looking back at that piece of play, United are very lucky not to concede a penalty there. Chris Smalling clearly bringing down Roberts in the referee's sight.
31: Hectic action inside the Manchester United box, ending in brilliant defending from Chris Smalling. The England international looked to be tugging the shirt of Patrick Roberts inside the penalty area before blocking the former Celtic loanee's effort, only for the ball to fall to Agüero who's attempt was blocked by Smalling again.
28: Yaya Toure goes in late on Henrikh Mkhitaryan, and a free-kick is awarded around 35 yards away from the goal. Paul Pogba has a go but Ederson calmly catches the forceful effort with not much trouble at all.
26: Brilliant save by David de Gea. The Spaniard does what he does best by acrobatically forcing Raheem Sterling's terrific hit from outside the box over the bar.
23: Big chance for City. De Bruyne receives the ball on the right flank and doesn't hesitate to fizz a ball across the face of the United goal, but there's no Blue shirts to be seen near it and the chance is gone.
21: You can tell it's a derby, and Kevin De Bruyne is clearly getting into the spirit as tackles fly in from all over the shop. United have just tested Ederson again with Valencia slipping through Mkhitaryan who strikes towards goal from an angle, which was comfortable fisted away.
17: A few dodgy decisions from the referee so far, as a tussle between Raheem Sterling and Antonio Valencia results in a City free-kick on the byline. De Bruyne lofts a ball into the box but nothing comes of it.
15: It's been an exciting start, but Paul Pogba is struggling to play his best game as part of a midfield two instead of three. Phil Foden on the opposite side has impressed so far and flashes an attempt just wide of the post following promising Man City build-up play.
10: Romelu Lukaku is looking very lively on his own up front. Daley Blind fires a low cross into the danger area but Ederson comes out to bravely collect before the ball can reach the big Belgian, who was lurking in the middle of the City defence.
8: The Citizens now have a ranged effort of their own. Sterling interchanges well with Sergio Agüero before cutting inside from the left and firing a dipped effort straight into the reliable arms of David de Gea.
4: New City 'keeper Ederson tested early. Ander Herrera drives a long-range effort towards goal which prompts the Brazilian to tip it over the crossbar. You can tell that there's a majority support for United, as Raheem Sterling is heavily booed on the ball before the effort.
0: KICK-OFF! Sergio Agüero gets us underway!
United and City walk out to an explosive reception... with hip hop sensation Drake. America, that.
The teams are in the tunnel, the dramatic music is echoing around the stadium, it's nearly time...
The 22 victims of the tragic terror attack at Manchester Arena back in May will be remembered throughout the fixture, with members of both sides sporting worker bees on their shirts in support of those affected and the beautiful city as a whole.
A quick reminder. Although the most important thing about tonight is getting more minutes on the field and building up match fitness, the match is the opening fixture of the International Champions Cup. A win will get you three points, however, a draw would give each team a point which will be followed by a penalty shoot-out with the winners getting an extra point.
The alternative players available for United tonight emphasises the need for another attacker this summer. Only Andreas Pereira and Anthony Martial offer depth in the final third from the bench, a deal for Ivan Periši? is thought to be close, though.
So, half an hour to go until kick-off. There seems to be a much bigger red presence than blue at the NRG Stadium, as expected, with mass boos ringing out as City fans seated in the arena are shown on the big screen. Make sure you tweet me your predictions and thoughts ahead of the match @_AlexTurk!
Considering he only arrived in the United States yesterday, Yaya Toure is a shock starter in the Manchester City team. The Ivorian's midfield partner tonight, Phil Foden, is extremely highly thought of at the Etihad Stadium and it'll be interesting to see how he gets on in such a big game - despite its pre-season status.
Reds manager José Mourinho has been talking to MUTV after his team selection was revealed, he said: "I'm hoping to see a good training session tonight. Some guys will have 60-65 minutes, others will have 45 and some will have 20-25."
A strong starting lineup for Manchester United with Marcus Rashford and Romelu Lukaku playing together for the first time. It looks like it could be Mourinho has gone with the familiar 4-2-3-1 formation for the first half. As for City, debuts are handed to goalkeeper Ederson and the world's most expensive defender Kyle Walker. Pep Guardiola has also exercised the depth of his squad by starting young trio Tosin Adarabioyo, Phil Foden and Patrick Roberts.
Manchester City First Half XI: Ederson; Kyle Walker, Vincent Kompany, Fernandinho, Tosin Adarabioyo; Yaya Toure, Phil Foden; Patrick Roberts, Kevin De Bruyne, Raheem Sterling, Sergio Agüero.
Manchester United First Half XI: David de Gea; Antonio Valencia, Victor Lindelöf, Chris Smalling, Daley Blind; Ander Herrera, Paul Pogba; Marcus Rashford, Henrikh Mkhitaryan, Jesse Lingard, Romelu Lukaku.
More early team news now, and a big blow for City. It now seems like midfield maestro David Silva won't be taking part tonight after pulling up in training this morning with a suspected groin injury. Yaya Toure and Leroy Sane are also not expected to feature.
Team news after 2AM (UK time), with United unlikely to be using Juan Mata who picked up an ankle injury against Real Salt Lake in a 2-1 win for 10-man United. Matteo Darmian also picked up a knock, but should be available for selection.
United assistant manager Rui Faria said of the decision to have the worker bee on the shirts that "this is more than football of course. It's very good and positive that the two teams could come together and raise money for the victims of the tragedy. It's very important that two clubs with such importance in the city could be united in this tragedy."
This is the first time the two Manchester clubs have faced each other since the tragic events in their proud city when kids and adults were killed by an explosion at an Ariana Grande concert. Manchester has come together since, with Grande's One Love concert an incredible occasion. United played just days after the attack, lifting the UEFA Europa League, an emotional time for players and fans. Today, both teams' shirts will be adorned by the worker bee, the Mancunian symbol used across the city and the world in the aftermath of the attack.
Recent days have seen Guardiola and City heavily linked with Real Madrid right-back Danilo, oddly given the signing of Walker just days ago for a potential £50m. Monaco's Benjamin Mendy is another frequently linked, while former-Liverpool goalkeeper Pepe Reina was supposedly near to signing, but has now reportedly received an offer from current club Napoli.
For Mourinho and United, Inter Milan forward Ivan Peri?i? is one of those. The Croat has, though, travelled with the Italian club to China for pre-season. It has been reported that the two clubs are £4-5m off agreeing a fee, having been negotiating for over a month now. Mourinho also wants a defensive midfielder, with Nemanja Matic, Fabinho and Eric Dier all linked, and all supposedly off at some point. What the situation is now is hardly clear.
José Mourinho has signed Romelu Lukaku, the player he sold at Chelsea, for a potential £90million. Swedish centre-back Victor Lindelöf had earlier joined for approximately £30m. At City, goalkeeper Ederson has arrived for £34m, Tottenham Hotspur right-back Kyle Walker cost £45m and AS Monaco's Bernardo Silva was £42m. Mourinho and Guardiola will both be looking to spend more with both known to be targeting at least two more players.
At Manchester City, it's all change this summer. Fan favourite Pablo Zabaleta has left the club, Joe Hart has joined West Ham United on loan. Huge numbers have come in, and like at United, huge money has been spent on bringing those players in.
This is the first game for both teams in this season's International Champions Cup, the pre-season tournament which has grown extensively over the last three years. United, under Louis van Gaal at the time, lifted the ICC back in 2014. Darren Fletcher and Wayne Rooney hauled the meaningless trophy to the sky that day, but there's been much change since. Neither are at the club, with Rooney leaving this summer to return to his boyhood club Everton.
Good evening, I'm Alex Turk, and welcome to VAVEL UK's live minute-by-minute commentary of the first ever Manchester derby hosted overseas. Manchester United and Manchester City face off in Houston, Texas, with both sides touring the USA.