 Newcastle United striker Dwight Gayle says he "knows the history" of the number nine shirt ahead the Magpies return to the Premier League.
The 27-year-old scored 23 goals last season and picked up where he left off with two goals against Hearts in a 2-1 friendly win at Tynecastle last Friday evening.
Gayle knows he is expected to do well in the number nine shirt and do it justice with his name being among some great names to wear it.
The number nine shirt history
Legends such as Alan Shearer, Jackie Milburn and Malcolm MacDonald have all worn Newcastle's iconic number nine shirt in the top-flight, and Gayle knows he will have to impress next season.
Gayle said: "You obviously know the history of it and how much people rely on the number 9 to do well.
"I know I have a lot of weight on my shoulders and I will have to do well next season."
Injury midway through the campaign arguably prevented Gayle from reaching 30 goals given he already had 20 goals to his name in late January.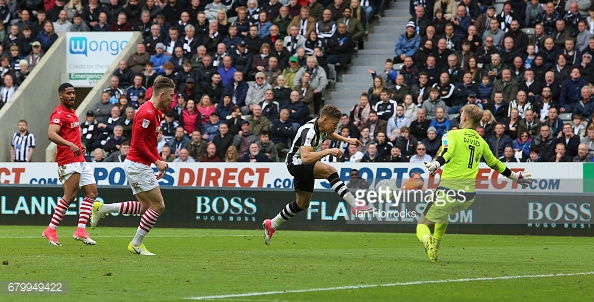 And while Gayle set a target of firing the Magpies back to the top-flight last summer, he revealed he doesn't set "too many targets" - only trying his "best to go out and get as many goals" as he can, and see where it takes him.
Already in the history books
Gayle has a long way to go until he can be placed highly amongst the club's biggest names. But the former Crystal Palace striker did make some history last term.
The 27-year-old became the first person since Shearer to net over 20 goals in a season.
Still, Gayle said his tally isn't always a knack for scoring.
"I wouldn't say it was a knack, it's sometimes a bit of luck, things drop for me in the right areas," said Gayle.
"As I have said before the quality behind me is fantastic and I love playing with some of the players we've got here. As long as that continues I will continue to do well I hope.
"If that is the case then I am sure everyone will be happy."