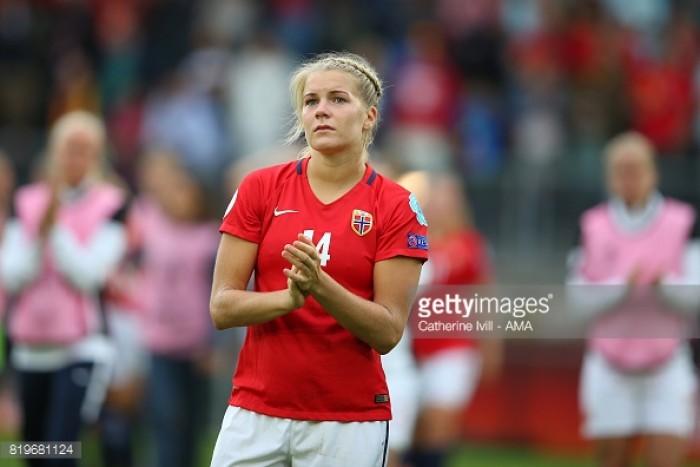 Not since Tor Endresen represented Norway, in the 1997 Eurovision Song Contest, have the Scandinavians come away from major European competition, with the dreaded nul points! Whilst Norway have one more game to seek redemption, against Denmark in the battle of Scandinavia.
In truth given the capitulation of sorts, demonstrated against firstly Netherlands and then Belgium. They have shown an inability to play to their strengths, keep discipline and generally have struggled to find their football identity. The Danes will fancy themselves to deliver that knockout blow.
Norway's period of transition
Martin Sjögren's position coming into the tournament, was developing this side. His first opportunity to stamp a mark on this team. With the view to challenging for titles later down the line, including The World Cup in France in 2019 and Olympic Games in Tokyo 2020. After taking over the job recently. It will come as little surprise, Norway maybe we're always going to be off kilter. A period of transition if you will.
However this is a major international tournament, given the talent he has at his disposal. There are no excuses in the level of performances seen so far. Disjointed and well short in their high standards, of playing at the technical levels needed. The Norwegians on the face of it, seem to be playing as individuals not as a team!
Juxtapositioned against Belgium who played above the levels, that even the substantial travelling fan-base could perhaps not believe. It's almost as if Norway had stage fright, loosing those marginal battles all over the pitch. Stunned by firstly Elke van Gorp's goal then Janice Cayman putting the game beyond doubt. Their opposition sense weakness, and intend to fully capitalise on it.
Grasshoppers lacking mental strength
Outfought and tactically countered. Belgium and hosts the Netherlands should not have been in the position to dominate as they did. It stems from one fundamental issue. If you have belief in your game plan, anything is possible.
Norway did not seem to have the belief they could overhaul Belgium nor Holland. Football is about more than just technical application. But in mental resilience and psychological strength. International competition requires more, a resolve and character to fight back. For Norway it simply isn't there! At no point did you feel they could fight back against the Belgians. The body language indicative of a national mood.
They looked overwhelmed at times as The Netherlands physicality wore heavy. Against Belgium, they improved with some good play from Ada Hegerberg and Kristine Minde. Defensive frailties cost them, Ingrid Hjelmseth, embodying the definition of putting her body on the line. Along with a fraction of good luck, and poor decision making from referee Monika Mularczyk. It's simply not ticking for them right now.
Norway have one chance to find redemption, against Denmark. The chances are slim, they need to get back to basics. Sjögren needing to instil some belief, to win and win with a margin. It's out of their hands but to come away from a European championship with no goals scored nor points on the board. Would be considered a disaster, one that The Norwegians will do very well. In not spilling over into another tournament cycle.