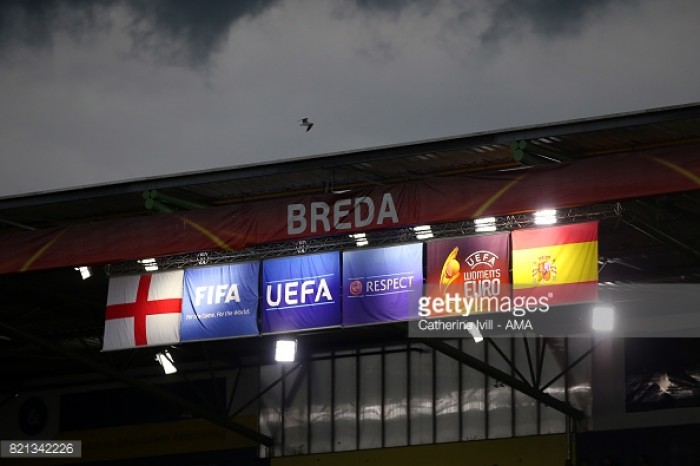 If people were expecting this championship to stick to the script. Then they would be sorely mistaken. As the Netherlands has been the stage, on which childhood dreams are being founded upon.
Euro 2017 has given teams an opportunity to thrive, to gain experience. For others like Austria and Belgium defy the rational convention. This truly has been a tournament that has established a new European football order. Sending shock-waves through Europe to boot.

What were the five talking points in the second round?
Norway crumble with the weight of expectation.
Norway have it all to do, and boy do they know it. There are no excuses in the level of performances seen so far. Disjointed and devoid in their high standards, of playing at the technical standards needed. The Norwegians on the face of it, seem to be playing as individuals not as a team. Norway have had a serious case of stage fright, losing those marginal battles all over the pitch. Stunned by Belgium with goals from Elke van Gorp and Janice Cayman. Then Shanice Van Sanden headed winner against them for The hosts in the opening game.
They have been outfought and tactically countered with ease. It stems from one fundamental issue. If you have belief in your game plan, anything is possible. Norway did not seem to have the belief they could overhaul Belgium nor Holland. Football is about more than just technical application. But in mental resilience and psychological strength. International competition requires more, a resolve and character to fight back. For Norway it simply isn't there.
Norway look overwhelmed at times, playing the occasion over the opposition. They improved slightly against Belgium. With some good play from Ada Hegerberg and Kristine Minde. Defensive frailties cost them, Ingrid Hjelmseth, embodying the definition of putting her body on the line. Trying in vain to stop Belgium from a potential rout.
Norway have one chance to find redemption, against Denmark. The chances are slim, they need to get back to basics. Sjögren needs to instil some belief, to win and win with a margin. It's out of their hands but to come away from a European championship with no goals scored nor points on the board, would be considered a disaster.
Iceland fans the toast of Europe
Europe fell in love with Iceland fans at the European Championships last year in France. That love affair with the Icelandic supporters shows little sign of stopping. With their passion, detailed knowledge of the game. Ferocious support, to the point of delirium. The travelling Icelandic faithful have been a credit to not only their team, but their entire nation.
From the minute the Icelandic team left Keflavik Airport in Reykjavik, to rapturous support. The entire island seemingly gripped by European football fever once more. From inspirational and life-affirming advertisements from Icelandic Air, to creative social media hash-tagging. It's not just about the now legendary "thunderclap" but the manner in which the Icelandic fan-base have shown incredible deportment.
Respectful, engaging and frankly always a joy to see. That's even before we get to the passionate support from Icelandic broadcasters. Seemingly and unashamedly willing to break, the one fundamental of journalism. Balance in reporting, such is the emphasis and importance of national pride.
They maybe going home after a heart-breaking 2-1 loss to Switzerland. Take nothing away from their fans they are the toast of Europe. They should be proud of their the team, who should and will be back in 2021 that much stronger.
Head injury protocol under the microscope
Head injury protocol has been at the heart of player welfare strategy for the last few years. However this issue has raised its ugly head once more at Euro 2017. There are concerns that player safety is being undermined, at a major European tournament.
With Norwegian keeper, Ingrid Hjelmseth sustaining a head injury in the 2-0 loss to Belgium. Gaëlle Thalmann's horror clash of heads in the Iceland v Switzerland game, followed by Amandine Henry sustaining a nasty knock to the head as France shared the spoils against Austria.
It raises another fundamental problem, should players be allowed to continue when they have sustained head injuries? In Thalmann's case, she received treatment on the pitch for well over eight minutes. Given the complex nature of head injuries players need to be removed from the field of play as a precaution.
It is very disconcerting to see player safety being undermined, given a clear pressure to continue. By no means is this a slight at the highly qualified medical teams at Euro 2017. However it's a problem in the game that needs urgent redress.
Given people who have sustained major or even minor head trauma don't always immediately present with symptoms. Players must be removed from the pitch as a precaution. The IFAB (International Football Advisory Board) must lay down in legislation, guidelines to protect player welfare. It does little on the image of the women's game. Nor football for such practices to continue!
France all at sixes and sevens
The French are one of the great footballing enigmas. Power-houses of the European elite club framework in the champions league. Brimmed with talent and technically brilliant players, France should have it all, when it comes to wrestling the European title from German hands.
The reality so far could not be more different, the vast majority of Olivier Echouafni's side have gone missing in action. For the French there has like Norway a sense that, highly talented and gifted players don't always automatically constitute a good performance. Leaving a handful of players like Amandie Henry, amongst very few French players to come away with any credit.
They have been out-muscled by Iceland, and very fortunate to come away with a win. Then Austria provided them with a defensive wall that proved allusive to break down. The performances for the French simply have not been good enough.
France yes France, are teetering precariously to the Euro 2017 exit door. Given their incredibly important World Cup just two years away looming large on the horizon, crashing out of Euro 2017 would do little for national confidence nor ambitions to win it on home soil.
Clinical England are the real deal!
It's a British national trait to be pessimistic, finding every reason in the book to discount national chances. But there are whispers, that England are the real deal at Euro 2017. Should Mark Sampson's Lionesses continue to thrive and triumph, those whispers will soon turn into a national rallying roar, likely to be heard from the white cliffs of Dover, all the way to The Netherlands.
Demolishing a despondent Scotland 6-0 was impressive in itself. The 2-0 win over a physical and possession starving, Spanish side just cemented England as the tournaments form side. Physically imposing, fitness told. As Jodie Taylor spearheading a free scoring, potent England attack. A defensive back line featuring an impressive Millie Bright, proving a tough nut to crack.
Finding a way to win, playing as a cohesive well organised unit. Psychologically strong and sticking to the game plan. Absorbing pressure, when needed almost at ease. England have hit the Euro 2017 ground running. Sending those who may try to stop, the seemingly runaway freight train. To their date with destiny at the De Grolsch Veste. A huge statement of intent, England are here to win.
There is a long wait to go but for England it's been the dream start!