 Paul Pogba wants to become a real leader for Manchester United with the example of Zlatan Ibrahimović one he is keen to follow.
Ibrahimović made quite the impact at United last season, netting 28 goals in 46 appearances before seeing his campaign cut short with a serious knee injury.
Zlat way
The Swede is currently a free agent but he's continuing his rehabilitation at United's training ground, with the possibility of a short-term deal at the club once he's recovered.
Pogba was speaking during the Red's press conference prior to their final 2017 US Tour match against Barcelona, when he was questioned on the loss of big characters like Ibrahimović and Wayne Rooney.
The Frenchman explained what he has learned from the more senior players at the club and how their behaviour and advice has helped him grow as a player.
"Obviously, Zlatan was a leader, he was a big leader, because he always helped the team and even when he wasn't playing he was a leader outside of the pitch," said Pogba.

"I have been here for one season and I came here to hopefully be a leader for the team. That is the objective, that is how you should be. You want to grow up as a player and as a leader as well. Hopefully I can learn from Wayne, from Carras, from all of the players and become a leader."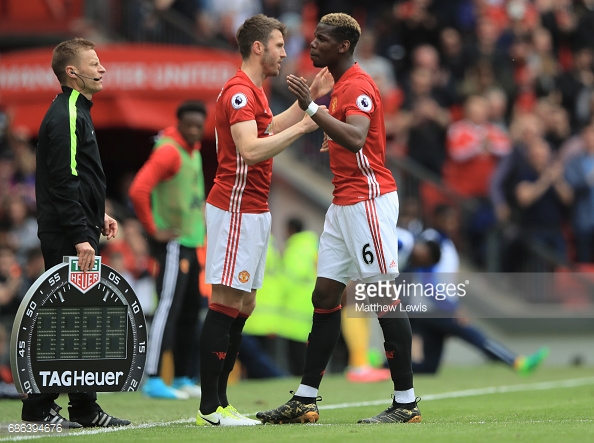 The old Manchester United to return
The 24-year-old looked back on his return to Old Trafford last season for a world record fee, as he admitted it was a big challenge with no Champions League football.
Pogba declared: "It was a big challenge for me. I knew that I wouldn't be playing in the Champions League but I said to myself that I want Manchester United to be the Manchester United that I knew back in the day.
"I think we are on the way towards that. We won three trophies last season, we are back in the Champions League and the team is improving a lot again. So I hope that we are going to continue in that way, and improve and improve."
Captain Pogba?
Pogba looks set to play an important role for United as the new season looms with the club returning to the Champions League and the aim of winning the Premier League title.
The midfielder is also set to be one of the leading candidates to pick up the captain's armband when the current skipper Michael Carrick doesn't start.