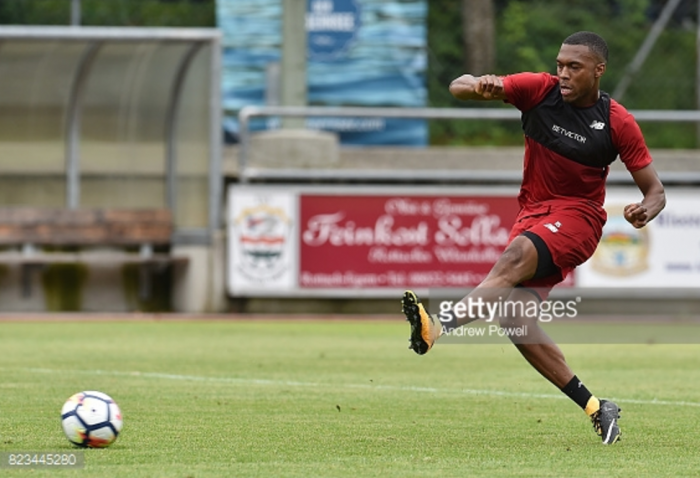 Liverpool boss Jürgen Klopp says that striker Daniel Sturridge is at the best level of fitness possible, and that during pre-season so far the England forward has been fully-fit and firing on all cylinders.
It is a stark contrast to the beginning of May when it looked like Sturridge would be heading out of the club during the summer window, with teams such as Arsenal and West Ham name-checked as potential suitors. Paris Saint-Germain has also wanted to take him on loan in January, but Liverpool declined.
Liverpool and Klopp never wanted to lose such a talented player, but Sturridge's injury record meant that the German could rarely call on him when he wanted, with playing time severely limited.
Despite all his talent, he is an infuriating player most of the time, with niggly injuries often keeping him on the sideline at the most unfortunate times.
Sturridge only started seven Premier League games last season, but was instrumental as Liverpool beat West Ham at the London Stadium in particular at the end of the season, when the pressure was on for them to take maximum points.
Sturridge opened the scoring and performed at a very high level; only once he had given a timely reminder of his supreme ability did people begin to contemplate him staying on Merseyside. Before that, it was almost seen as a farewell game.
That day was also significant as it saw Philippe Coutinho in a deeper role to such good effect, which he is expected to play more often next season, with the two linking up very well. If that partnership could continue and be consistent, with Sadio Mane and Mo Salah also in the mix, Liverpool would have a very tasty attack.
All that, though, hinges on his fitness, which does appear to be on the rise, at least for the moment. He has been training well, surviving triple sessions, and looks much happier than he has done for a long time.
Digging in
Talking to the Liverpool Echo, Jurgen Klopp said, "Did you see him train? He is really digging in and giving everything.
"He's reaching for the next level, a new physical level, and that's really good news".
Sturridge has only had one reasonably uninterrupted season since he arrived at Liverpool in 2013, which came alongside Luis Suarez as Brendan Rodgers' Liverpool entertained the nation on the way to finishing a close second to Manchester City.
Another season like that, and Liverpool would have a top-drawer striker back on their hands, which has too often not been the case since that 2013/14 adventure.
"We don't have to talk about what a difference he could make," Klopp continued.
"Everybody knows it. We just need to have it. We need him fit".
Roberto Firmino is currently Liverpool's first-choice central striker, operating as a false-nine, but if Sturridge maintains fitness, it would be very hard to leave him out. Firmino could find himself with a strike partner, or could be moved around to accommodate Sturridge.
"There will be different opportunities in different games. We need lots of options; different players with different styles of play," said Klopp.
"We need to be quick, but when we can't we need to be patient".
Sturridge certainly has the ability to do both.
The ability to play multiple systems is something Klopp wants to have as Liverpool go into their maiden Champions League campaign under his control, and having a fully-fit and fully-firing Daniel Sturridge would be hugely beneficial to that, whether he was to play centrally or off the right-hand side, as he has done at times.
Whether he can remain fit for a sustained period of time remains to be seen, but the early signs in pre-season are certainly promising.