 Carlos Carvalhal says that the fact that Rangers have played competitive football in the Europa League already this season had a significant impact in Sheffield Wednesday's 2-0 defeat to the Gers at Hillsborough in their final pre-season friendly on Sunday afternoon.
The Gers ended up being comfortable winners, scoring in each half with Josh Winnall netting in the first-half before Kenny Miller doubled their advantage in the second.
However, despite the fact he named a very strong line-up for this game with the likes of George Boyd, Jordan Rhodes and Gary Hooper all involved from the start, Carvalhal believes there is no need to panic.
Asked about what he thought of his side's performance, Carvalhal declared: "A friendly match against one team with good organisation. They start much more early that us because they probably three weeks (ago) played the two games from Europa League. Of course they (have) more energy, they are ready probably two weeks (ago) to start the season and this in my opinion make some difference."
This game was Wedneday's toughest test so far in pre-season following games against the likes of Alfreton Town, Mansfield Town and Doncaster Rovers. However, the manner of the defeat has left many supporters concerned.
Carvalhal felt the large travelling support of around 7,000 from Glasgow, installed some nerves into his players: "(The) negatives (of the game) to me was the first-half. We played very milky. We do not play our football."
"I think we stay a little nervous about the first game with a lot of fans from Glasgow Rangers on that side and first game of the season in Hillsborough. We stay a little nervous in some situations. We did not play our football," continued Carvalhal.
Carvalhal pleased with "positive test"
Wednesday kick-off their Championship campaign next Saturday against Preston North End at Deepdale and Carvalhal believes it was very important that his side had this sort of difficult test to remove any potential complacency.
He said:"It was a very positive test because we play a team more ready than us that put problems that we must solve at Saturday. It is important also that our players play almost, some of them, more or near the 90 minutes."
The match against Danny Cowley's League Two side will be taking place in Sheffield on Monday with the likes of Kieran Lee set to be involved against the Imps. However, as it is a behind-closed-doors match, supporters will be unable to attend.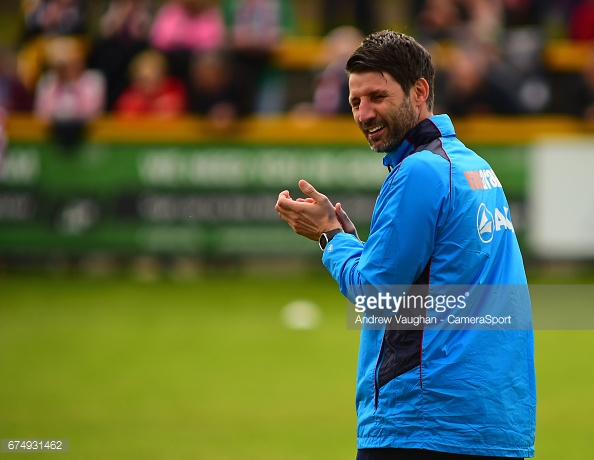 Despite the fact he was pleased to have been tested, Carvalhal was also aware that the manner in which Wednesday conceded the goals was something that must be corrected ahead of next week.
He said: "Something to correct of course. (The) first goal was, there was a period in the first-half where we did not play so well, first 20 minutes, after we started to stabilise the game, we started to play a little better.
"We lost the goal when we had the game completely under control and we did a mistake of course and we must correct that mistake. That mistake was a consequence of the first-half," continued Carvalhal.
He added: "As I told you it was a little milky, it was not Sheffield Wednesday that usually play with intensity, with aggressive, it was not that Sheffield Wednesday that played first-half."
"In second-half, completely different. The attitude was completely different, we were more positive, we play more aggressive and when we take that goal, we must correct this sort of things again of course but we create chances and we play completely different. I was much more happy," said Carvalhal.
Owls take lessons "all the time"
The 51-year-old Portuguese manager went on to insist that his side learn from every game, not just the games where they suffer defeat. He believes that you learn a lot more about yourself following a defeat than a victory.
He said: "All the time. It is not because we lose or that we win we do not take lessons. We take lessons all the time, we try to progress the team."
Carvalhal talks down "the importance" of the score in friendlies
A lot of managers tend to talk down the importance of the score in friendly matches following a defeat and Carvalhal was no different. However, he was quick to state that he will be judged on his logic by Wednesday's result at Preston on Saturday.
He said: "During the period of the start, I never talked about the importance of the score."