 Slaven Bilic ​believes ​West Ham ​are gearing up well so far during pre-season, having shown glimpses of class during their 2-2 draw with ​Werder Bremen ​on Saturday.
The ​Premier League ​outfit came from behind despite making a bright start to the game when ​Marko Arnautovic ​netted a well-taken goal on his debut after joining from Stoke ​City. Young striker Toni Martinez ​completed the comeback from 2-0 down on aggregate, only for Werder Bremen to secure a late goal and secure the Betway Cup​.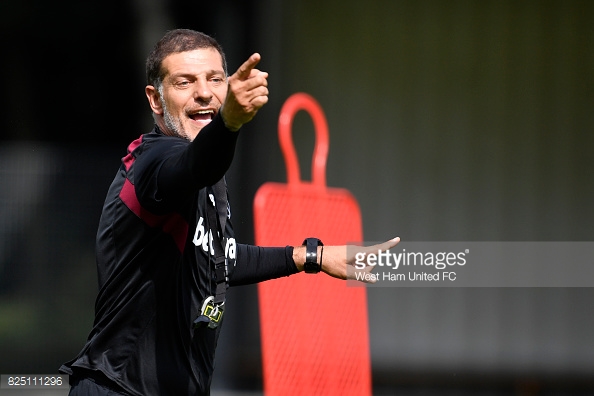 West Ham were the better side despite Betway Cup defeat, says Bilic
​Bilic spoke to the club's official club website, speaking of his pleasure at aspects of West Ham's performance at the weekend. Despite what an early goal for the German outfit would suggest, The Hammers came out swinging, showing a stark improvement on their previous pre-season displays.
​"It was a good game of football and exactly what we wanted and what we needed and we played really good," said Bilic. ​"We came out with a stronger side than last time in the first-half as we wanted to mix it and to be fair they also played with a very strong side."
​"We were missing a few players who we didn't want to risk and I'm really pleased with the way we played. We played really good against a much better opponent but we didn't win, which is a shame."
"Also, in the second half when the 'kids' came on, they continued to play really good, they were dangerous up front and we scored the goal, we hit the post and then it's a shame we couldn't capitalise on that because at the end of the day we deserved to win, which is really good," ​he continued.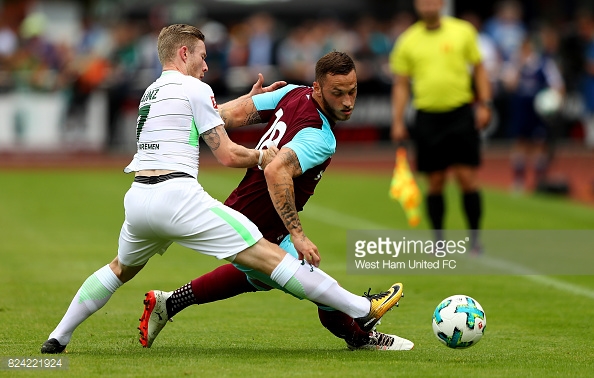 Debutant Arnautovic praised for a fine performance
The Austrian won just praise from his manager for his overall contribution to the side, as well as an important goal in the first-half to get his team back into the game. Arnautovic's strength and physicality proved to be a good asset and could well make him a good fit for West Ham in the coming years.
​"It was important for him in that he made the difference today. At the end of the day, I hope and am sure that this was just the beginning."
​"This was one of the reasons why we bought him and we have to help him, of course, but I'm expecting him to make the difference week-in, week-out."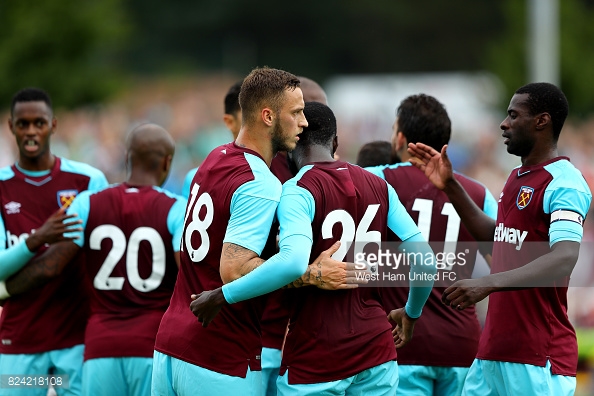 Plenty of pleasing signs for The Hammers during pre-season, but there is still more work to be done
West Ham's three new summer signings combined well throughout the match, delivering a promising indication of what is to come this season. Arnautovic looked particularly dangerous on the wing, delivering dangerous balls into the box and contributing with a tiny finish.
​"That's why we got them, to be honest, because they are good players. They know the league and they are top players so that's what we expect from them. OK, they are going to need time to gel with our old players but it was very, very promising."
"For this stage of the pre-season we are sharp, especially in the first half, but also in the second half. We switched the sides really well, especially through our back four and one in the middle, usually through Pedro Obiang."
However, Bilic believes that his team need to be more ruthless ahead of a new Premier League campaign, having failed to take a number of chances to put themselves in front behind Werder Bremen edged it at the death.
​​"We were dangerous down the sides so we got them tired by switching the side two times, then on the third time we had space on the side to be one-against-one or to make a cross."
"Our crosses were not the best and we have to improve on them, but from one of those crosses we scored a goal."
"So the patterns, energy and understanding are there, but we just have to show a bit more quality with the last touch or the key ball."
"We also have to stop making mistakes because, in the first half especially, we lost three or four balls in areas you cannot really afford to lose them."