 Enjoying a rest day following a resounding 2-0 win over Sweden, VAVEL UK caught up with Dutch midfielder come defender, Anouk Dekker about all things football, the Oranje fever sweeping the nation and the frustration that comes with having an off-day.
Beginnings
Like many female footballers, Dekker's path into football started with her brother,
"I have a twin brother and he started playing football when he was five years-old but I had to do tennis… I had to do gym… I had to do korfball but I was always jealous of my brother so finally my parents said, "okay, you can play football." So I played until I was eighteen with my brother on one team, so that was cool."
A semi-professional during her tenure at FC Twente, whilst enjoying the time spent playing for the Tukkers, Dekker admitted it was a little taxing balancing semi-professional football for the club she loved and holding down a job at the same time,
"I played for Twente for eight years and for me it was amazing because it's my club, I come from the East and I was captain, I played a lot of games in that stadium… but I had to work as well, like eighteen hours, so I was only semi-professional. But, everything was fine, you could get an apartment and a car and you had some salary, the facilities were good – it's really good with Twente and Ajax because they're the best clubs we have here."
A move to emerging power in French women's football, Montpellier has seen Dekker switch to a full-time model but whilst there are many women across the world who aren't afforded the same luxury, having a sympathetic boss can be huge,
"It's hard but it also depends on where you work, if your boss is also a football fan then it's easier because he understands but it's hard because you want to be 100% focused on football but you're still thinking, 'tomorrow I have to do this for work' and stuff. It's better now at Montpellier because I'm full-time and you can do your football and take your rest and it's only football you have to worry about."
With many footballers opting to study whilst they play so they have a plan for after they retire the midfielder admitted it wasn't the easiest thing to manage to study whilst playing and working,
"When I was at Twente I started a physiotherapy course but it was so hard to balance everything, and because women's football was so new at the time the school said, 'you have to come to class now"'and I was like, 'but, I want to play football…' So after one or one and a half years I said I want to focus mainly on football, so I did some trainer courses."
Montpellier come calling
"I always said when I was to leave Twente it wouldn't just be because some club wanted to sign me but I had to really want to move there, everything has to fit what I want in my head but I thought, maybe I was too picky, it was never going to work and I'd end my career in Twente. But in the winter break Montpellier came in for me and I was like, 'okay, where is this, oh it's the south of France, it's a nice league.'
"I went there for two days and I was amazed, it's such a family club (like Twente) so my immediate feeling was, 'this is it, I'm going to do this.' It was super and it's still super, I signed on for two more years last winter and it's been a good step up for me from the Eredivisie."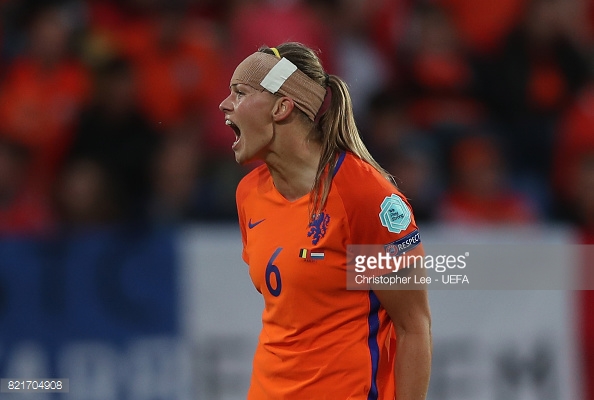 Content in Division 1 Feminine, the Almelo-native is aware that there are gaps in the league between some of the teams at the top in relation to those at the bottom but points out that it's a similar story in leagues across Europe, teams able to improve with direct investment,
"I think it's the same in Germany and in England… you see teams like [Olympique] Marseille who got promoted but then finished fourth because they wanted to do well, so they invested some money. If a team is really interested in women's football and they want to invest then you can see that you can finish high – obviously there's Lyon but that's a very special team. But you've got PSG, Montpellier, Juvisy and now Marseille… yes there are teams who aren't as strong but it's the same in every league."
A solid start to the 2016-17 season saw Montpellier go into the winter break cruising into a UEFA Women's Champions League berth before an injury to star striker, Sofia Jakobsson left them a little off-kilter, the team hitting a snag early in 2017 with a draw to Juvisy,
"We were going well but there we had a draw against Juvisy and we were like, '…damn! Goodbye, Champions League!' but then PSG also drew then they lost which was good for us but also a good lesson to always have confidence in ourselves. Even Paris can lose, and that brought us together because we knew we could finish above them."
She continued, "Some games we were winning 1-0 and it was close but we finished with some big wins and it's big for the confidence and I hope you can see it's sort of the same with the national team too like, 'Bam! We're going to win every game now!'"
A solid end to the season saw the long-term goal of a spot in Europe's most prestigious domestic competition secured, the team only set to improve with the calibre and range of opponents they could come up against in the UWCL,
"That was our target at the start of the season, I had played Champions League with Twente and we beat Bayern Munich. So I had said, 'I want to play Champions League with this team too.' I think we can get some nice battles against top teams and it's good for your teammates to play against good teams because it makes the whole team better."
New role with the Netherlands
When we spoke to Dekker earlier in the year during the La Manga training camp she had just been trialled in defence by new head coach Sarina Wiegman and a solid game seemed to set her up in the role permanently. Though even then the rangy 30-year-old wasn't shy over admitting that she prefers the freedom of midfield, but after becoming more aquatinted with the role, Dekker is just glad she can help her team this tournament,
"I like to play in the midfield because when I got back to Montpellier I go back to midfield. But it's been half a year that I've been playing centre back with Holland, so I've had to focus on it and I watched some clips and talked to Stefanie [van der Gragt] who was injured.
"It was a big chance for me to play here [at the Euros] if she wasn't fit, of course in the beginning I was a bit like, 'err, centre-back, ahhh…' but you see the midfield in good so then I thought, 'fine, I'll go wherever the coach wants me to' because I wanted to play at this tournament and win it with the Netherlands. And now for my country I think of myself as defender because it's totally my role."
Prior to 2017, it was a long, long time since the midfielder found herself in the heart of defence, the different playing position coming with its' own nuances but with the benefit of thinking like a midfielder, Dekker has a different view of the position,
"I want to play football and as a midfielder you know you can take some risks because you know you've got the defence and goalkeeper behind you but as a defender it's just the 'keeper. So for me, maybe it's like, I have to focus a bit more on that but also I think because I'm a midfielder, I know what the midfielder want to do and where they're going to go and how they want the ball so that's a positive."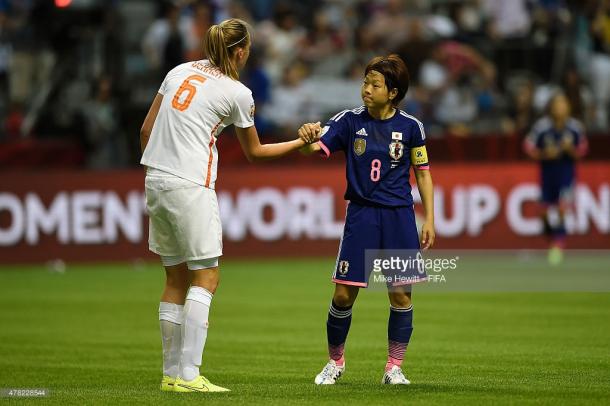 Euro 2017 taking the Netherlands by storm
Able to forego the foibles of qualification as hosts, the Dutch team had a long time to prepare for the tournament and the Montpellier woman admits the team were itching to just get started and kick the tournament off at the Stadion Galgenwaard,
"It was good, we really wanted to start because the preparation was so long and every week we were saying, 'can we start, can we start now…' because we were feeling like we were ready. Finally, it started against Norway and immediately we were playing good football and I was so proud of this whole team, the mood was good and everyone was so enthusiastic."
With the Leeuwinnen playing like a dream so far in the competition, the whole of the country has gotten behind their team as well as the tournament, the country only getting more and more orange,
"The first game was amazing because the crowd was so Oranje, not just in the stadium but all around the stadium and then afterwards you see pictures of it all and everyone is so proud and then you want to fight harder and show them that you can do more and go further. We can beat everyone and it's good that we have a little bit of confidence, not too much, but we know what we have to do and we know every team has a strength and a weakness. But if you play like we do all four games [so far] then something nice can happen."
Dekker admits that she's trying to stay away from all the buzz in the news and online but expects a period of reflection after the conclusion of the tournament, the team already swelling with pride from their compatriots,
"I don't have anything to say about it because I'm not reading all the stuff about it but after the Euros, I'll go home and my family has stuff from the newspapers and I'll think about how big it was. You'll see photos from people in this city, or that city and it's Oranje and it's for us and it's so nice, and you have famous footballers and coaches on social media; they're proud of us… and it makes you so proud, it's just so nice."
With such a boom of support it's easy to hope that the tournament leaves a lasting legacy in the low country,
"I hope, I hope, I really hope that after the Euros people are still interested and thinking that football in Holland is amazing and that little kids – girls and also the boys – are left wanting to play for this team. With every result we could get so many more people involved and wanting to play and have a dream."
The best, the worst and the speediest
With a glut of goals for Twente, the midfielder admits that the favourite goal of her career so far came in 2014 in familiar Oranje at the Nadderud Stadion,
"It was in Norway, for the qualification for the World Cup… it was at a corner with my left foot and then it meant that we went to the play-off with Scotland and Italy so we could go to the World Cup."
Her proudest moment in the spot to date coming against the Football Girls too,
"When we beat Norway in the first game this Euros."
The toughest part of being a footballer for Dekker is about the simple frustration that comes with a sub-par performance,
"I want to play every game my best and sometimes you just can't and I get frustrated and can't work out why I'm not playing well. You know you can play because you've played so many games and you've shown how good you are so many times but for me it's like "this is stupid!" and I think maybe I want to do something else because I'm frustrated. You always want to be the best and it's not realistic."
A distinct little country with its' own clear culture and a particular national love for cycling it's of little surprise when the midfielder mentions two wheels in her response to the best thing about being Dutch,
"It's small so one day you can get all the way across the country and I like that it's like, the roads are proper and we follow the rules and stuff like that. The weather isn't so nice," she laughs, "but it's nice when you have the roads and then the cycle lane and I like to bike – I biked in Montpellier and everyone was like, "Is that your bike, Anouk?" and it's so funny to me but that's a good think about Holland and we can speak a lot of languages, so I think it's something nice."
And of course, when it comes to super-powers Dekker doesn't just want to be faster than a speeding train but rather even faster,
"I want to be as quick as Shanice van de Sanden! That would be my super-power, zoooooom!"