 Manchester United manager José Mourinho has hailed his newest midfield signing of Nemanja Matić, as the Serbian made his debut for the Red Devils in the 2-1 win over Sampdoria.
Makes everything look so simple
United fans have been eager to see the Serbian in action after the 29-year-old completed his £40million move from Premier League champions Chelsea, the Serbian has been lacking fitness having banished to individual training by Antonio Conte but was given a run-out in the Aviva Stadium.
Matić lasted 45 minutes against Sampdoria playing the whole first period and he showed flashes of his talents which allowed Paul Pogba to flourish, goals from Henrikh Mkhitaryan and Juan Mata gave them a victory in their final pre-season clash and though Mourinho admitted that Matić does lack fitness he was full of praise for the way that he plays.
"A lonely pre-season is always a lonely pre-season – a player can be professional and work hard," Mourinho told the press post-match. "But football is collective and when you train alone, you train just a part of what you are as a player."
"The way he plays, he uses his brain but of course he needs physicality to be on top of his game," the coach stated. "So he needs time."
"But his experience, intelligence and genius in the way he thinks about football," he proclaimed, "will help him to be ready sooner rather than later."
"That's why he coped well with 45 minutes today," Mourinho added.
"He makes everything so simple and is fantastic in his position."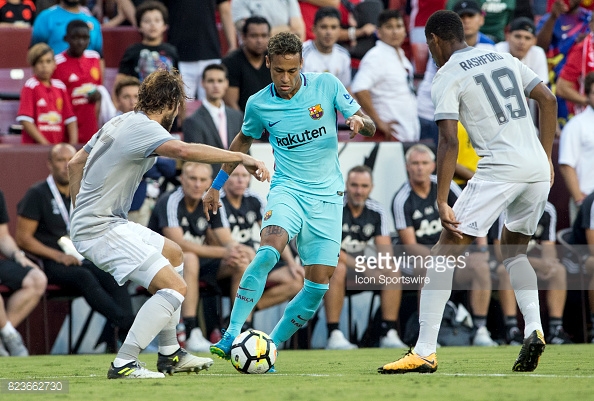 Not an expensive signing
United have spent big once again this summer having broken the £100m barrier following on from breaking the world record last summer to bring Pogba back to the club, but that deal looks to be eclipsed in the coming days as it looks like Neymar will complete his mega-money move to Paris Saint-Germain.
It was announced on Wednesday that the Brazilian had asked to leave Barcelona with PSG looking set to pay the eye-watering £198m buyout clause, but Mourinho stated that such a fee is not expensive but that fee will prove to be a catalyst to see more players going for big money.
"When we paid that amount for Paul [Pogba]," Mourinho stated on the Neymar situation. "I said he was not expensive."
"Expensive are the ones who get to a certain level without a certain quality," the 54-year-old stated, before adding that he does not believe "he's expensive for £200million."
"I think he's expensive because now we'll have more players of £60million, £80million or £100million," Mourinho concluded. "So I think the problem is not Neymar, it's the consequences afterwards."