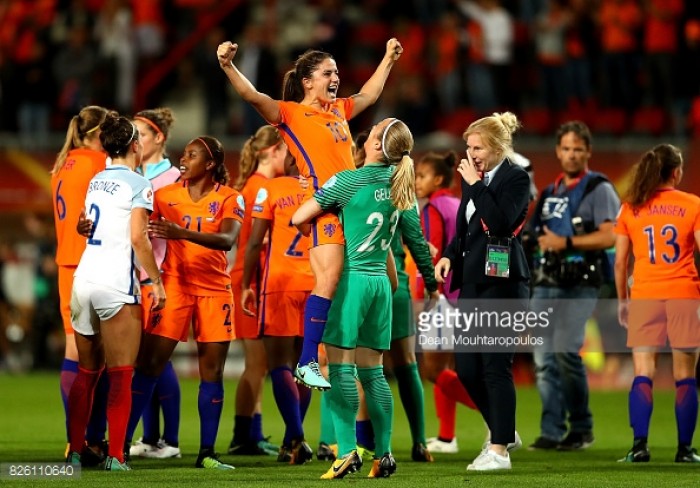 The road for the Netherlands is paved in glorious orange. Basking in their time in the spotlight, the nation's Euro 2017 journey is going to end in national triumph.
Streets lined with orange bunting and flags. The talk of the town, not praising their talented speed-skaters or cyclists, but those Dutch players, fighting and giving everything, in unwavering belief, not just in thought but in deed, giving rise to a unifying national chorus, Dutch women's football has scant seen before it. The imaginations captured, gripped by the women in orange. This Netherlands team are glorious!
England outfought and out played
England huffed and puffed but barely looked as if they could break the Dutch down. Sarina Weigman's team produced a tatical masterclass, absorbing pressure and countering England with an ease that should not only send reverberations in Europe, but to the rest of world football.
In what would be one of the biggest crowds that Dutch women's football has seen, the Netherlands from back to front demonstrated a complete team display. Focused and driven, sticking to task, playing with fluidity and composure, the occasion not getting the better of them, thriving off the incredible Dutch support.
That support seemed to lift the team. Jackie Groenen twisting and turning, holding the midfield together, an architect on the ball. Shanice Van De Sanden causing Demi Stokes a whole array of problems. Lieke Martens always seeming to have an answer to combat, what was a truly engaging battle with Lucy Bronze. The Dutch were organised, showing why they have only conceded a single goal - that speculative goal from Tessa Wullaert for Belgium in the group phase. The desire to win back possession, playing with tempo, high work-rate on and off the ball, winning the majority of those marginal battles, all added up to providing the basis for success.
Shepherding England away from danger, nullifying the attacking trio of Jodie Taylor, Fran Kirby and Ellen White. Allowing space in front of the Dutch defence, assured of their defensive shape, to deal with any England threat. Calmly playing the ball out, linking up to the midfield with aplomb. In the end the Dutch looked not just a cut above, but on a whole different level.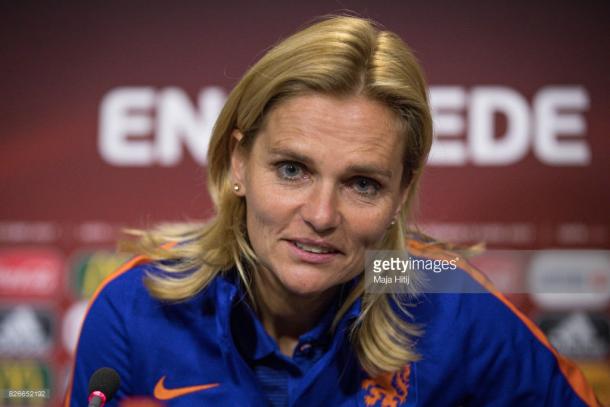 Fairytale built on firm foundations
Dutch women's football is firmly headed for a fairytale ending. It's not by some miraculous fluke, nor by any other means than hard work, application and strong foundations. A masterplan of Dutch design finally bearing fruit.
From defensive strength to a midfield that plays with such fluidity and togetherness, it is no wonder that teams have failed to break the Dutch resolve and formation down. That collective team strength permeating through every performance, as Weigman outlined an example of, in a post England, press conference.
"It might sound like a cliché but this is one team. Everyone gives everything in the match, outside the match, in training," she explained. "For example, Mandy van de Berg the captain, she isn't in the team but she is always there for the team and in the media – that is just one example of why we are such a strong team at the moment."
Grafting all throughout the group phase, first stopping Norway from getting any foothold, the Dutch physicality visibly unsettling the Norwegians, making world class players in Ada Hegerberg look distinctly ordinary. Against bthey managed to react positively from their neighbours equalising, going onto win the game 2-1. They showed the character to never deviate from Weigman's vision, her own tactical robustness shining through. Flexibility in finding a way to beating the opposition, sensing frailties.
Winning an early physiological battle with now fellow finalists Denmark, 1-0 the margin for victory, that may be even greater than the group phase, come the final. Then dispatching Sweden with gears to spare. All the while throughout, playing the style of football, quintessentially Dutch, which for decades they have been renowned for. A truly beautiful style to behold, almost poetic.
Weigman has done something extraordinary. Coping with the immense public pressure, applying her game plan, to spectacular effect. Motivating her players with a belief that they could win the whole show. The Netherlands have in recent years begun to close the gap between themselves and the elite of the European game. With France, England and Germany, they now must be considered to be part of Europe's top table.
Dutch belief and humility speaks volumes
Throughout the tournament there have been war of words spoken. German manager Steffi Jones called Denmark weak, then Mark Sampson and Oliver Echouafni engaged in semantics.
There has been no misplaced word, no slight of the opposition, no brinksmanship of any kind, from any of the Dutch team nor its association. Engaging in the fairness and spirit, conducting themselves with decorum and respect.
To go about application of their roles in such a manner, that has not only spoken volumes but has radiated from the Netherlands, simply without fuss, pomp and fanfare, delivering one pitch-perfect performance after another. Frankly they have been on song since the opening game against Norway. They made fellow finalists Denmark and Sweden look ordinary, no mean feat whatsoever, all done with humility and good grace.
Nothing has been taken for granted, nothing automatically expected. Confidently growing into every game, they are always assured and deeply pragmatic. The Dutch public responding in numbers to their side, in the same spirit of their team.
Humility and lack of arrogance is not a common trait for football. Weigman's team are bucking the trend in all areas. To win titles, teams need more than just a positive performance. Germany for decades have won successive tournaments, on the back of belief they were a cut above. The Netherlands have gone about and perhaps even redifining what it looks like to win.
For the Netherlands a tournament win on home soil, in their very own back yard, where Van De Sanden, Martens and company first inspired to be bold, to forge a career in football, is firmly within their grasp. Van De Sanden declaring her dreams are coming true, the Dutch players will become household names, becoming reveared figures of national pride, inspiring a whole new generation of Dutch players. That in itself may have been enough of an award, but for the level of performance of breathtaking clarity, tactical brilliance and technical prowess, the only reward worthy of her and her team-mates now is the biggest crown that the European football can bestow upon them.