 After Norway's unspectacular exit from Euro 2017 I wrote a defence of Martin Sjögren, the central theme of the piece was that he needs time, of course with Germany's swift exit from the quarter-finals many have called for Steffi Jones' head.
Again, my resounding message once more is she needs time – the same could also be said for Olivier Echouafni, with France 2019 a little more than round the corner – all three, if given time with their respective teams with have two years, two years more to put their specific styles on their teams.
Time for the players to get on board with their coach's philosophies and understand how their coaches want them to play, two years with time, patience and faith, these three teams could be big, could be scary. Could be thoroughly dominant but today I'm not talking about Sjögren again nor am I tackling the problems with Les Bleues but rather Die Nationalelf and Jones.
Jones took over one of the most successful squads in the world when she took the reins from Silvia Neid but again, like Sjögren, the squad she inherited had problems. I defy anyone to go back and rewatch Germany's games at the 2015 World Cup and not say that there were problems them. With the Rio Olympics one year later, Neid had a job to do, she could either start taking the team apart and dismantling to get to the root of the problems or she could (and did, successfully) paper over the cracks for the upcoming tournament.
The memories of a World Cup that passed without silverware, not even a bronze medal to show for their dominance over two hours in the third-place play-off fresh in the minds of her team. But when Neid left the paper came away and the problem for Jones wasn't just the pre-existing issues that had been there in the squad, for years but the loss of stalwarts in the team.
Melanie Behringer gone from midfield, Annike Krahn and Saskia Bartusiak – all three who came with their own problems – gone, and with them a wealth of experience and national experience lost. The team still stung from the losses of Nadine Angerer and Célia Šašić after the World Cup, the team deeply depleted at both ends of the pitch.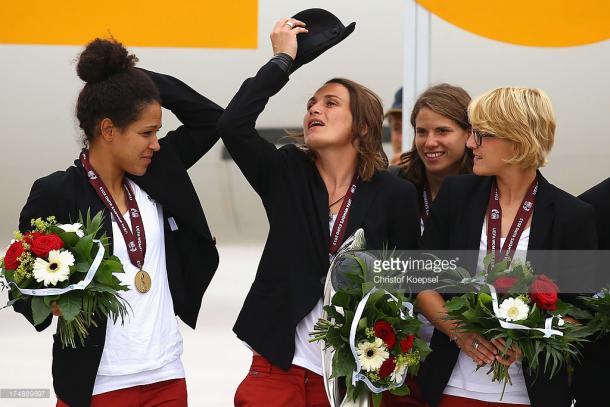 Out with the old...
Once again, we were looking at a young, mostly uncapped squad for a European Championship, with Anja Mittag and Lena Goeßling suddenly the most senior in the ranks, both seriously lacking match fitness. The former was forced to warm the bench at Wolfsburg for most of her time there and the latter out injured since the end of 2016.
The armband went to Dzsenifer Marozsán, the young team electing her as captain, a huge amount of respect from her countrywomen.
But it's not just new personnel for Germany, players and coach alike but an entirely new philosophy and style of play, far and away from the Neid years. Jones as far from Neid as she can be – the team is young, some very unaccustomed to the rigors of international competition, the likes of Kristin Demann, Linda Dallmann and Sara Doorsoun all welcome additions to the 23 that travelled to the Netherlands but pre-tournament their combined caps added up to just 23.
Many people have talked about the loss of Bartusiak and Krahn but central defence has been a position Germany have struggled with, even with Bartusiak and Krahn, especially at the end of their tenure – their defence looks sloppy. Almuth Schult is a usually competent goalkeeper, but she pales in comparison to Angerer in her hay-day, much like Alyssa Naeher and Hope Solo for the US.
Whist Krahn and Bartusiak had their problems they were mostly match-fit and used to wearing their national shirt, but when you bring in Josi Henning who hasn't played often for Lyon, Goeßling who hadn't played this year or Demann – arguably the best option at CB – but so undercapped for her country. Then to see Jones playing Demann in defensive midfield and she had some nice moments but it felt like more of a trial, the coach short on pre-tournament time to play about with different ideas.
New ideas
Yet there were still bright sparks in the team, good things the coach was trying. But there were still nerves and reticence in the team, shot after shot, after shot, game after game but the goals refused to flow. Penalties required against Italy and Russia – nothing against Sweden. One early and unexpected goal from Isabel Kerschowski to get the team off of the mark in the knock-outs that was for naught. Dominant against Denmark, as they had been in the group games, Germany still couldn't find the goals, least not from open play.
Coming into the tournament Germany were looking for their seventh consecutive European title – their ninth overall – this a team that has dominated the European Championships and laid waste to whoever they've come up against in pervious years, the hosts in '93 the exception.
Their downfall could be seen a long-way off, though they rallied well to dig in and find their vintage best last summer to give Neid a golden goodbye in Brazil and their first ever Olympic gold.
The team went back to being fragile and when they lost Neid, they lost confidence and strength and so much that went with Krahn, Bartusiak, Behringer (and Angerer & Šašić), their absences were being felt in the team. But with Jones, the old and cold reign of Neid departed, Jones always smiling with and at her team, she's engaged with them, she wants to listen, to help and develop them. She wants this team to be successful. She seems like a coach that rules with her heart, that rules with warmth.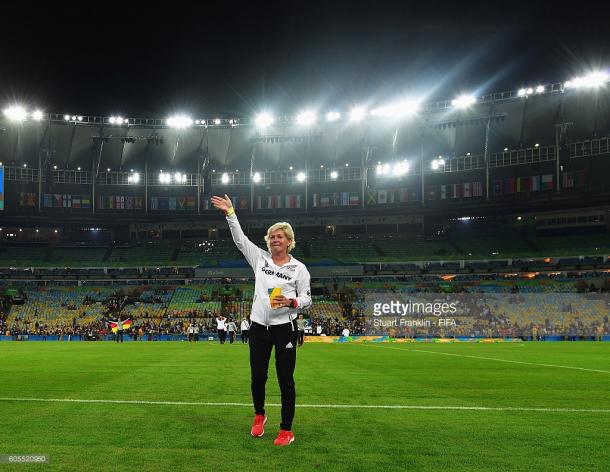 The system can be successful, you don't necessarily need a cold, authoritarian coach to see results. The team is young and the expectations put on them in insane, even when I was in two minds about Germany – torn between thinking they'd be in for a shock exit and thinking, "hey, it's Germany, they're going to switch it on when it matters and tighten their grip on the competition" – I was still expecting a German appearance in the final in Enschede. Even when they look frail and fragile they still manage to get those wins, to get to the final and lift that silverware.
But of course, the fail and fragile team that did it so recently in Rio was under Neid, this is Jones, this is a different era, this is a different team and whether they realise it or not, part of why they're underperforming and struggling to score is because of the weight of that pressure.
Pressure put on by the media, by experts and themselves. They expect and they demand them to go on, to go further. But a well-decorated player herself, Jones to knows what it takes and while, yes, it's true that the standard in Europe is on the up with the advent of more professional teams, players can train harder, can devote themselves to football without having to balance a job as well. And you can see that on the pitch.
Above and beyond
There has also been a startling number of teams at this tournament that haven't just shown up but tapped into something deep within themselves and come together as a collective for their nation, for their homes and their compatriots.
Teams playing out of their skins, Austria a perfect example. Austria, Germany's neighbours, a considerably smaller country, with a much younger and more inexperienced team, a weaker league at home than over the boarder. Considerably less funds for the game, domestic football in Austria nothing to write home about, but even still, the likes of Nina Burger, Verena Aschauer and Laura Feiersinger aren't full-time professionals at Sand, nor Lisa Makas at Duisburg or Nicole Billa at Hoffenheim.
If you take away the trio from Bayern Munich (Viktoria Schnaderbeck, Carina Wenninger and Manuela Zinsberger) you're left with players at smaller teams who aren't afforded full-time professionalism and whilst they're good players, good for their clubs, they've come together for Austria on this stage and they have been exceptional – up to and including the quarter-final they have been one of the best teams at the tournament for how they've played. They've played smart, they've been mentally strong and far better as one team than eleven individuals.
Austria are just one example of a group that's playing so well at this tournament, who have harnessed something in themselves, we saw it last year with Sweden in Rio and Iceland (men) in France. Teams can do this, smaller teams, teams that you wouldn't expect when you consider their abilities but they play phenomenally.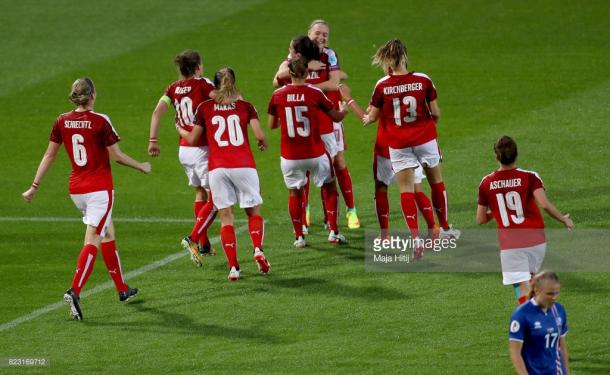 Jones needs time in Germany and whilst I question things like wanting to play Tabea Kemme in defence and leaving out Pauline Bremer when she's been in such fine form for Lyon and maybe suggesting someone like Felicitas Rauch should be played in defence, another Potsdamer who's had a fine season in attack.
Jones has problems in areas of the pitch in which she has too many options and others in which she doesn't have enough. We see there's trouble in trying to balance it all out and whilst I still think she needs to bring someone like Bremer into the system somehow if possible – but if she doesn't work in the system Jones is trying it is what it is and there's no room for her. Sometimes the best 11 individuals aren't the best as one team.
But time is required of Jones, an interesting world cup qualifying campaign is set to kick off in September, with smaller teams for Germany to dissect and long trips to get to the likes of Tórsvøllur And of course, there'll be friendlies for the team along the way.
Time, precious time
Jones will and should have time with the team, time to calm down the team, to talk to them and let them learn and grow, this exit to Denmark will be felt by everyone of the 23 as well as the coach, they'll carry this defeat with them and they will learn from it.
This is a team that isn't used to losing much and there is much humility in defeat, there is experience in loss. Perhaps four years ago there were questions about how well they played, this young team that went on to win an unprecedented sixth European title.
Angerer the star, an unlikely win against Norway in the final owing a large debt to the 'keeper and her brilliance between the sticks. There were questions four years ago, of whether Germany were truly deserving of the title but to still win when playing sub-par football, you don't learn, you don't grow however, this loss is a wake-up call, these players know that they have to do better that they can't just coast and hope to score from 12-yards.
There will be a period of reflection but you can see what Jones is trying to do, there were bright sparks even with the team being so disappointing. But there is a lot for Jones still to learn, not just about coaching and coaching at an international level but coaching Germany.
You can see the reticence in decision making, leaving players on the bench, "should I bring her on? Now or do I wait… stick or twist?"
This comes with time and experience, Jones needs belief in herself before anything else and the team need to believe too and stick by her and her methodology. And importantly the DFB (like the NFF with Sjögren) needs to stick by their trainer. But with the players at her disposal – yes, maybe the defence won't be the best – but with the options in midfield and attack this Germany team could be frightening, this Germany team could go all the way in France, they just need that time to continue to grow together and fall in with Jones' ideas as a team. Time to learn from their mistakes and learn that they're not invincible but to learn to deal with the pressure that comes with what is asked of them.
Maybe we are beyond a post-German dominance world but that's not to say that Germany will cease to churn out world class footballers that do go on to threaten and challenge for silverware.
The football that they can play, the ability that lies within them is just simply too great for them not to progress in tournaments. A postponed match in Rotterdam in late July 2017 will be remembered and felt by this team, by all at home in Germany; an important moment in the footballing history of the country, you can not get past it. But it signals a new day; a new beginning, an end of an unheard of run in the competition – it is a vital chapter in the book of Steffi Jones, in the book of this team and they will be better for the loss if the team, the trainer and the federation have faith and are willing to invest time.
This Germany team can go back to being one of the most dangerous in the world, with the right systems put in place, the right belief, in two years' time it would be of little surprise to see Germany lifting the world Cup. But with all things; time, patience, belief.