 It's almost time for the 2017 European Championship to wrap up in the East Dutch town of Enschede, De Grolsch Veste primed for the showpiece final. We started with 16 and they've been whittled down to two teams, not even 46 players left standing with the rash of injuries to the Danish, but after 30 matches our writers have come together to pick their team of the tournament.
The XI
GK: Manuela Zinsberger
Our number one is (by the narrowest of margins), Manuela Zinsberger the Bavarian conceding just one goal in 510 minutes throughout the tournament as well as being particularly savvy in shoot-outs. With a routine world class save in each match, Zinsberger has proved her quality this tournament and will be asking questions of Tinja-Riikka Korpela next season.
LCB: Anouk Dekker
Forced to go three at the back to accommodate for the sheer wealth of talent in midfield, we start off with Anouk Dekker as part of our back three, the Montpellier woman used out of her midfield home with the Oranje. An unorthodox defender, her stature has been of great help to the Netherlands as they've navigated through the tournament, literally bleeding for the cause we would have her in our team any day.
CB: Carina Wenninger
The first of many Austrian to grace our team, centre-back stalwart, Carina Wenninger just edged out countrywoman, Katharina Schiechtl for her spot in the starting XI. Another big, powerful defender, Wenninger has typified the superb defensive nature of the Austrian team, a fierce competitor who thwarted many an attack.
RCB: Lucy Bronze
We admit we've gone a bit Mark Sampson by opting to play Lucy Bronze in a back-three but she's simply too good to leave out and has been shepherded into our back three. A player that consistently pops up in our teams of the season, we've raved enough about her prowess in both defence and attack, her work-rate unparalleled in England. And once again, Bronze was the star turn in Sampson's England squad.
DM: Sarah Puntigam
Despite a wobble in her last outing at the tournament including a penalty miss in regular time, Freiburg's Sarah Puntigam has been another exemplary player for Dominik Thalhammer. Sitting just in front of a strong defence, Puntigam repeatedly came up trumps for Austria, minimising their work load as well as popping up at most free kicks to give something for her teammates to attack.
LM: Jackie Groenen (Player of Tournament)
Not just a key member of our midfield but the player of the tournament for us, Jackie Groenen has transposed her everyday work for FFC Frankfurt into the Dutch national team, stepping her game up and giving everything, working and creating all game long. A player well used to being fouled, few players will find themselves on the deck before picking themselves up, dusting themselves off and going straight back to work, running a mile a minute.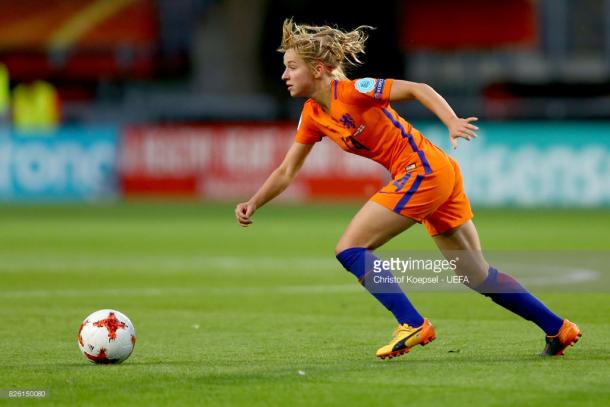 CM: Jordan Nobbs
Despite reaching the last four, the were consistent questions asked of the level of the England team, Jordan Nobbs one of the few players who looked well at home on the international stage. Composed on the ball and able to calm the team down and dictate play, the Lionesses always looked better for having Nobbs on the pitch.
RM: Laura Feiersinger
A player well in with a shout of taking home the PotT title, Laura Feiersinger was absolutely electric for Austria throughout, even as the team began to dull in the knock-outs, her inspired and tireless runs always opened up avenues for her team. Playing modest football in Willstätt for SC Sand, the Euros have brought out the very best in Feiersinger who absolutely came alive in her nation's colours.
CAM: Pernille Harder
Danish captain Pernille Harder may not have found the scoresheet this tournament but the attacker's work for the red and whites has been unquestioned, consistently working hard to create space for her countrywomen. Another consistent runner, Harder's ability to attack space and draw defenders out has been a consistent feature this summer, the star turn in her team there is still more to be seen from the 24-year-old.
LCF: Lieke Martens
Missing out on the PotT crown by the narrowest of margins, Lieke Martens has been playing like a woman possessed this tournament, her skills and attacking hunger almost unmatched by any other player. Technically superb, Martens came into the tournament off of the back of stunning first-half of the Damallsvenskan season and has only picked up pace every time she's taken to the pitches in her native Holland.
RCF: Jodie Taylor
Leading goalscorer, Jodie Taylor has continued to show that she needs very few chances to find the back of the net, her goals driving England through the group stages as well as the first knock-out against France, a clinical finisher, she would be at home in any team.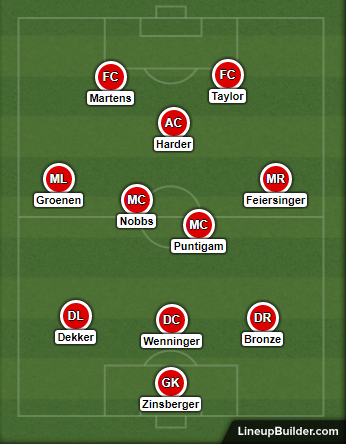 Bench
With our writers feeling strongly about a number of players, it quickly became apparent that we'd have to go all out and have a complete squad of 23.
Reserve goalkeepers: Sari van Veenendaal and Stina Lykke
For us there was little to separate all three goalkeepers, but with Zinsberger just that little bit ahead, Sari van Veenendaal is our first back up. The Dutch 'keeper having shown her class throughout the tournament to keep clean sheet after clean sheet and help her team out at every turn.
Our third-choice goalkeeper is Danish number one, Stina Lykke, one misjudged ball in the third minute against Germany her biggest error in the lead-up to the final. A whizz when it comes to penalties, the diminutive 'keeper made a number of eye-catching saves throughout the tournament to help the Danes reach their first ever final.
Defenders: Verena Aschauer, Simone Boye, Millie Bright, Katharina Schiechtl
Another tireless worker for Austria, Verena Aschauer's full-back work throughout the tournament was some of the best on show, the 23-year-old able to link well with her Sand teammates and continued to drive the team forward.
Thought of as the "captain of the back-line" for Denmark, Simone Boye hasn't had it easy this tournament, consistently losing either her centre-back partner or seeing the defensive midfielders in front of her chop and change but even still has remained calm and consistent throughout.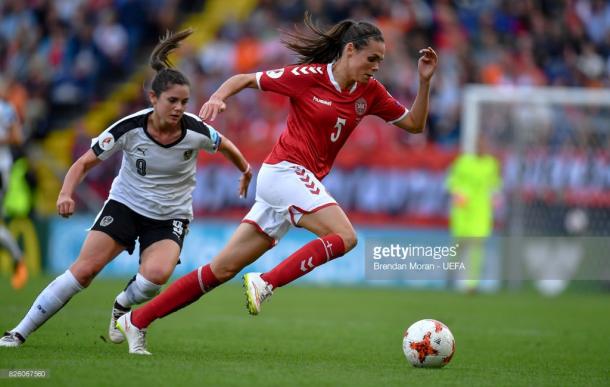 Chelsea's Millie Bright has really grown into her centre-back role, bringing strength and an improving tactical awareness to her game since being pushed back from midfield. Unfortunately to be remembered for her own goal that was ultimately of no consequence at the death in the semi-final, Bright has made a strong case for being a starter in the England back-line this summer.
More Austrians! Katharina Schiechtl easily could have made our starting XI if not for the high-quality work of her countrywoman, Wenninger. But yet another in Thalhammer's team who played her heart out in the tournament, Schiechtl was a menacing presence in the Austrian defence, letting little past.
Midfielders: Barbara Bonansea, Line Sigvardsen, Sarah Zadrazil
The only one to make our team without reaching the knock-outs, Italy's Barbara Bonansea was a worthy inclusion, absolutely electric when given the chance to shine, she made life hard for the defenders in Group B. Some of her best work on show in Italy's win over Sweden, the Azzurre playing for pride alone but Bonansea determined to put on a show.
Despite having her tournament curtailed by an ACL injury in the semi-finals, Line Sigvardsen remained a consistent performer for the Danes throughout a tricky group stage, another calm player in red who steadied the ship in midfield and eased the workload of those behind her.
One of the few in the Austrian squad who plays for a team higher up in the Frauen-Bundesliga it's of little surprise that Sarah Zadrazil makes the cut for our writers, the young Potsdamer able to replicate her league form for her nation and then amplify it. Picking up knocks and bumps throughout the tournament, the 24-year-old never stopped picking herself back up and giving it all for her team.
Attackers: Lisa Makas, Vivianne Miedema, Shanice van de Sanden
Clearly, at least one of our writers is determined to include every Austria player in our team, our writers more than a little enamoured with the side during their time in the Netherlands, Lisa Makas was an immediate stand-out for us. Picking up a head injury in the first game but continuing to play on for as long as she could, the utility woman showed doggish determination and a fantastic desire to do well for her country. Consistently picking up injuries throughout the competition, Makas suffered another ACL injury in the quarter-finals ensuring she wouldn't be back on the pitch but her work in the group stages speaks for itself.
The penultimate Dutchie on our bench is 21 year-old wonderkind, Vivianne Miedema. Though the new Arsenal signing came under fire early in the tournament for failing to find the back of the net her dedication to the cause was unquestionable, the space created by her of unquestionable importance for the Oranje. Finding the back of the net later in the competition she's remained a vital member of the Dutch squad throughout.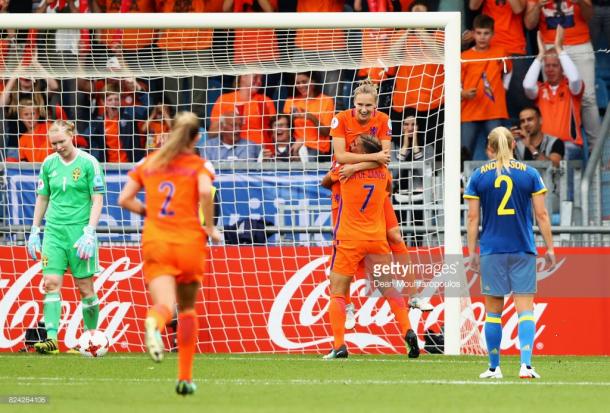 With the honour of being the first woman to score at the European championships this summer, Shanice van de Sanden was the hometown-hero in Utrecht, heading the Netherlands to their first win of the tournament. With blistering pace in abundance, van de Sanden has found a clinical touch this summer, her delivery from out wide not to be sniffed at either.